Marjorie Johnson After 40 Years on Stage becomes An Overnight Star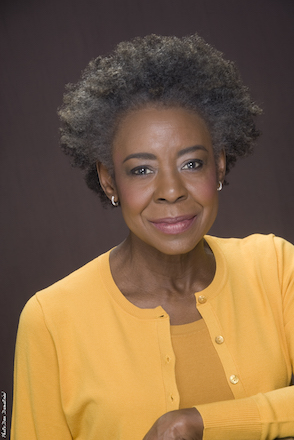 It's taken Marjorie Johnson almost 40 years to become an overnight Star. But Stardom seems to be the least of her goals. "Acting," Marjorie reminisces, "has been sort of a divine intervention in my pursuit of 'something more'".
In the mid 1960s, one promising career for pretty, smart and ambitious young ladies, with a high school diploma, was to obtain employment in the airline industry as Flight Attendants (Stewardesses). So, Marjorie enrolled in the Hartford Airline Personnel School. The Hartford promised its graduates they would secure employment for them in the airline industry. But Americana 1965 was: the height of the Civil Rights movement; people of color demanding equal employment opportunities, among many things; and, pretty, young black girls getting the runaround. Meanwhile, Negroes were picketing Trailways Transportation System for having no visible black employees at its bus stations. The Hartford saw an opportunity to help solve Trailways dilemma—it  offered its graduating black flight attendants an "opportunity" of employment with Trailways instead of in the airlines industry. (5-Star interstate bus companies employed hostesses as well.) Marjorie accepted a job, but she quickly found herself at a ticket counter with new recruits whose presence contradicted racial discrimination allegations against Trailways. After that issue was assuaged, Marjorie segued to "fill-in" Bus Hostess—she even got to serve Lady Bird Johnson, President Lyndon B. Johnson's First Lady. The provisional positions helped her to realize, early on, that she didn't want to be a glorified waitress on a bus, nor in the air. So, Marjorie asked to be transferred to a customer service desk job in the Trailways Information Room until her mythical "something more" came along.
Ophelia DeVore, the first top African American fashion model, was credited with "almost single-handedly (opening) the modeling profession to African Americans," The New York Times. Ms. DeVore in 1946 co-founded the Grace Del Marco Modeling Agency. The celebrity roster, over the years, included: Diahann Carroll, Cicely Tyson and Richard Roundtree. In 1948, the renown Ophelia DeVore School of Charm opened its doors.
Marjorie enrolled in Ms. DeVore's School of Charm where Audrey Smaltz, fashion legend and Ground Crew CEO, taught students how to apply makeup, style hair, walk and sit gracefully and dress for success exhortations. But Marjorie's mythical "something more" still eluded her.
One day Rhea Smith, a high school classmate, invited Marjorie to join her at the 21 Players Workshop, an acting improvisation group. Marjorie says "There, I discovered that 'something more!'" Acting classes began at Barbara Ann Teer's National Black Theatre in Harlem. A short time later, Marjorie was accepted into the top class of Robert Hooks' and Douglas Turner Ward's prestigious Negro Ensemble Company (NEC) alongside actors Robert Townsend, Dan Martin, and Marianne Alda. After NEC, Marjorie joined Brooklyn's fabled Alonzo Players, the theatre brainchild of actor-director-playwright-lyricist-composer-visionary Cecil Alonzo. While at the Alonzo Players, Marjorie developed some of her closest friendships, in life, which she continues to maintain.
"Acting was fun and freeing!" Marjorie says, "I could be anyone and anything, at any moment while on stage. I worked as a Trailways information desk attendant by day, and performed as any one of a slew of comedic, dramatic, historic, or futuristic characters by night." Marjorie's roles have included: Mabel T. in the weekly Live Soap Opera Beulah Johnson; an AUDELCO Award winning performance as Winnie Mandela in M: the Mandela Saga; a second AUDELCO Award winning performance as Candy Lady in HOODOO LOVE by Katori Hall (Mountaintop). Other theatrical credits span the country and cross the "Pond" (the Atlantic Ocean): The Little Foxes (Lincoln Center); Oak & Ivy and Waiting to be Invited (St. Louis Black Repertory Company); FENCES (Stage West, Delaware Theatre Co., Oregon Shakespeare Festival); The Pen and the Podium (Edinburgh Festival – Edinburgh, Scotland), just to name a few. Marjorie's film and television credits include working alongside some of the nation's finest living legends: Chrome Soldiers (Yaphet Kotto); Duplicates (Cicely Tyson), American Gangster (Denzel Washington); Nurse Jackie; As the World Turns; One Life to Live; Law & Order; and Law & Order SVU.
Seasoned New York City theatregoers in 2016 were thrilled about the announcement that Marjorie would be reprising her starring role in DOT, a comedic drama about a family coping with Alzheimer's disease. (A rising serious calamitous challenge for many families today.) The play highlighted the humorous flipside of dementia, a view that could be a welcomed reprieve for caregivers everywhere. Marjorie was the brightest star in the World Premier of DOT at the Actors Theatre of Louisville's 2015 HUMANA FESTIVAL.
February 4 through March 24, 2016, DOT's New York Premier opened at the Vineyard Theatre in New York City. Marjorie accepted the starring role, Dot, after Leslie Uggams, the initial star-draw, bowed out due to a scheduling conflict.
In 2006 Marjorie and Colman Domingo (Actor/playwright/director (Walking Dead, The Butler, Lincoln, The Scottsboro Boys, Wild With Happy, Passing Strange) met at the Guthrie Theatre in Minneapolis as they worked together on a production of The People's Temple, and, a friendship developed. It was there that Colman—known for his unique and outrageous way of finding hilarity in otherwise serious subject matters— mentioned to Marjorie that he was writing a new script which would include a starring role for her. Throughout DOT's development, Marjorie was cast in the starring role.
Five-time Tony Award-winner Susan Stroman (Crazy For You, Show Boat, Contact, The Producers) was brought in to direct DOT's New York City production. It was the latest collaboration between Domingo and Stroman since The Scottsboro Boys, their controversial groundbreaker that garnered 12 Tony Award nominations.
DOT closed March 24th, but rave reviews have other roles rolling in for "something more" Marjorie Johnson! So, look out for Marjorie Johnson's future stage, TV, or film performances… maybe even the Broadway debut of DOT! (Stranger things have happened.)
Latest posts by Perri Gaffney
(see all)