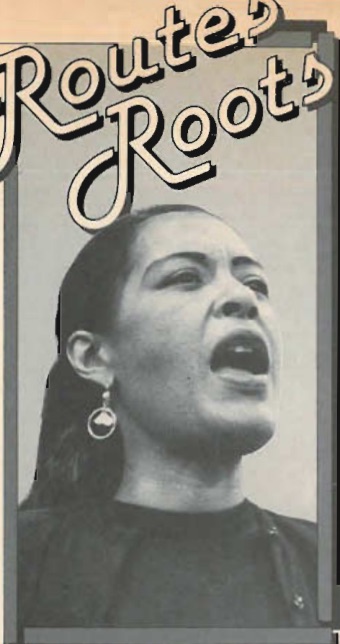 ROUTES' ROOTS
It was "Amateur Night" at the Apollo Theatre in Harlem, New York , and as Eleanor Apollo Theatre in Harlem, New York , and as Eleanor waited in the wings for her cue to go on, she was probably anticipating the audience's reaction to her. It didn't matter that she had previously been in recording sessions, or that she appeared in nightclubs such as Jerry Preston's Log Cabin, The Yeah Man and all over Harlem. What did matter was her success with this particular audience. Would she be as successful as superstars like Sarah Vaughan, Billy Eckstine and LaVern Baker-all of whom have stood on the very same spot that now " holds" her? The Apollo Theatre's Amateur Night audience—which is predominately Black—have, for many years, mastered the art of determining what is real talent and, without hesitation, will let you know by applauding or booing you as you entertain. What a painful experience it can be for an entertainer who isn't so good, or who is good but hasn't reached enough maturity to have the stamina to face them!
On the outside, Eleanor appeared to be a very secure and confident individual, although inside, she was unsure of herself. As the curtain opened, it was now her turn. The best judges of entertainers in the world were anxious, ready and waiting for her. She moved her tall, shapely, full-bosomed figure across the stage toward the microphone. As the spotlight shined on her smooth and lovely, rich honey-brown complexion and her wavy, black "upswept" hair, she began to sing in a soft, slow lazy-sounding voice with a "Baltimore drawl." As she sang, she managed to overpower her audience's senses and almost lift them into a trancelike existence. She was sheer ecstasy and they loved her. "Them There Eyes," "If the Moon Turns Green" and an encore, "The Man I Love." Immediately a success, Eleanor was booked for a week's engagement. That was the year, 1935.
Eleanor Gough McKay was born, April 7, 1915. However, she was "born again' ' that night and renamed when she first struck our consciousness. Her new name was Billie Holiday.
In 1933, when Billie was a mere 18 years of age, she made her recording debut with Benny Goodman and his 9 piece studio band and with Artie Shaw and his orchestra. The first tune was "Miss Brown to You, " and thereafter, "I Wished on the Moon" and "What a Little Moonlight Can Do." Her recording career began to go through several phases. In one phase, she was featured mainly as a vocalist with various orchestras. In another, she was often heard with string accompaniment and in those days (the 1940s) violins and such were not common place in recordings. One of the first songs she recorded with strings was a song that she would feature for a long time afterwards, "Lover Man.·· Another phase began with the recreation of some of her most successful songs-a revival of songs like " The Man I Love. And finally, the last phase was her association with Ray Ellis.
Billie Holiday had a style of her very own-the rare ability to sing songs with deep and varied emotions that would move any listener. She had an almost unbelievable sense of rhythm and an intuitive knowledge of harmony.
In addition, her timing was extraordinaire. She could make poetry out of any dull or stale lyric. Even though the sounds of her voice were still unique, by the end of the 40's you could recognize that the long hard years and her acquired dependency on drugs had a serious effect on her vocal quality. In the early 1950s, Billie had heard a score that Ellis had written for his album " Ellis in Wonderland" and she had a strong desire to work with him. The result was an album called "Billie Holiday-Ray Ellis and his Orchestra," where every tune was composed and arranged especially for Billie. Again, "Don't Worry about Me," "All the Way," Just One More Chance" and "For All We Know" featured her with a 12-piece string section. Some say that this album revealed the many tragedies in her personal life-the endless and hopeless battles with narcotics-because her voice had changed and her superior quality had just about disappeared.
Billie Holiday's last performance was for a benefit concert at the Phoenix Theatre in New York City in June 1959. Her voice was coarse, yet warmly emotional, with enough of the original quality remaining to help her recapture at least a small piece of the glory of her early years.
In the year, 1935, there were few who compared with Billie Holiday. In the year, 1938, when she was introduced by Count Basie as "Lady Day, " there was nobody capable of duplicating her. Today, and in the future, there will never be anybody who can replace the style and memory of the great Billie Holiday . She was one of a kind who traveled her way and one in our history we should never forget.
Back issue of Routes, A Guide to Black Entertainment October 1977