Steven Chambers, Steve Jacobs (hairstylist), Ron Doud (designer) and Sam Haddad (art dealer) have combined their creative talents and recaptured the era of the late 1930s and early 1940s in a restaurant called W.P.A. These imaginative men came up with an idea for a restaurant with a different flavor.
This dining haven nestles in the Soho area at 152 Spring St. near West Broadway. This was once an industrial part of town which relates to that time in history when Congress, during the F.D.R. administration, and, because of the effects of the Great Depression, instituted the "Works Progress Administration" act to insure jobs for the many who were out of work at that time. WPA'ers were paid $15-$90 a month for a variety of jobs, ranging from ditch-digging to manuscript writing and painting. Soho, being an area populated with as much of the past as the present, was an ideal choice for such a restaurant. The building itself was erected in 1819 as a schoolhouse.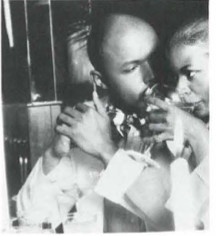 The concern of these four men was to keep the atmosphere of that era, while at the same time keeping it low-keyed and easy. They've done just that through their choices of appointments and decor. Murals by George Stravinos, a gleaming walnut bar, And a huge Art Deco mirror are few of the outstanding features. The music of that time being piped in, balanced with the jazz of today, help create the mood. The dining room decor continues the theme of the period through the use of black and white colors. Tables are clothed in black contrasted with white cloth over them. Waiters and waitresses are dressed in styles of the early 1940s also black and white. Above the center of the dining room, a skylight is bordered by red and blue lights offsetting any harshness from the black and white that surrounds you. All elements combined, you can almost hear the megaphoned voice of Rudy Vallee or the rhythmic tapping of Bill Robinson's dancing feet.
W.P.A.'s menu is not extensive but it's enticing:
Complete Dinner Menu
Cocktail
Choice of appetizer
WPA Soup
Rack of Lamb for Two (cooked with a mustard and bread coating)
Choice of Salad
Coffee or Tea
Expresso
Complete dinner $18.50
A La Carte Menu
Soup of the day
Fresh Green Salad
Calves Liver, sautéed with bananas and Liquor
South Hampton Salad
Red Snapper
Choices of assorted meats and salads Lobster tail on a bed of Spinach Fettuccine
Pheasant, roasted whole with juniper berries, gin, and tarragon
Veal Sautee, strips of young veal in white wine sauce with lemon
Price: $2.50-$8.50 per portion
W.P.A. has been written about by many and has been visited by such personalities as Sarah Dash, Lee Radziwell, Jacqueline Onassis and Lillian Hellman. But no matter who comes through their door, the proprietors goal is to make their customers feel comfortable and to please their palates.
There are plans for expansion to the Los Angeles area. The West Coast is really in for a treat from this just-turned-one year old establishment. Happy birthday and much success.
Keep reading this issue – next article