It was almost 25 years ago, that singer Tony Bennett dominated the hit parade with I Left My Heart in San Francisco, and if you wonder why that rather ordinary song hasn't gone the way of such concurrent hits as That's Amore or The Great Pretender, it's probably because people can still identify with it; the charm the beauty of the Bay Area metropolis does indeed steal one's heart, and many a San Francisco resident was lured there permanently following a simple visit.
When the Spanish founded the city, in 1776, they named it Yerba Buena, but US naval forces changed it to San Francisco when they overtook it in 1846. Two years later, someone yelled "There's gold in them thar hills!" and that mad scramble known as the gold rush began; the ensuing years saw San Francisco turned into a model of lawlessness, a place where fortunes were made and lost, where gunshots routinely blended with the titter of scarlet women. Vigilantes had finally managed to bring a semblance of peace to the city when Mother Nature gave it the ultimate going over: the 1906 earthquake, a devastating 47 seconds that virtually reduced San Francisco to rubble and ashes. A famous survivor, operatic tenor Enrico Caruso, was seen running down a fast vanishing Market Street with a towel around his golden throat, clutching a picture of Theodore Roosevelt; he did not leave his heart in San Francisco, but vowed never to return to a city "Where disasters like that are permitted."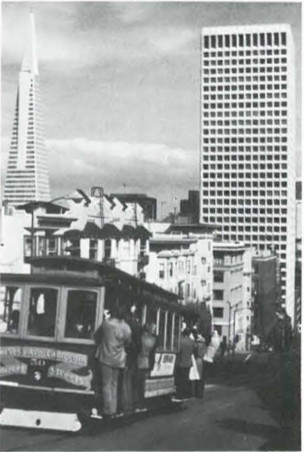 Having long since risen from the ashes of the historic earthquake, today's San Francisco can offer but traces of its original look, yet it has an aura of tradition about it. A city of intriguing contrasts, it combines turn-of-the-century charm and hospitality with what is perhaps the country's most liberated life-style, and it holds attractions for the visitor that are as diverse as the ethnic make-up of its population.
To most visitors, going to a museum in San Francisco probably makes as little sense as traveling to Knoxville, Tennessee, in quest of-a-riotous-night-life, but the city has at least two interesting museums: the M.H. De Young Memorial Museum, located in Golden Gate Park, and the San Francisco African Historical and Cultural Society at 680 McAllister. M.H. De Young, the largest and oldest municipal museum in the West, has several galleries housing art from Asia, Europe, Africa, and the Americas, as well as a lovely Japanese tea garden with an exquisite arrangement of bridges, walks, pagodas, pools and miniature water falls. The relatively new African Historical and Cultural Society boasts a fascinating collection of memorabilia relating to Black Californians and Black Civil War participants.
No visit to San Francisco is complete without at least one trip to Chinatown, the oldest and largest Chinese community in the country. Wandering through its crowded streets and alleys there is much to see and buy, but the highlight of any visit to San Francisco's Chinatown has to be a stop at one of the area's countless tea rooms or restaurants, some of which feature booths where one can relax in privacy behind a drawn curtain. The food in Chinatown ranks among the best of its kind in the country, but even outside of that area San Francisco is a gourmand's delight. There are fine restaurants catering to every taste and budget, from the posh elegance of the Mark Hopkins Hotel [whose Top of the Mark cocktail lounge overlooks the entire city] and the St. Francis on Union Square to Fisherman's Wharf and the more earthy offerings of Clement Street.
San Francisco's night life leaves very little to be desired, there are clubs and bars catering to tourists and residents of every conceivable persuasion. Whether you like to sip your drinks to the pulsating beat of rock and gyrating movements of go-go girls [or boys], the prancing witticism of drag queens, or the dulcet tones of a string quartet, you'll find it in this kaleidoscopic city. And jazz, from dixieland to hard bop, fusion or the cool West Coast sound can be had at such places as Earthquake McGoon's, the American Music Hall, Keystone Korner or El Matador. Sunday jam sessions at Pier 23 Cafe (4-9 pm) have you taking pot luck, so to speak, but the experience is rarely less than rewarding. If you find yourself longing for Studio 54 or Xenon, try discoing in an Oriental atmosphere at the Rickshaw Lounge, 37 Ross Alley.
For a taste of San Francisco's most graceful elegance you might start with a visit to the Palace Hotel on Market Street, which houses one of the most famous rooms in America, the Garden Court, a large skylit patio in which Queen Victoria would have felt quite at home. Other keepers of the flame include the Fairmont on Nob Hill, overlooking the downtown area and Chinatown, and the intimate, European-styled Raphael on Geary Street — both have four-star ratings.
Before leaving San Francisco, you owe yourself a trip across the Golden Gate Bridge to Sausalito, a charming spot on the Bay that has a village atmosphere with numerous quaint little shops [one is located in a docked ferry] and restaurants.
You don't need a car in San Francisco, the city only covers 47 square miles, and the "Muni" [Municipal Railway] gives you access to most of it for a mere 25 cents. Then, too, there are those marvelous, rattling, clanging cable cars [also 25 cents], and they can be enjoyed even if you don't have any particular destination in mind. Transportation in Los Angeles is quite another matter — there a car is a must.
When you see Los Angeles from the air, you realize why they call it a cluster of suburbs in search of a city. Public transportation is expensive and inadequate, and distances are so great that taking a cab is simply ridiculous. Fortunately, the car rental system is such in California that one can rent a car and return it anywhere within the state without paying drop-off charges — so that's your best bet.
The main lures of Los Angeles are, of course, Hollywood and those long, beautiful beaches, but the city has much more to offer.
There are museums such as Travel Town, a most unusual exhibit at 5730 Crystal Springs Drive, on the North Side of Griffith Park. It features travel artifacts and paraphernalia, vintage airplanes, steam locomotives, fire engines and cable cars, most of which are in working condition. There are trolley rides for children [25 cents] and adults [35 cents], and general admission is free. Also a bit out of the ordinary is the California Museum of Science and Industry at 700 State Drive. Besides a Hall of Health that explores the human physiology and gives information pertaining to narcotics, the museum offers outstanding exhibits relating to mathematics, energy, agriculture, space, communications, and even animal husbandry. Speaking of animals, there is also the Los Angeles Zoo, located near the junction of the Golden State and Ventura Freeways. It features an animal nursery for children, complete with a petting yard.
Children of all ages will enjoy a day at Disneyland, 1313 Harbor Boulevard in Anaheim. There, in Fantasyland's pastel-colored castle, you can meet all of your favorites, Alice, Dumbo, Mickey, the whole crowd; and if you want to get away from it all you can always hop aboard the Columbia — an eighteenth century sailing ship [replica of course] — or any number of water crafts from a riverboat to a submarine. Too old-fashioned? then venture to Tomorrowland and take a rocket to the moon, Disneyland features jungle rivers with wild mechanical animals that look like the real thing, a haunted house, nickelodeon, western saloon, you name it and the clever Disney staff has thought of it. General admission is $5.50 for adults, and $2.50 to $4.50 for children between the ages of 3 and 17.
You can, however, save by taking advantage of a couple of ticket plans: the Big Eleven ticket book [adults 5 juniors $6.50; children $4] includes general admission and 11 rides of your choice; the Deluxe Fifteen ticket book [adults $8; juniors $7.50; children $7] gives you admission plus 15 rides. From now until mid-June, when the schedule changes, Disneyland is open from 10am to 6 pm Wednesdays through Fridays, and from 9 am to 7 pm on Saturdays and Sundays. It is open daily during the Christmas and Easter holidays.
Los Angeles, like San Francisco, has an impressive number of fine restaurants. It would take a whole book to even make a dent in the list, but here are a few I visited: El Rincon de Las Artisas [Artists' Nook] at 3131 Sunset Boulevard, a friendly Cuban atmosphere with candles and roses on the tables. It features delicious black beans and rice, picadillo [boiled spiced beef] or ropa vieja, a wonderful shredded beef dish brought to Cuba by the Spaniards; Lee's Thai and Chinese Foods, small and almost hidden away at 5662 Hollywood Boulevard offers a marvelous Thai menu at delightfully low prices — check out their noodle bar, t00; Shalimar, at 1275 Westward Boulevard, has excellent Indian cuisine, Koharu serves good, authentic Japanese food at 357 East First Street, and Greek dishes are the specialty of the Marathon Cafe, 130 East 4th Street.
If you are looking for a less exotic menu, downtown Los Angeles is the place to go. There you will find a handful of restaurants affectionately referred to as the "Old Timers." With sawdust on the floor, dime coffee, straight-backed booths, smoky morals and waiters in starched white uniforms. They are a throw-back to days when food was good, wholesome and prepared with love — that isn't necessarily the case today, but some of these no-frills restaurants date back as far as 1908. Anyway, it's an interesting way to see a bit of Los Angeles history and, so to speak, eat it too. Don't expect haute cuisine, but each restaurant has its specialty and all offer a good square meal at a reasonable price: Cole's, 118 East 6th Street, is open on weekdays only [10:30 am – 7 pm]. On its tiled floor rest a huge mahogany bar and a buffet table laden with pork and beef roasts, and its walls are a veritable gallery of photos depicting the city's past; Philip's, 1061 North Alameda Street, has been located across the street from the Union Station since 1908. Open daily between 6 am and 10 pm, it specializes in lamb, pork and beef French dips. Philip's motto: keep everything the same and give the customer a fair shake — accordingly, a cup of coffee is 10 cents; Blair's, 718 South Grand Avenue, near 7th Street, is open Mondays through Saturdays from 7:30 am to 4:45 pm. This establishment boasts a baker on the premises, serves a delicious chicken, avocado and bacon sandwich, and good, old-fashioned apple pie. Also old-fashioned is the soda fountain, one of the few traditional ones left in Los Angeles.
While we're on the subject of food, don't forget that Los Angeles abounds with Mexican restaurants and cafes — another part of the city's heritage. Some of these, along Olivera Street, feature outdoor dancing. Dining, however, is not what one visits Los Angeles for — there are cities that fare much better in that department — but few can offer at thing to match the beaches of LA and none can give you the aura of glamour that still hangs over Hollywood.
Legends are no longer created in Hollywood, but the magic of Tinsel-town lingers on, and the place still attracts the hopefuls who sling hash, fry burgers or park cars as they wait to be discovered. These days, much of Hollywood has been taken over by the rock stars, and a new generation of hopefuls is on the scene, toting guitars and dreaming of their very own billboard on "The Strip." The Strip, of course, is that stretch of Sunset Boulevard where all the youthful action takes place at night — an endless parade of strange, souped-up vehicles, hustlers, prostitutes, and would-be stars; those who have arrived don't usually wander around on the Strip, but they are sometimes seen passing in their Mercedes Benz.
If the entertainment industry holds your fascination, you might want to take a tour of one of the film or television studios; the latter require that you request tickets up to six months in advance. Write to the following addresses: ABC, 4151 Prospect Avenue, Hollywood, California; CBS, 7800 Beverly Boulevard, Los Angeles, California; NBC, 3000 West Alameda Avenue, Burbank, California.
Keep reading this issue – next article