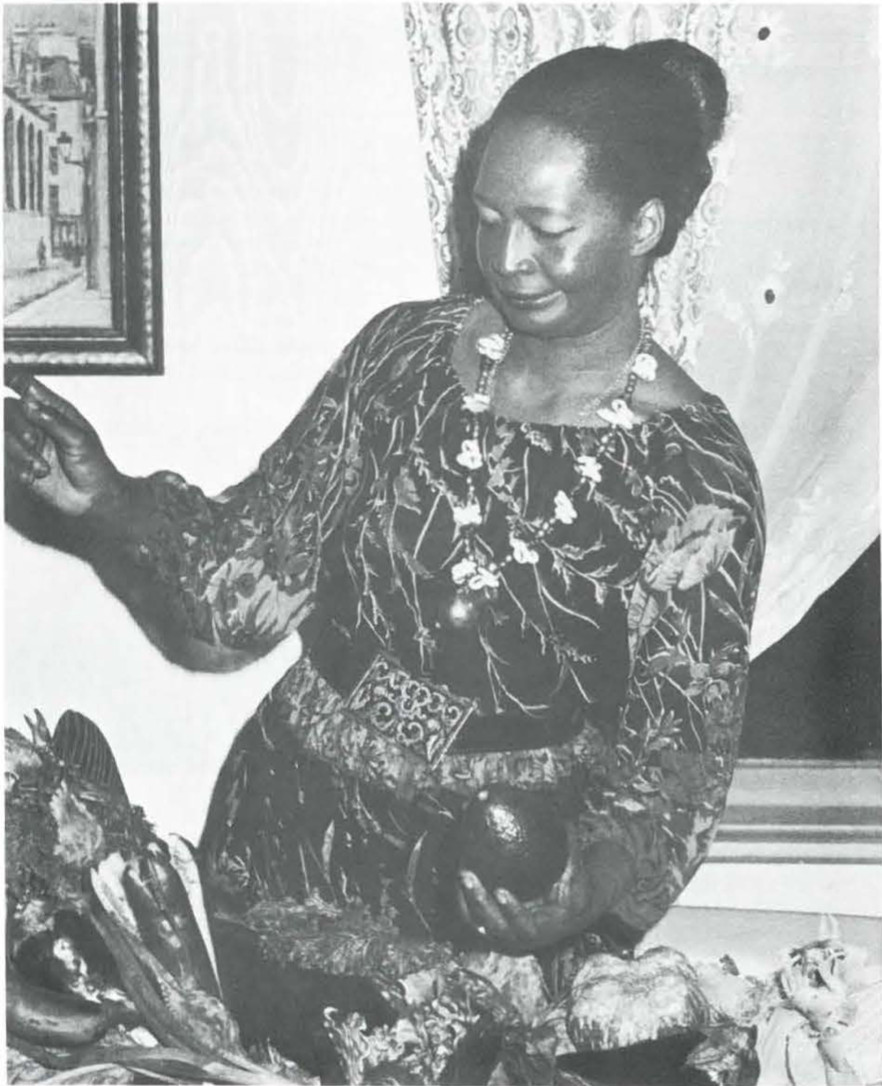 If you enjoy eating out as much as I do, you probably already have a favorite restaurant or two among New York's many off-the-beaten-path eateries, special places whose food and atmosphere you'd like to share with special friends.
Ever since I began covering the restaurant scene for ROUTES, my search for such places has intensified, and this month I would like to share with you my latest discovery: Leoni Au Coin D'Haiti.
This is, as the name implies, a restaurant featuring Haitian cuisine, located at 131 East 39th Street in an elegant townhouse between Lexington and 3rd Avenues. But there is much more to Leoni Au Coin D'Haiti than the fact that it offers the best Haitian food in the city, the place itself is an experience for it has all the warmth and charm of a cozy private home.
The first room one enters is appropriately called The Living Room. It is a small, very inviting room in which one is seated in comfortable, shawl-covered sofas to enjoy a complimentary drink amid lush green plants and distinctive Haitian and African art-work, Persian rugs cover the floor, there are small crystal bowls temptingly filled with candies and nuts, soft music in the air, and the whole atmosphere is enhanced by the warm glow of candlelight.
A spiral staircase with red carpeting leads to the two dining rooms upstairs. Each seats 20 to 25 guests at small square tables surrounded by pink or blue chairs [depending on the room] and set with fire china on crisp white linen. Colorful linen napkins sprout from sparkling gold-rimmed goblets, and each table is graced by a crystal vase filled with long-stemmed flowers. Though a large chandelier hangs in each room, the only lighting comes from a fireplace and a candle on each table.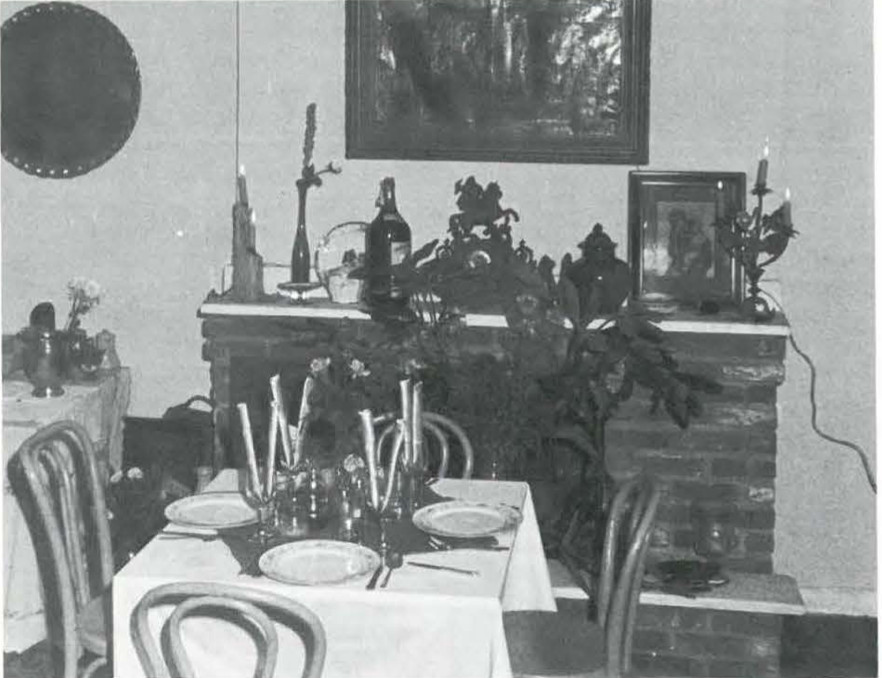 The person responsible for giving Leoni Au Coin D'Haiti such a deeply personal touch is its proprietress and on-premises host Leonie McGregor, a gracious, invigorating and determined black lady who sees the restaurant as the fulfillment of a lifelong dream.
"I became interested in good food when I was about fifteen," said Leonie who gained her initial experience in the field at Hotel Choucoune, in Haiti, "and I started thinking about opening a restaurant when I was twenty — I didn't know how or where, but I knew I would do it."
The road to 131 East 39th Street has been a long and hard one for Leonie McGregor.  Married [and divorce]) at an early age, she has traveled that road while raising two children and taking care of a younger brother.
For a while she worked as a model for the Ophelia de Vore agency, "That was before it was fashionable for blacks to be models, honey,'' she points out, ''but it was a lot of fun.'' She also spent thirteen years as a receptionist in the sales and advertising department of Texaco, and, more recently, three years running a combination gift shop/art gallery.
That last experience is being put to good use at Leoni Au Coin D'Haiti, for Leonie — following the example of such restaurants as Once Upon a Stove and Casa Storica — offers her customers fine merchandise along with the food and drinks.
''I always wanted to do it that way,'' she explains. "Since I was already in contact with manufacturers in England, Japan, Jamaica and Haiti, I thought a gift gallery would be ideal, especially for people who don't have much time for shopping.
Samples of everything are used here as decoration, so it really doesn't look like a store — while you are having dinner you can simply say to the waiter that you want such and such from that wall, and when you are ready to leave it will be all packed for you, and added to your bill. Only the very large items, solid mahogany chairs from Jamaica and Haiti, have to be ordered six to eight weeks in advance."
Besides such decorative or useful items as platters, goblets, sculptures and trays, Leonie carries fine candies, which, as she explains, can be a most practical purchase: ''If a gentleman should come to dinner with another lady and feel guilty about it, he might just ease that guilt by buying a fine box of Paringer candy to take home to his wife — that sort of thing does happen, you know. It's all part of making things convenient for the customer — I really want people who come here to feel at home.
"People tell me they really feel at home here, not as if they were in a restaurant, and that's how I want it to be. When I tell them to make themselves at home, I really mean it; I don't bother them, and if they want to stay for several hours because they feel relaxed, that's fine with me. Some come in here and say 'where is it?' they want to know where the restaurant is, and when I tell them that this is it, they often say 'Oh my god, I don't believe it.' Then when they go upstairs they are really impressed with what I did, and that goes for the neighbors as well — many of them have thanked me for adding elegance to the neighborhood."
When Leonie McGregor found the townhouse, through an ad in the paper, it had stood empty for three years and was badly in need of work. "We worked like dogs, my daughter and I," she says. ''We pulled up floors with our bare hands, we painted, lifted this, carried that.
Honey, this was some place, we slaved day in and day out to put it together. I saw the work and knew it had to be done, but the only way I could really face it was by imagining the way it was going to look when it was finished — I knew how I wanted it, and that's what kept me going.
American Express gave a party here and the place wasn't ready when they made the arrangement for it, so I worked three days and three nights without sleep, until I just blacked out. I was taken to the hospital in an ambulance, and they kept me there all day, but I came back, relaxed for a couple of hours, and started all over again.
So far they have had to pick me up three times, just from exhaustion, and for a while it seemed as if I wasn't doing any work, I was spending so much time in the hospital. They told me to sit down and take it easy, but every time I came back here I asked myself who was going to do the work if I didn't, so I continued. I still have a lot of work I want to do, and when that is over I'm going to have to work even harder just to keep the place going."
While one cannot but admire Leonie for her tremendous physical efforts, she also had to put her stamina to the test in other ways, such as when she applied for a loan from the Small Business Administration. ''Women in business have problems,'' she explains from bitter experience. ''Most people who approve loans or help new businesses are men, and — I hate to say this, but it's the truth — men often assume that women don't have the head to manage a business. At one time they said I didn't have enough experience to open a restaurant.
I said to myself 'What is this?' they don't know my capabilities, just because I was a receptionist and never owned a restaurant before doesn't mean I don't deserve a chance — all my life it had been my dream to prove that I could do it. When I told these men that, they looked at me as if I were crazy — they said 'why don't you get married, or something?' so I told them that I didn't want to get married, that I had been married and now I just wanted to open my own business. I often wonder where they would be if someone hadn't given them a chance. Many of my friends at big corporations have given me letters of support, and I have submitted these to the Small Business Administration, but they still have not approved my loan. I'm sure it's because I'm a woman, I won't say because I'm a black woman, because I would hate to think that might have anything to do with it.''
Leonie McGregor could still use some financial help, but with or without it she is determined to see her dream through, and she attributes that determination to the encouragement she has received from her younger brother and two children. ''If say my three kids,'' she explains, ''because when my mother died she left me my brother, Jude, and he is a sweetheart. After my son got married, at 19, my daughter and Jude were the closest people to me, they really stood by me; sometimes, when things looked hopeless and I felt alone, those two tried to make me laugh, they'd say 'come on mommy, come on sister, we will make it, don't worry,' and I'd say to myself 'yes,' because those two have been the light in my life.
My daughter knows that everything I have done has been for them, I raised my children by myself, and even when I was broke the children looked impeccable. Now I wasn't thinking of the children when I first dreamt of having a restaurant, but when I was working for Texaco as a receptionist I thought about the fact that I was forty years old and I had nothing to leave my children, so this gave me the urge to do something constructive before I got too old, or died."
Since opening in July, Leoni Au Coin D'Haiti has attracted an impressive roster of regular clients; her guest book is filled with the names of U.N. diplomats and successful business people, many of whom first became acquainted with Leoni's cooking expertise at private parties catered by her prior to the opening of the restaurant.
Once you have tasted Leoni's cooking, the attraction becomes clear. Though African and Caribbean dishes are available on Saturdays, the accent, of course, is on Haitian cuisine, which is similar to French cuisine, but has a distinction of its own. ''What really makes Haitian food is the spice," Leonie says, "It is well seasoned, but not necessarily hot. We make it according to our customers' taste — mild, medium or very hot. Basically we eat the same things, pork, chicken, beef, seafood, or whatever, but we prepare it in different ways, and that is what distinguishes Haitian cuisine from Italian, French, and so on."
Among the many fine dishes served at Leoni Au Coin D'Haiti [Leonie on the corner of Haiti] are two excellent "soups: Creme de Giromon [cream of pumpkin], the national soup of Haiti, and Soupe aux Pois Noir, au Pois Conre [black bean or black-eyed pea soup], an absolute knockout. Specialties of the house— served with vegetables of the season [usually fresh] and rice, or rice and beans, and a salad — include Poulet Port-au-Prince [chicken in a spiced Haitian sauce], Lambi et Aubergines [stewed conch and eggplant], Roti de Porc de la Gonave [roast pork with Creole sauce], shrimp and crab dishes, and a variety of delicious gumbos. All of this is, of course, preceded by a choice of four mouth-watering hors d'oeuvres [which almost are a meal in themselves] and followed by desserts that are as unique as the rest of the menu: Pudding de Bain au Rhum [bread pudding in a rum sauce] or Corbeille de Fruits et Fromages, a wide variety of fresh fruit and cheeses. American coffee is also available, but I recommend that you try Cafe filtre d'Haiti, a rich Haitian coffee with a pinch of cinnamon added to give it a very special taste.
Leoni Au Coin D'Haiti also has a special luncheon menu, which includes Banana Pancakes [served with fresh fruit] and a terrific Caviar Omelet. Prices are moderate: meals are prix fix, starting at $10 for lunch and $15 for dinner, or a la carte. Lunch is served Monday through Friday from 11 am to 3 pm, dinner Sunday through Saturday from 6 pm to midnight. Reservations are preferred for lunch, but required for dinner — (212) 532-8812. At the moment, Leonie can accommodate small private parties, but expects to expand to other floors eventually — your patronage could help to speed up that process.
*That is how it was during my visit. Con Edison has since turned on the juice, and now the chandeliers sparkle once more!
Keep reading this issue – next article