With Christmas around the corner, it's once again time to unpack those boxes of tree ornaments, discover that last year's lights no longer work, and that some of those glistening balls didn't survive storage. Yes, Christmas always has its inherent quota of headaches, but experience has taught us to expect them and they are, after all, but a small price to pay for the joy of seeing it all come together on the 25th. One way to heighten that joy is to use your Christmas tree for self-expression, to trim it with items that reflect you as much as your clothes or the decor of your home do. Home-made ornaments date back to the days when Christmas trees first came into being — they are both easy and fun to make, and they give your tree a wonderfully personal touch.
Though it is still maintained in some parts of Europe, the practice of making one's own tree ornaments is a vanishing custom, but we think you will find it as rewarding as it can be inexpensive, and don't forget that the adornments you create this year should — if properly stored — last long enough to eventually become a family treasure for generations to come.
This year, ROUTES invites you to take a novel approach to Christmas tree ornamentation by creating delicate toothpick decorations patterned after African designs. You don't have to be a Picasso to make these delightful and unusual ornaments, all you need is a steady hand and a little patience. Collect the materials listed below, follow our easy instructions, and bear in mind that the simplest designs often are the most beautiful.
Basic materials needed: Toothpicks (preferably flat) White glue • Spray paint (metallic gold) Book(s) on African art, textiles or jewelry
Optional Accent Pieces: Feathers • Beads • Noodles and/or Glitter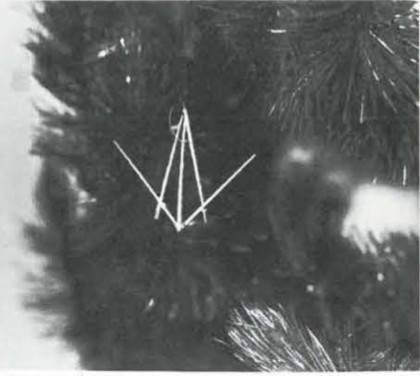 Step One: Select your designs. Most bookstores carry illustrated books on African art, but you may simply want to borrow one from the library. We suggest that you choose simple designs [patterns without a lot of curves] at first, then work yourself up to more complex patterns and shapes as you gain proficiency.
Step Two: On a flat surface covered with newspapers, place your toothpicks in a pattern similar to the design you have chosen, and — using small dabs of glue — glue them together. Remember that your toothpick designs are variations on an African theme rather than line-for-line copies. For example, the waist ornament from Liberia inspire here with feathers, you must first build each unit separately on a flat surface, then glue them together to form the finished decoration. In this particular piece, eight diamonds were constructed separately, then assembled.
Step Three: When your creations have dried thoroughly, place them on newspaper and spray-paint them. We suggested metallic gold, but other colors can be just as effective, and if you wish to avoid paint altogether you can simply use colored toothpicks.
Step Four: Accent the finished pieces with feathers, beads or broken noodles. Here, too, we are only offering some suggestions, you might come up with other interesting accents.
That's all there is to it. The variations are as endless as your own imagination, so get your favorite people together for some old-fashioned decorating fun with an African twist. Merry Christmas!
Keep reading this issue – next article