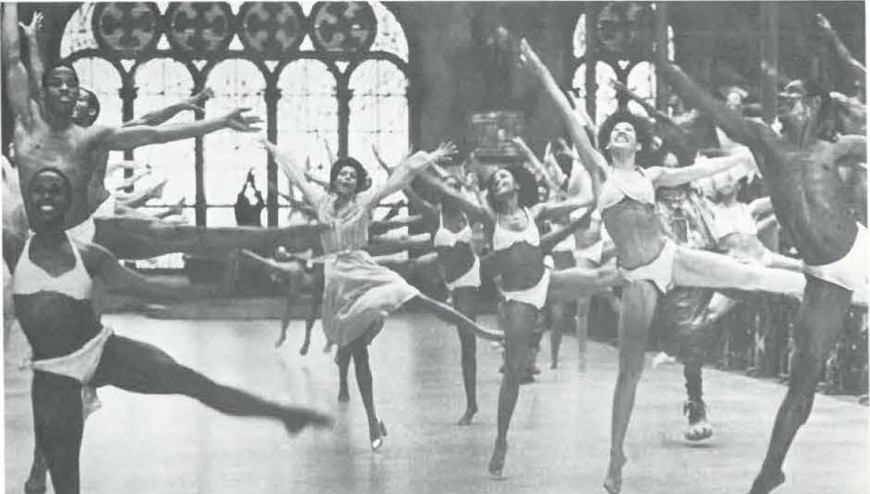 After a long summer drought, Hollywood has once again opened its cinematic floodgates. If you are among the many who make a visit to the movies a part of your holiday celebration, you might be interested in some brief opinions on productions currently being offered:
The Wiz — Motown has finally made a film that isn't an embarrassment to watch. The Wiz, an updated version of the long-running stage production, is the perfect holiday entertainment for all ages. It has everything imaginable going for it: Sidney Lumet's expert direction; Diana Ross [as Dorothy] at the peak of her stardom; excellent performances by a supporting cast that includes Nipsey Russell [The Tin Man], Ted Ross [repeating his stage role as the Cowardly Lion], Michael Jackson [making his film debut as the Strawman], Mabel King [repeating her stage role as Evilene, the Wicked Witch], and Richard Pryor [the Wiz himself]. Add to that all the other ingredients of a film classic, including a knockout cameo appearance by Lena Horne — which alone is worth the price of admission — and you have a film that is not to be missed.
Midnight Express — If you found such prison films as I Was a Prisoner on the Chain Gang and Cool Hand Luke engrossing, Midnight Express is the film for you, but if violence turns your stomach, skip this one. Midnight Express, based on the true story of Billy Hayes' horrifying experiences in a Turkish jail is one of the most visceral films ever made. Brad Davis stars as Hayes, an American student sentenced to four years in a Turkish jail for attempting to smuggle two kilograms of hashish out of the country; he serves his time only to be given an additional, far more severe sentence instead of a release. The Casablanca production centers on Hayes' incredible treatment at the hands of Turkish prison officials and his absolutely remarkable escape. It is not a subtle film, it takes your emotions for a roller coaster ride, and it hits hard.
The Big Fix — Richard Dreyfuss' first screen appearance since his Academy Award-winning performance in The Goodbye Girl is a worthy follow-up. Dreyfuss plays Moses Wine, a struggling private eye whose values were forged at Berkeley and tempered by the events of the Nixon years; a divorced weekend father and habitual gambler, he is a schmuck for all seasons who finds himself over his head in an investigation of dirty tricks perpetrated against the liberal gubernatorial candidate. As the plot proceeds, it not only thickens, but hardens to the point where it can confuse all but the dyed-in-the-wool mystery fan. Be that as it may, The Big Fix is still a fun movie without artistic pretensions — an entertaining story that asks not only whodunit, but also why.
Up In Smoke — The comedy duo of Cheech and Chong [Richard Marin and Tommy: Chong] has had record buyers and concert and club audiences in stitches with their offbeat, Lenny Bruce-inspired skits since 1971. Now, with several gold albums to their credit, the kings of rock comedy, as they have been called, are starring in their first film, and you can bet it won't be their last. Up In Smoke has no plot, Cheech and Chong have simply transposed to film the kind of hilarious skits that have worked so well for them on records and in personal appearances. The result is a rollicking counter-culture tale that follows the extremely funny duo as it romps through the marijuana barrios of southern California and Tijuana. The film marks the directorial debut of Lou Adler — the record executive who originally signed Cheech and Chong to Ode Records — and though it is far from being technically perfect, it does successfully capture the so-called black humor of the Seventies.
Death on the Nile — Despite an all star cast, beautiful location shots and a fabulous range of costumes, Paramount's sequel to Murder on the Orient Express fails to gel. I submit that, had he been working for the New York Police Department, the great detective Hercule Poirot [here portrayed by Peter Ustinov] would have been fired — or, at the very least, reprimanded — for his handling of this waterlogged Agatha Christie mystery. By the time we discover the identity of the murderer, we have been subjected to several sequences showing the victim being shot by individuals who make up a boat-full of suspects, and by the time Bette Davis goes through that exercise, the audience has become numb with ennui. [Recommended only to hardcore Christie fans.]
Days of Heaven — You can forget the plot of this film, which is almost biblical in nature, and simply absorb yourself in its visual splendor. In fact, Terence Malick's prairie love story, set in 1917 America, is the most beautiful film I have ever seen; Nestor Almendros' 70mm color photography literally flows off the screen and into one's consciousness like a great work of art. Richard Gere, this year's hot actor, gives a performance that he is not likely to ever improve upon, but Brooke Adams and newcomer Linda Manz [who also narrates the film with the thickest Lower Eastside accent in captivity] somehow seem lost amid the colorful imagery and the rich, Dolby stereo sound. That is unfortunate, of course, but it does not mar the visual magnificence of the film. Days of Heaven is surely this year's sleeper, a film that clings to your mind long after you have left the theatre.
Keep reading this issue – next article