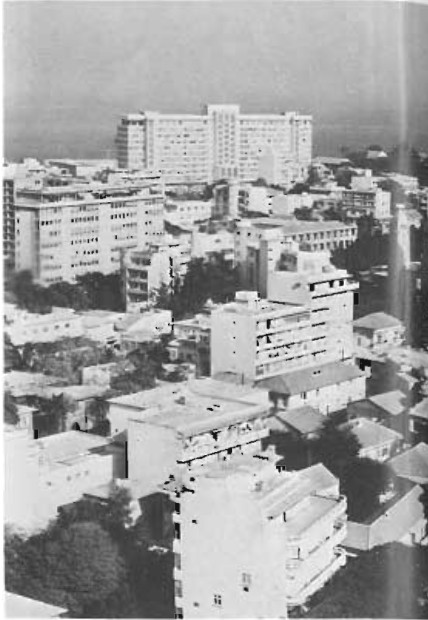 Going to Africa is a very special trip for any Black American. More than a vacation, it is a pilgrimage, a return to the very source of our being. There is a sense of excitement and anticipation about a trip to Africa that no other trip can generate.
Senegal is the perfect African country for Black Americans to visit because it has many of the contrasts characteristic of the continent.
Senegal is just 6 1/2 hours away by nonstop jet from New York. And two airlines regularly fly there: Pan American and Air Afrique. Get the most out of your West African vacation by flying Air Afrique. When you get on the jet, you know you're going home. Black flight attendants greet you warmly at the door; they're taking you to their land, so they can tell you where to shop, the best places to eat and how to get around. Air Afrique goes out of its way to prove that there's no hospitality like African hospitality.
A former French colony. [yes, you'll have to brush up on your high school French; it's the national language] Senegal has been independent since 1960. Its president, Leopold Sedar Senghor, is not only a world renowned statesman, he also is an award winning poet and was the first Black African to earn an aggregation de grammaire from the Sorbonne. Senegal is the northernmost country in Black Africa and its culture reflects the mixing of Islamic and traditional African cultures.
As you disembark at Dakar's Yoff airport, this mix is visible. On line, at passport control, Senegalese in flowing pastel robes stand next to their countrymen in Pierre Cardin suits. Women in the latest French chic are shoulder to shoulder with women wearing the traditional boubou [a beautiful flowing garment]. Clearly you have entered another world, one that is familiar and the same time different from anything you have ever known.
DAKAR — You'll begin revamping your opinions of Africa on the drive from the airport; there are no zebras gamboling on the horizon, no "dusky" maidens bathing bare breasted by rushing waterfalls or young warriors returning from the hunt. What you'll see is the outskirts of a large metropolis. Dakar is a major city, but it is an African City; and though initially its subtle charm may elude you, soon it will capture and haunt you. Memories will be personal ones of a place visited, a smile exchanged or a friendship made.
Dakar is really three cities in one: the Medina or African quarter, The Plateau or former European quarter and the newly developing suburbs for members of the rapidly growing middle class. Dakar has an almost European air to it — particularly on the plateau — but don't be fooled, around each corner there is Africa.
Anyone who has traveled in Europe will expect a number of prearranged packaged tours. A few exist [more since Roots brought Black Americans in droves to Africa], but Dakar cannot be seen from a bus window, it must be lived; and the only way to do that is to leave yourself open for adventure. While foolhardiness is not advisable, stateside paranoia should be left at home. People who offer to help are not trying to steal your purse; the person who invites you home for a cocktail is not trying to hold you as a hostage; a taxi driver who takes you a slightly longer route may just be trying to show you the scenic route. You should use your judgment and above all, relax, after all that's why you came.
Accommodations — The heart of Dakar is the Place de l'Independance, with two major hotels: the Hotel de l'Independance, a new luxury hotel that opened in 1977 and Hotel Teranga, the grande dame of Dakar's hotels. Both of these hotels have pools [the Teranga also has a beach], restaurants, bars and the full services of any first class luxury hotel. The rates are also comparable. For those who prefer a smaller hotel, the hotel Nina, a block away from the Place, is recommended. There, you won't have a pool, but you will have all the warmth and charm of a Senegalese-owned establishment. The hotel is new, opened in late 1977, and it won't "bend your wallet out of shape".
Dakar's Ifan Museum is a "must see". Located on the Place Tascher next to the Assemble Nationale (legislature), it is a short distance from the Place de l'Independance. It houses a marvelous collection of African artifacts. A complete visit of the collections takes about two hours. The Presidential Palace, the Cathedral are all sights you'll see.
Shopping — Dakar's treasures, however, are not in museums or on the tours. They are live ones, which can be seen walking down the streets, crowding at the market bargaining for wares and standing at the corners waiting for buses. Senegal boasts of some of the most beautiful women in the world; they can be seen walking down the city's streets looking like brightly plumed birds in a rainbow of colors. Many of them wear the traditional boubou, and with good reason — the boubou is one of the most elegant and most flattering garments in the world. Simply cut in luxurious fabrics, the boubous are part of what makes a Dakar Street scene memorable. Any woman who sees one decides that she has to have one.
The next stop, then, is the Sandaga Market, which is easy to find — follow the Avenue Georges Pompidou until you see the crowds. To a shopper, Sandaga represents paradise; there is fabric, jewelry, food, spices, medicine, beauty supplies [ever see a corn row wig? You will in Sandaga] pots and pans, everything! There also are boubous. You can buy them ready-made quite cheaply — fifteen hundred CFA francs, about $6.50, seems to be the going rate, but your price will depend on your bargaining skills.
If you're staying in Dakar for more than a day, you can do what the Senegalese women do — have a boubou made. Buy five meters (cinq metres) of the fabric of your choice at a fabric stand, take it to a tailor and have it made to your specifications. You can find tailors at the entrance to Sandaga market or you can ask a Senegalese woman for a recommendation [perhaps even the desk clerk at the hotel or the woman at the travel agency]. Some tailors have photographs of different styles and you can simply pick the one that suits you. Choose a color for the embroidery, leave your fabric and come back a day or so later to pickup a boubou that will be a sensation when you get back to the US.
Restaurants — Dakar's variety is also seen in the choice of restaurants. There's everything from African food to haute cuisine. Try some of everything. The national dish of Senegal is Thieb-Udien — it's rice and fish stew. The Senegalese eat it at lunch almost every day. And no visit to Dakar is complete without tasting some. The best place to have it is at Le Niani, a small Senegalese owned restaurant on the Petite Corniche. Le Niani serves an excellent Thieb-Udien and other Senegalese specialties at moderate prices. The decor is African and the restaurant is right on the ocean so there is a magnificent view. Le Guet Ndar also serves African specialties. Its Mechoui [split roasted whole baby lamb you eat with your fingers] is well worth the trip out to the Almadies section. If seafood is your thing, Le Lagon is the perfect restaurant for you. Right on the water [it's built on a pier], it's an ideal mixture of good food and sun. For the gala gourmet evening La Croix du Sud serves delicious haute cuisine at very haute prices. It's expensive, but it's a must for food lovers.
Nightlife — There are a lot of things to do in the evening. If the Senegalese National Dance Troupe is at the Theatre Daniel Sorano, you must see it. But if you'd rather dance than watch others, Dakar offers plenty of dancing spots. You can go to the Niani; on the level above the restaurant, there's an outside discotheque that has the latest American and French records. [They had Native New Yorker last November!] It's a place where Dakar's elite can be seen doing their thing. Le Mandingo is another haunt of Dakar's night people. It's in the Hotel Teranga. Budding young diplomats can be found boogieing alongside tourists and Dakar's beautiful people. Le Sahel is a bit out of the plateau area, but it's worth the trip because it has a live band.
One thing, all Black Americans should do while in Dakar is take the Chaloupe to Goree, an island 20 minutes from Dakar. You can go with a group, but for many it is advisable to go alone, for it is not the kind of journey to be taken in convivial company. Ask a taxi driver to take you to the Embarcadere pour Ia chaloupe de Goree; he'll take you to the boat dock, where you can buy a ticket.
Goree today is a sleepy resort village where Dakar's rich families have weekend homes. But that is not the reason for the visit: Goree of yesterday is the reason. For Goree was the locale of one of the infamous slave depots that dotted the West Coast of Africa. A former slave house has been turned into a museum and the horrors invoked will imprint an indelible image on the mind. Goree provides contemplative moments, to many the most vivid of the journey. Dakar's wonders grow on people, and each day new explorations beckon. Too soon, it is time to leave. Then you realize the pull of Dakar, and before you catch the plane home, you'll already be planning a return trip.
Keep reading this issue – next article