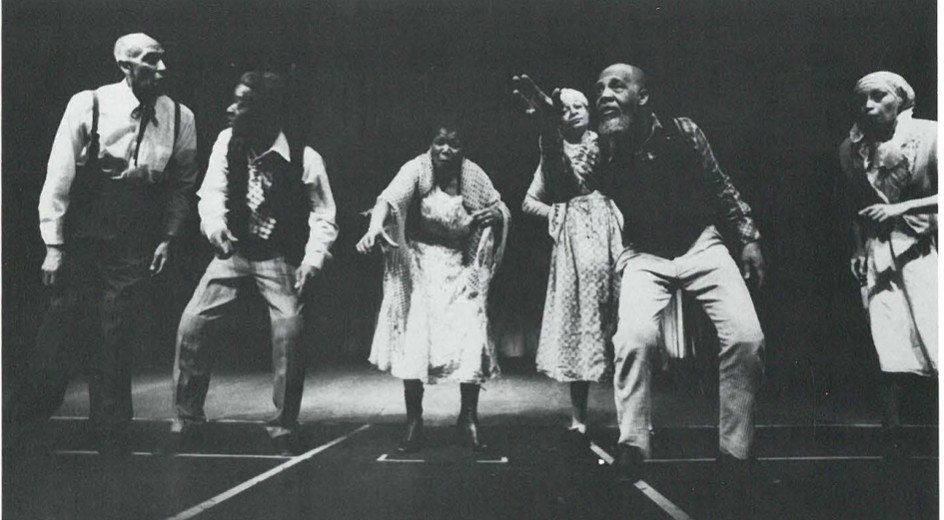 I said when we began that this space would not only keep you posted on what's happening on Broadway, but also what is happening in the small, professional Black theaters, which are spread throughout the five boroughs. Most of the small, non-profit theatre companies in New York City have short runs of their productions because of limited resources and union regulations. The maximum run is usually twelve performances. Productions by these companies, most of whom belong to the Black Theatre Alliance, provide the theatre-going public with plays that deal with a variety of Black experiences.
If you have been checking out these companies since the beginning of the year, you would have seen such entertaining and thought-provoking plays as Ray Aranha's The Estate and James Baldwin's The Amen Corner performed by Hazel Bryant's Afro-American Total Theatre. The first, a historical play, focused on the intertwining relationships between Thomas Jefferson, his young slave mistress, Sally Hemings and Benjamin Banneker, the self-educated Black scientist who surveyed and designed Washington, DC. The play gave audiences a look at a Jefferson not found in American history books. It was an important play, and should become a classic to be performed in colleges and universities around the country.
Another historical play, James DeJongh's Do Lord Remember Me is a work based on interviews with ex-slaves. It was performed by Woodie King Jr.'s New Federal Theatre. The play drew tears from the audience. Author De Jongh an English professor at City College, compiled and structured material from the 1930s Federal Writers Project into a stirring and mind-expanding piece of theatre.
One friend, a hard-to-please, longtime theatergoer, was so overwhelmed by what he had experienced that he apologetically called me at 2 a.m. He just had to talk about Do Lord Remember Me.
Some mention also should be made of the performers and directors involved in these productions, many of whom don't get recognition for consistently outstanding work. They include Arthur Burghardt, Carole Leverett and Duane Jones (director) in The Estate, Frances Foster, Joe Attles, Louise Stubbs, Regge Life (director) and Tony Chase in Do Lord Remember Me; and most of all, Richard Gant (director) and Kirk Kirksey and Don Taylor, both of whom gave a brilliant performance in The Island.
So the next time you are in the mood for theatre, don't confine yourself to Broadway. Remember that shows currently running on Broadway, such as For Colored Girls Who Have Considered Suicide When The Rainbow Is Enuf and The Mighty Gents were first done by the small theatre companies. If you had caught them then, you would have saved a few dollars.
On a lighter scale, this same theatre company did Marti Evans Charles' comedy-drama, African Interlude. This enjoyable and sophisticated play dealt with a brief but intensive affair of the heart between an African man and an Afro-American woman who were in need of just such an encounter. It was written and performed with humor, taste and style.
Ernie McClintock's Afro-American Studio Theatre focused on Africa in a more serious light with its production of the John Mani-Winston Ntshona powerful play, The Island. This incisive look into the horror of European racism in South Africa was first done on Broadway in 1974 along with the equally powerful Sizwe Banzi is Dead. Without hesitation, I will say that the production done by the Studio Theatre was a match for the production by the South Africans. It was political theatre at its best.
These are just four of the plays you could have seen had you been checking out the companies listed in ROUTES' schedule. Others were Living Fat, a comedy performed by the Billie Holiday Theatre of Brooklyn; None Of Us Are Ever Born Brave, done by Harlem's Franklin Thomas Little Theatre; Day of Absence, a comedy by the Queens-based Black Spectrum Theatre Company; and Come Laugh and Cry a musical based on Langston Hughes' Shakespeare in Harlem, by Rosetta LeNoire's Amas Repertory Theatre. Then there was the unique Beulah Johnson theatre soap operas by the Alonzo Players in Brooklyn. The company's artistic director, Cecil Alonzo, wants all you soap opera fans out there to know they are the only group in New York City providing theatrical experiences.
Keep reading this issue – next article