On The Boards: Playwright Richard Wesley is currently writing a screenplay for a movie about Charlie "Yardbird" Parker, which will be released by Warner Brothers late in 1979. The film, which will emphasize Bird's relationship with the other musicians who helped create bop, will star Richard Pryor as Bird. Wesley, who also wrote the screenplays for Uptown Saturday Night and Let's Do It Again, was most recently represented on Broadway by his play, The Mighty Gents. About the play's premature closing, Richard says that it was "unfortunate and unwarranted. It was a business decision-not an artistic one. Not being one of the producers, it was out of my control. There are things that could have been done to protect the show that weren't. Those things that were done constitute a case of too little too late." Richard is currently talking with Joe Papp about reviving Gents next year at The Public Theatre.
Speaking of The Mighty Gents, Morgan Freeman won a Clarence Derwent Award for his portrayal of Zeke the wino … Congratulations are due the Black Theatre Alliance's Executive Director, Duane Jones on his appointment to the Mayor's Commission on Art and Culture.
Music Whirl: It looks like Commodores manager Bennie Ashburn has another hot group Platinum Hook-in tow. Bennie officially started managing the group in 1976, after serving as their mentor for over six years. Platinum Hook members, Jed by Stephen Daniels (lead singer I drums) with Bobby Douglas (keyboards), Glen Wallace (trombone), Skipp Ingram (Bass), Victor Jones (guitar), Robin Corley (wood winds) and Tina Stafford (vocals/keyboards), write most of their material including their current New York hit single, Gotta Find a Woman.
The recent presentation of Mendelssohn's Elijah by Harlem's Mother A. M. E.  Zion Cathedral Choir — led and accompanied by Solomon HeriottJr., was a not to-be-missed performance of the highest caliber. Solomon, an accomplished, professional musician (Mannes College of Music, Juilliard, Guilmant Organ School) with a solid background in gospel as well as sacred music, has held the position of Organist-Choir master at Mother Zion for the past 17 years. (Watch our music listings for upcoming concerts at Mother Zion) … Singer Lloyd Price is launching his return to the entertainment scene with a new album, The Nominee (Olde World Records.) During his absence, Lloyd has been involved in record production and working with Don King on the promotion of the Ali fights.
Also back in the recording studio is Miles Davis, whose new album is due in the consists of two long pieces-one per side-and features Larry Coryell on guitar, T.M. Stevens on bass, AI Foster on drums and Musabumi Kikuchi and George Paulus on keyboards.
Columbia recording artists Earth, Wind and Fire have volunteered their services to Compared to What? F (CTW), a Washington, DC based nonprofit arts and education program. Earth, Wind and Fire will take several CTW members on the road where they will receive on-the-job training in staging, lighting, sound engineering and production. Maurice White, founder and lead vocalist of EWF says the group's commitment was made because "We feel that for the continuation of concerts, it's important to have Blacks involved with the production of these concerts. It is therefore our hope to provide an atmosphere where young Blacks can come in and learn the skills of producing live shows."
Behind The Camera: Percy Hall, Television Producer at Young and Rubicam, is in the process of selling a screenplay on Black cowboy Ned Huddleson, a slave who went west after emancipation and was, at various times, a cowboy, sheriff and outlaw (under the alias, Isom Dart-a name that stuck with him until his death). The script, entitled Isom Dart: the Life and Times of the Black Fox, has drawn the attention of Lou Gosset, who is interested in playing the lead role … Photographer Bill Price, who is presently in Cuba shooting the 11th World Festival of Youth and Students, is working on several books-among them a photo-essay on the positive side of aging, which should prove to be quite interesting … Producer/cinematographer Jim Hinton, who was the associate producer of Greased Lightning," is in California producing a documentary film on flash floods for the National Oceanic and Atmospheric Administration. Jim recently did a film for the Liberian government on President Carter's visit to Liberia.
Attorney Glenda Gracia has left CBS to become the Executive Director of the recently formed Black Music Association (BMA) which is headquartered in Philadelphia. Founded by Kenneth Gamble (chairman of Philadelphia International Records) and Edward W. Wright (president of GEI Communications), BMA is a nonprofit organization that was set up to serve the industry. The initial funding has come from the major record companies (A & M, ABC, Arista, Capitol, CBS, MCA, Motown, Polygram Group, RCA, 20th Century, United Artists and Warner Communications), but Vice President/Managing Director, Jules Malamud expects donations from other funding sources to be forthcoming. According to Glenda, the Black Music Association has a threefold purpose: "To preserve, protect and perpetuate the integrity of Black music around the world. BMA will do this through its programs. Among them are:
1) Establishing a BMA Hall of Fame and museum.
2) Enhancing the image of Black music by initiating a televised awards presentation comparable to the Grammy Awards.
3) Initiating educational programs and seminars to get young Blacks into the business end of music and thereby providing a source of qualified Blacks.
 4) Raising the image of Black music through emphasizing its importance to and impact on other cultures around the world.
The Bedford-Stuyvesant Restoration Corporation has received a $260,000 grant from the CBS Foundation to build a recording studio. The studio, which will be housed in the basement of Restoration's present headquarters, will be administered by Otis Troupe, Restoration's Director of Economic Development. Delano McLauren, who was trained by Eric Porterfield (CBS' Director of Construction and Design), has been named Staff Engineer. According to Otis, the studio, which will charge $90-95 an hour (compared to the going rate of $150-200 per hour) for a 24-track recording, will be open for business in September. "We plan to run this as a professional commercial studio. In addition, since 99 percent of all studio technicians learn their craft through the apprenticeship method, we will also provide professional training of the highest level to two to five technicians each year." (Interested parties can call 636-3312.)
Potpourri: Wondering where all the murals that you've seen in our communities recently came from? Probably City Arts. According to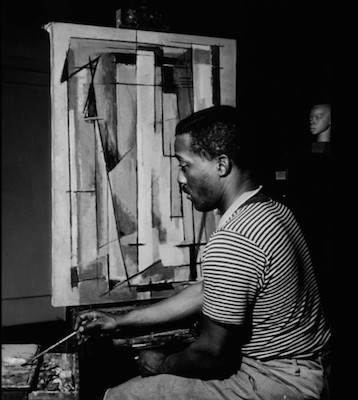 Marcia DuVall, City Arts' public relations coordinator, the workshop members paint exterior murals during the summer, and over the past months have concentrated their efforts in Harlem and Queens. During the winter months, the artists take their activities indoors. One of their scheduled events for the fall is the auctioning of a painting that is the result of the joint efforts of Romare Bearden, Ernest Crichlow and Norman Lewis. The proceeds of the auction will be shared equally by the Cinque Gallery and City Arts.
Writer/Actress Yvonne Teague is working on a career handbook for young Black women. Yvonne hopes that the book, which contains interviews with Black women in all fields from theatre to banking to advertising—will be instrumental in helping young Black women who are just entering the job market build the psychological skills needed to cope as Blacks and women in the world of work." Yvonne is also co-author-with husband, Bob-of a children's book, K-13 In Outer Space," which Doubleday will release in September.
Knicks coach, Willis Reed is busy these days helping raise money for the Gauchos Basketball Fund. Willis, a member of the Gauchos' Board of Directors, works closely with the Edgar Bronfmans who are spearheading the fund-raising effort. The Gauchos Basketball Team was founded 10 years ago by advertising executive, Louis d'Almeida to provide Harlem youths with an alternative to hanging out in the streets. In order to be a member of the Gauchos, youngsters have to stay in school and maintain good grades. The money raised by the fund will be used to build and maintain a major recreational facility in Harlem. Work on the building, which will also be the Gauchos' home base; is slated to begin in the fall.
Keep reading this issue – next article