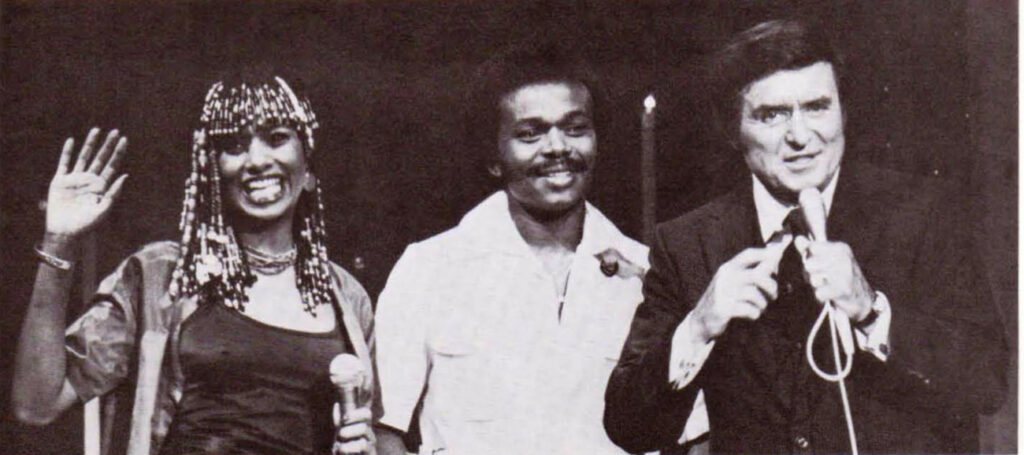 Last July, Billboard's Disco Forum presented an unusual scene. While a hot group was on stage rocking a coterie of music industry people, the security guards surprisingly remained backstage controlling an expectant crowd. The focus of attention was the last door at the end of the hallway leading to the performers' dressing rooms. When the door finally did open, a rush of exhilaration undulated throughout the crowd.
Peaches & Herb, Version Number Three, had earlier in the evening entertained the audience with an effervescent performance featuring the gold disco single Shake Your Groove Thing and the platinum ballad Reunited. Standing in the doorway the duo warmly greeted and acknowledged their following. As they proceeded through the throng of admiring fans and protective security men, Herb graciously shook hands with the backstage help. Yet all eyes were riveted on the beautiful Peaches, who, in her alluring and charming manner, lavished her affection on assorted strangers.
Peaches [Linda Green] makes a habit of delighting her male admirers, whose ardent support propelled her and partner Herb Fame [née Herb Feemster] out of their valley of depression. When they met three years ago, Linda was desperately searching for a vocation, and Herb was reaching for a new identity after seven years as a Washington, D.C. police officer. "It was a very negative way of life," Herb recalls about his career as a crime stopper. It was destroying me. When you only see bad things — death, husband and wife life — you begin to dislike people. I wasn't happy."
Happiness had also eluded Linda, who, after one year at Wayne State University in Detroit, drifted from a waitress job to singing gigs with local bands in her hometown of Washington, D.C. "I had come to the end of the line," she asserts, her eyes recollecting the ultimate frustration of life on a treadmill. "I said to myself, 'What are you going to do for a living? You can't type. You don't know shorthand. Oh God, Linda, what are you going to do?'"
Her prayers were answered when the late Van McCoy introduced her to Herb, who had taken a leave of absence from the police force to attempt a musical comeback. From 1965 to 1970, Herb had enjoyed success as the founding member of the original Peaches and Herb team with Francine Barker. A staple of sentimental love ballads, including the hits Close Your Eyes and For Your Love, characterized their repertoire. It was, ironically, McCoy who also brought Herb and Francine together, after the two men met in a Washington, D.C. record store.
"I was working as a salesman in the store," reminisces the 37-year-old Herb Fame, "and when I recognized Van, I talked him into hearing me sing right on the spot." The impromptu audition led to a solo album on Columbia Records, which Herb describes as "a bummer." The LP created little attention, so Van decided to couple Herb up with Francine for Peaches and Herb version number one. It was a successful union, until Francine Barker exchanged her sequined dress for a wedding gown. Problems arose with Francine's replacement, Peaches II (Marlene Mack), and soon the evils of the Record industry became too high price to pay for Fame's fame, despite his $100,000 earnings a year.
"I hated being treated like a piece of meat," he exclaims. "I was being used by my record company and my manager. One day, in July of 1970, I noticed a sign that read 'The Police Department Needs You.' Since I knew I wanted out of show business, I made a snap decision to become a police officer.
Though he switched careers to maintain his sanity, after his seven years of law enforcement, his wife Yvonne [they've been married 20 years and have four children] convinced Herb he would only regain peace of mind by giving the entertainment world another try. Despite his initial failure as a solo recording artist, he attempted once more to make it on his own. "I didn't want to work with another female," admits Herb, his voice laced with regret over his obviously poor judgement. "At the time, I said, 'they aren't worth the trouble.' "
Notwithstanding a rocky beginning, the old Herb and the new Peaches have developed an almost ideal working relationship and a binding spiritual rapport. Ending all speculation about an affair, Herb declares: "I love my wife. I love Peaches too — but in a different way." Peaches, her face framed by long, intricate braids, expresses her agreement: "It is possible for a man and woman to love one another without sex."
In spite of their compatibility and pleasant harmonizing, an additional element was needed for Peaches and Herb to evolve into more than just another male/female singing duo. Their 1977 debut album, produced by Van McCoy, generated about as much excitement as Herb's first solo effort for Columbia. So, Peaches and Herb paid their dues working hotel gigs, until producer Freddie Perren [his credits include The Jackson Five, The Sylvers, Tavares and Yvonne Elliman] spotted the pair. In collaboration with Dina Fekaris, Perren wrote and produced the duo's platinum album 2 Hot, which featured the hits Shake Your Groove Thing and Reunited. Perren and Fekaris also joined forces to write and produce Gloria Gaynor's number one single I Will Survive, thus giving them claim to the two top musical comebacks of recent years.
Herb and Linda attribute much of their good fortune to the engineering expertise of Perren and Fekaris, who packaged to advantage their vocal abilities by working around the team's limited tonal range. While Peaches and Herb are comfortable vocalizing in the higher octaves, they lack the intensity and raw energy of more critically acclaimed song stylists. Herb testifies, "If we can't sing together, we won't sing at all," an apparent recognition that they would not achieve similar success as individual artists. Peaches, swallowing her pride, admits that she is "not the ultimate female singer." Yet, Linda and Herb deserve their share of accolades for their unique harmonizing which is embellished by a sincere display of mutual love.
The revival of Peaches and Herb was made possible primarily through the vehicle of disco, the prevalent musical style of the late 1970s, which has catapulted Edwin Starr, Gloria Gaynor, Gene Chandler and other former R&B stars into the limelight. Not naive enough to believe that disco will last forever, Peaches and Herb are nonetheless grateful for the big payday disco is providing for them. Though it was disco which put them back on the charts, Herb finds the style artistically limiting, envisioning disco as a medium for producers and engineers. "They are the stars of disco," Peaches proclaims. For this reason, Peaches and Herb refuse to allow their act to be categorized under anyone label which might limit their artistry. The twosome's next release, due this month, is expected to contain the same mixture of disco, slower uptempo tunes and ballads as the successful 2 Hot.
There have been many career detours in the lives of Linda and Herb. But making music has been their continuing aspiration. Linda Green began her musical career as a classically trained pianist, and Herb Fame sang in bars and strip joints from the age of 13. It was not merely the possibility of financial rewards which made them persevere but a firm belief in the transcendence of music. "The people who are into music and disco are trying to escape from what is happening in the schools, on the news and everywhere else. Music is what's keeping everybody together," says Peaches. Undoubtedly, this is a commendable idealistic view of music's role in society. It remains to be seen, however whether it is wise to seek escape from reality during times of crisis. After the world has finished "shaking its groove thing," the problems of food shortages and diminishing energy supplies will still remain.
These ponderous questions aside, this past October, the new Peaches and Herb gave their first public performance in New York City, headlining at Carnegie Hall. This concert, their appearance on the Bob Hope Special from China and their recent week-long Las Vegas engagement present undeniable evidence that Peaches and Herb have indeed regained a spot on the slippery totem pole of the record world.
Keep reading this issue – next article