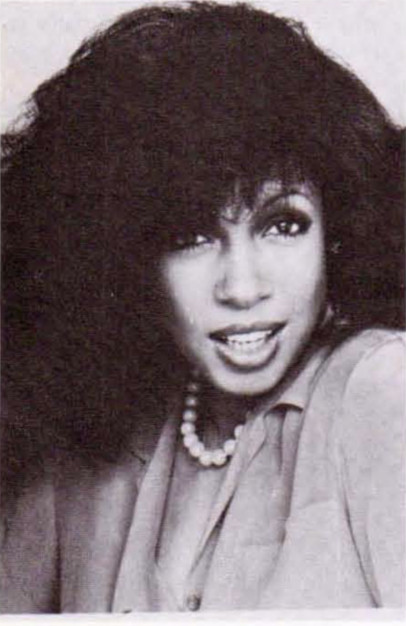 On Stage
From the flurry of publicity, one would have assumed it was Mary Wilson Month in New York. This past August, the last of the original Supremes blew into town for a week's engagement at the refurbished New York-New York nitery to celebrate her debut as a soloist. After lengthy litigation proceedings with Mary, which she said got nasty at times, Motown decided to pull some stops to give their old stalwart at least the initial semblance of a commitment to her new career.
But the tough, critical New York audience was skeptical. After all, Mary had been labeled a hummer and told to stay in the background since she'd never make it on her own as a lead singer. Add to that the fact that latter-day Supremes recordings didn't sell because they received no air-play, and one could easily discern that the cards were stacked against Mary.
But Mary Wilson, who at age 35 has more charm and youthful exuberance than ever before, took to the stage to tell the prophets of doom to eat crow. She succeeded in convincing all but a few of the most jaded, as the three standing ovations Mary received on opening night sufficiently testified.
Her incredibly strong alto took control of the audience from the opening bars of Everybody's Going To The Moon and didn't let up until the last refrains of Someday We'll Be Together. The singer, however, sounded most convincing on a series of moving ballads, which Mary readily admits are her forte. Her spine tingling vibrato and the emotional intensity of her lower registers brought tears to the eyes of many, including former partner Diana Ross, who was present opening night. Mary's chest tones were absolutely superb. On a torch song reprise of Can't Take My Eyes Off Of You, she soared to a belting E flat, switched to a C sharp which she clung to for dear life, repeated that ritual three times and then left the audience limp with an amazing F sharp finale — a truly rare accomplishment. Now, if only she'd practice her head tones more — they're still hit and miss.
Mary's captivatingly warm stage presence proved the lady's got soul, to borrow a thoroughly apt cliche. She had the audience in stitches when she announced she would sing some of her biggest hits and then proceeded to belt out the background phrases to some of The Supremes's all-time classics.
Perhaps the most surprising feature of the evening came when Mary put away her microphone and projected her unamplified voice across the room. The ripples of her lush phrasing reached all the way to the back of the room and into what must have been the stunned ears of the SRO audience.
That big, fat alto is Mary Wilson's greatest asset and could make her one of the most promising talents of the 1980s. She's tasted success, felt pain and has had to roll with her share of punches. But those are the ingredients that can transform good singers into outstanding and unique performers.
Rose Chee-Chee Murphy, a grand dame of traditional piano jazz, has checked into Syncopation nightclub in Greenwich Village for an indefinite engagement.
Rose's delicate little voice, embodying what seems to be the eternal image of youth, is pleasant to the ear and blends into tiny chirps and other vocal colorings when she wants to bring a smile to your face. Aside from using her voice as an instrumental extension of her piano, Rose's hands are frequently employed to clap a snappy little beat, usually in counterpoint with the firm yet never harsh stomping of her right foot.
Rose might sing I Can't Give You Anything But — Chee-Chee, her monster hit from the late 1940s, but she really does give you a lot. It's hard not to like this sparkling bundle of subtle energy, whose artistry blends perfectly with the subdued yet spacious setting of Syncopation. Proprietor John Lewis accompanies the songstress on drums, and on any given evening you might run into some of your favorite show people, sidemen and singers. Syncopation is located at 15 Waverly Place, just east of Washington Square Park.
Off stage
With a successful new album, When Love Comes Calling, under her belt, singer Deniece Williams has decided to explore some still untapped registers of her voice. Carrying a tape recorder with her wherever she goes, Deniece performs exercises designed to open up her voice's lower ranges. Perhaps as early as her next album, she will be singing alto. The tapes were made for her by Los Angeles-based vocal coach Seth Riggs, who also taught Mary Wilson and Stevie Wonder how to develop and preserve their voices.
The virtually effortless manner in which the songstress can glide past three octaves is largely owing to Riggs's vocal technique, for which Deniece has the highest praise and respect. Deniece's greatest source of pride is that the break in her voice when she shifts from chest to high pitched head tones has almost entirely disappeared.
In a recent interview with ROUTES, Deniece confided, "I start practicing my scales in the morning shower so that my voice stays in shape." Obviously, she is a performer who takes nothing for granted and continually works at honing her craft. "I'm so excited about singing alto because it will add a whole new dimension to my style," Deniece gigglingly announced. Hopefully, Deniece's newly acquired range will be in full evidence on her next release. If it is, we will have modern technology and the artist's hard work to thank.
If you wandered through Washington Square Park on one of those balmy summer evenings this year, chances are you encountered a crowd of people huddled around the slim figure of a young black comedian named Charlie Barnett. In fact, you may have been drawn closer to the action by the cheers and applause emanating from this concentrated mass of curiosity-seekers. It's a Barnett trade gimmick: I get the audience to applaud and shout yeah real loud. Then everybody comes running to find out what's happening.
Charlie Barnett is something of a hero to other street comedians. His humor is rough, and his talk can be vulgar. But his many attempts to grab your funny bone are truly inspired. He'll pace in a circle to give a physical presence to his mental shenanigans. He'll hunch and throw a grimace when he comes to a punch line, or he may even make you his victim in a one-to-one monologue.
His summer engagements in the park, at the piers and on the street corners of Greenwich Village [I love gay audiences, they're the best] have gained him considerable notoriety. Recently, Trude Heller signed Charlie up for an extended engagement at her nightclub. And that says something, because Trude is very picky. In some quarters of the cabaret establishment, Charlie is being heralded as the new great street comic-turned professional.
But Barnett's humor is puzzling and lacks clear definition. He insists that his ethnic jibes aren't designed to polarize but to make people laugh at their own prejudices as a step in overcoming them. In this endeavor, Barnett sometimes walks a very thin line indeed. Too often his stereotypes of black and hispanic life are so heavily crime-oriented, "Watch out for Puerto Ricans. They were born with knives," that I fear they may reinforce rather than exorcise the innermost racial hangups of his sometimes predominately white audiences.
His sex jokes, on the other hand, are harmless, except maybe for his fag jokes which might rub some people the wrong way. But they are uniquely funny and bizarre: "I'll get intimate with anybody for a dollar," as Charlie himself admits —  you'll never see him on the Johnny Carson show with such carnal expressions.
Barnett, who was raised in a street environment, interestingly enough, he started his career as a comic amidst the racial tensions of Boston's school segregation controversy. Considering the unhealthy atmosphere of that strife-torn environment, I can understand why he moved his act to the more liberal climate of New York City. For a time, Charlie supported himself here by washing dishes and by providing some needed alternate services for those who had written off booze.
In between these temporary jobs, he was begging for auditions at the Improv and other comedy showcases, only to encounter the subtleties of racial prejudice in a liberal environment. So, he took to the streets and slowly plowed his way up from poverty the hard way.
At this point in his comic life, Barnett may lack finesse and sophistication, but his blunt honesty and sincerity lead you to believe that — contrary to some of his jokes — this guy wouldn't take a nickel from a starving kid. He might just give him the shirt off his back.
If you're the type of record listener who reads lyrics printed on liners, you have probably chuckled [to put it mildly] over the words to Shaw Biz, a cut from Marlena Shaw's new CBS released Take A Bite. They read "When the applause is all over/And the last ticket holder is walkin' out the door/I do not want to be left on the stage of life/With nothing but battery-operated love."
During a recent transcontinental telephone chat, I asked Marlena about those very candid lyrics. Marlena explained that she recorded the album just after going through a second divorce in April. "When I talk about 'Shaw Biz,' I'm talking about some of the realities in life, whether they're mine or those of the people I work with."
The lines were inspired by Marlena's desire to communicate her feelings at this troubled time of her life. "I was lonely, and while sex may not be singularly the most important thing in a relationship, there are so many ads that lure you to bring pleasure to yourself, that they finally begin to get to you." But, Marlena confided, "that's not where it's at. A relationship must have depth, and love substitutes cannot make up for companionship."
Though Marlena is alone for the first time since she was 16, she has the love and admiration of her teenage children —three daughters and two sons. "So, I'm not that lonely, and right now I'm basically cooling out" — sprinkling the lawn of her Las Vegas home and continuing to write thought-provoking lyrics.
Records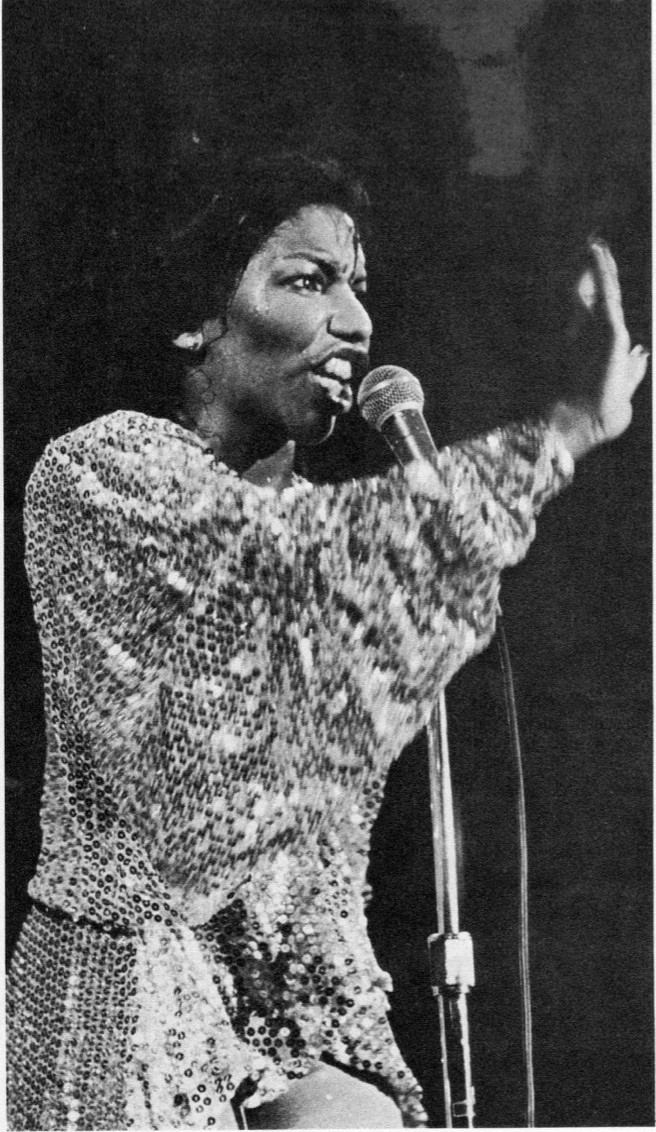 Let's hear it for Stephanie Mills — finally, this one's a hit. After having had an unbelievable series of album flops on Motown and then missing out on the part of Dorothy in the movie version of The Wiz, Stephanie is back with an extraordinary album — What Cha Gonna Do With My Lovin? — that clearly demonstrates we haven't heard the last of her yet. In fact, from the sound of it, she's only just begun.
I have always admired Stephanie's emotion-charged delivery, be it on a ballad, disco tune or gospel song. She long ago matured from her adolescent image of a pigtailed lass easing on down the yellow brick road, as her cabaret act at the Grand Finale last year amply revealed.
This album presents Stephanie the way we enjoy her most — involved, impassioned and, yes, even spine chilling at times, with that outrageous vibrato of hers.
The outstanding cuts here are What Cha Gonna Do With My Lovin'? and Put Your Body In It, both disco sizzlers. But the entire album maintains a high level of vocal artistry and instrumental performance — all expertly tied together by former Miles Davis sideman Mtume. A special gold star goes to the team of backup singers who bounce off Stephanie's vocals like echoes off a mountain.
Stephanie Mills: What Cha Gonna Do With My Lovin'? — 20th Century Fox T-583
Ronnie Dyson once had one of the most promising careers of any young singer in the country. In 1968, while he was still a senior in high school, he won a part in the Broadway hit musical Hair, and the song Aquarius was reportedly written for Ronnie's soaring falsetto.
The post-adolescent falsetto matured into a compellingly warm tenor by the time Ronnie's forever great If You Let Me Make Love To You was released in 1970. But after that smash, nothing much followed, and the star of Hair was Virtually forgotten.
Now Ronnie is back with If The Shoe Fits, and those of us who remember the singer in his best days won't recognize him right away. His vanished tenor has been replaced by what appears to be a baritone of sorts — a range that never recaptures the excitement that once was Dyson's.
The title track, If The Shoe Fits [Dance In It], is average disco schlock of the Michael Zager variety. Couples Only, with a corny dancehall organ lead-in, is geared toward the rapidly growing roller-disco crowd, who would just as soon dance to good rhythms without the gimmicks.
Ronnie Dyson: If The Shoe Fits — Columbia JC36029
Trying to ride the current disco wave is also creating plaguing problems for Nancy Wilson. Were it not for its two completely innocuous disco tunes, Nancy's new album, Love, Life, Harmony, would represent another example of the lady's masterly musicianship.
In an attempt to be up-to-date, the album's title song Love, Life, Harmony completely smothers Nancy's vocal sensibilities in a sea of boom-boom. But the songstress manages to jump back with a sensuous, contemporary tune entitled Sunshine, which is firmly grounded in irresistible Latin rhythms, complete with some stylish jazz riffs and instrumental solo spurts.
Most of the tunes on this album are laid back, with their speed resembling a lazy afternoon — a tempo that allows Nancy to spread out and let her vocal emotions flow. But the lyrics leave much to be desired.
One of the disco cuts — Heaven — gets a passing grade. Written by Larry Farrow and Carolyn Johns, who, incidentally, penned all the selections on this album, the song is light and airy, yet rhythmically solid. And you can even understand the words.
Nancy Wilson: Love, Life, Harmony —Capitol ST11943
By all standards of record industry longevity, James Brown is an institution. Over the past twenty years, his music has coaxed millions of people onto the dance floors. Returning from an hiatus, Brown now has a new album out, The Original Disco Man, which seeks to convey the message that James has been doing this kind of disco stuff for a long time.
But the musical peculiarities of the current disco scene have rubbed off on Brown and caused some changes. The man's music has traditionally been hot, funky and gritty. It keenly captured the mood and feel of a bygone urban life, of hot basements where kids rocked and rolled, in blue jeans and t-shirts, to his funky screams. Life in the late 1970s, however, is more polyester, and so is the mood of this album.
The once gutsy Brown has been repackaged and locked into slick studio arrangements that make it hard to distinguish him from the average disco artists of today. Witness the album's two strongest tunes: It's Too Funky In Here and Star Generation.
The most compelling cut offered is Women Are Something Else. No, this is not another baby you're so hot tune but a rare admission that it's no longer just a man's world and that the female species is playing an integral part in what happens in contemporary society.
James Brown: The Original Disco Man—Polydor PD-1—6216
Richard Tee's Strokin' renders us lavish funk with all the Hollywood trimmings: strings, horns and synthesizers galore. But Richard is such a stone swinger that he forcefully emerges from the slush and carries the music off. When it comes to getting down, Tee sure doesn't putter around. Strokin', the title track, is one hundred percent pure and sanctified gospel in glittering guise. If Tee's acoustic piano on Take The 'A' Train doesn't grab you out of your pew, you don't deserve to eat collard greens. This must be the most socking, nitty grittiest piece of Ellingtonia I have heard in many a year. It might have turned the great Duke himself into a Teetotaler.
Richard Tee: Strokin'—CBS Tappan Zee Records JC 35695
We All Have A Star, a Crusaders production, spotlights Wilton Felder, the Crusaders's sexy-toned saxophonist. All tracks but one feature vocals, and Mr. Felder himself sings on several cuts. He also plays bass on the title tune. Among the many celebrated musicians on the album are Paulinho da Costa [on percussions], pianist Joe Sample, also from the Crusaders, and guitarist Roland Bautista. Keyboard player Greg Phillinganes and singer Khabir Ghani, neither of whom I had heard of previously, both sound good. Why Believe, the instrumental selection, has disco-like percussion breaks, but the beat is not of the square, pounding disco kind. This record has a nice groove. My only quibble is that it gets a bit monotonous.
Wilton Felder: We All Have A Star — ABC Records AA 1109.
Uptown dance? It all depends upon what one means by uptown, of course. The uptown of Stephane Grappelli's Uptown Dance must be the world of high tea at the Plaza's Potted Palm Court, unless it be a breakfast at Tiffany's. Violinist Stephane Grappelli acquired his reputation with the legendary quintet of the Hot Club of France. He has a beautiful tone and technique, but to me, his feeling is closer to classical or Hungarian gypsy music than to jazz proper. The record features the inevitable Ron Carter, Grady Tate, Richard Tee, Steve Gadd and other studio monsters, plus pianist Jimmy Rowles, guitarist Jay Berliner and percussionist Rubens Bassini. Claus Ogerman, one of Brazil's foremost arrangers and composers, is responsible for arranging and conducting the sessions, as well as for one of the tunes. Mr. Ogerman, who seems to love strings, has really poured the sugar on this album. Fine for romanticists, but diabetics beware.
Stephane Grappelli: Uptown Dance — Columbia JC 35415
An interesting record by one of the new breed of virtuoso guitar players is Ryo Kasawaki's Prism. On percussion, Ryo is ably backed by Abdullah [congas] and by Steve Turre, who is credited for playing seashells. Bridge: Star and Joni create tranquil, poetic moods. Nogie, with its electronic noises, evokes a science fiction film soundtrack. The rest of the cuts are in the fusion/funk idiom.
Ryo Kasawaki: Prism— Inner City IC 6016
Big Joe Turner hails from Kansas City, the Midwest's jazz mecca and the point of arrival for many a Southerner. Everyday I Have The Blues, Big Joe's latest album, demonstrates how much his exposure to both urban and rural black music has benefited him. His blues have the raw power of traditional southern blues but possess the sophistication of city music as well. Turner, whose voice is as imposing as his girth, brings great majesty to his interpretations. Sonny Stitt blends well, and pianist J.D. Nicholson is extremely effective, but I especially enjoyed Pee Wee Crayton's mellow and meaningful guitar. The album contains a couple of classics: Stormy Monday and Everyday I Have The Blues. These and its uptempo blues tunes, which almost sound like boogie-woogie's, make the disc a must-have for serious record collectors.
Joe Turner: Everyday I Have The Blues—Pablo 2310 818
Keep reading this issue – next article