The words that instantly energize, transforming any passive disco gathering into tumultuous frenzy, The Freak, is a dance revolution that boasts Le Freak as its official anthem.
Chic, the group responsible for the hot-selling song, remains a mystery to some of its fans, despite having had two previous disco hits in the past year: Dance, Dance, Dance Yowsah, Yowsah, Yowsah and Everybody Dance. Some people didn't know the name of the group, admits guitarist Nile Rodgers, who [with bassist Bernard Edwards] is the creative power behind Chic. Like Rose Royce, which after its debut recording, Car Wash, was often referred to as a group called Car Wash, Chic was originally identified by many as Yowsah, Yowsah, Yowsah, but — three smash singles and two albums later — the name Chic is virtually a household word in disco circles.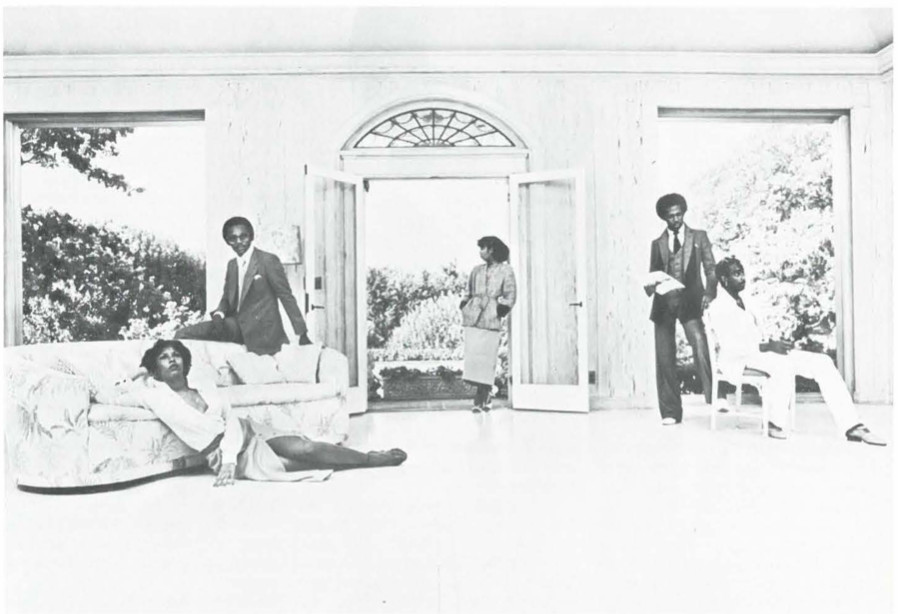 The term conjures up visions of elegance and sophistication, a trendy stylishness — the group makes an effort to live up to that image, but elegance and sophistication are not something one deliberately creates, and there are those who see the group's over-posed publicity pictures as a put-on.
Chic's musical sophistication is more real. Because the group has reaped its success in the disco market, there is a tendency to relegate it to that very limited category, but its two Atlantic releases have included beautiful romantic ballads, and soothing instrumentals — music for all moods.
In Europe, rhythm and blues, disco and funk are all considered pop, says Rodgers. We don't like having labels, we like the European mentality. One music trade magazine says we don't play enough disco, but 100 percent disco is not our concept.
Despite such statements, Edwards and Rodgers are proud to be recognized as one of the prominent disco groups in an era where disco is the dominant musical form, and assertions that disco music is simple do not bother the men behind Chic, "I like simple music because we are writing for other people to enjoy; only the most highly developed musical minds can enjoy complex music," comments Rodgers defensively. Take fusion music, the people who enjoy that are professional musicians, you can't sing that music. The most successful films and records are simple, easy to understand.
In the early seventies, Rodgers and Edwards played together in a New York City backup band known for the single I'm Doing Fine Now. When that group broke up in 1975, they began composing together, a perfect blend of Edwards' roots in rhythm and blues and Rodgers' knowledge of classical and jazz music. After playing saxophone in junior high school, Edwards abandoned his horn for the electric bass in high school. Rodgers was encountering several diverse musical experiences, from hard rock, to a job with the band for the Sesame Street television program, to house band at the Apollo Theater. "Playing at the Apollo allowed me to grow,'' says Rodgers. "I wasn't familiar with R&B, but I asked them to call out the notes, and I learned."
In typical fashion for the entertainment industry, Chic became an overnight success after many attempts that resulted in frustrating failure. Edwards and Rodgers produced original music which was listened to and rejected by virtually every major recording company.
Their fortune did not begin to reverse until a disco DJ engineered the tracks to Everybody Dance, and played it in his Manhattan nightclub, The Night owl. "Then it started to happen," Rodgers recalls, "Atlantic Records, the company we've signed with, previously had turned us down — but the president of the company, Jerry Greenberg, had never heard our tape.
"A friend of his who worked for another company, played it for him, and told him that he had so much faith in the tape that he would quit his job to work the record. Greenberg was so impressed that he had the record Dance, Dance, Dance pressed overnight, and hired a helicopter to deliver the records to a limousine, which delivered the records to the stores. Can you imagine the president of a record company hand delivering your record? I couldn't believe it. It literally happened overnight."
The public reaction was immediate and overwhelming, and Yowsah, Yowsah, Yowsah became a pet phrase in the disco world. The single and the album achieved gold certification, and Chic's immediate future was insured. The group appeared with such pre-eminent recording acts as The O'Jays, the Isley Brothers and Rufus, and in a four day showcase at last year's Billboard Disco Convention, with eleven other leading disco acts Chic gained the respect and admiration of deejays and music industry executives across America. "New York City is always the most important gig," says Rodgers, "we've looked into performing in a place like Avery Fisher Hall, we just have to make sure that everything is tight before we do."
Edwards and Rodgers are always striving to do more and to do it better. After their lead vocalist Norma Jean Wright left Chic to pursue a solo career, Edwards and Rodgers wrote, produced, and played on five songs in her debut album for Bearsville/Warner Brothers. They have also written and produced songs on a new Sister Sledge album.
Bernard Edwards and Nile Rodgers are total entertainers, commanding an organization which has persevered and strengthened itself despite the loss of its original lead vocalist. They realize that they are only as good as their supporting cast, and they are grateful for the talent that surrounds them: drummer Tony Thompson has played with Labelle and Stevie Wonder; vocalists Alfa Anderson and Luci Martin have impressive credits outside the recording industry. In addition to singing on The Wiz soundtrack, Anderson has acted in two films; Martin has studied dance with Alvin Ailey, and acted in the road companies of Hair, and Jesus Christ, Superstar.
Add it all up and you have a winning combination.
Keep reading this issue – next article