On Stage
Cissy Houston can best be appreciated either in church or in the sedate surroundings of an intimate nightclub. That may sound contradictory or even sacrilegious to some, but Cissy has a way with lyrics and melodies in both genres that is uniquely captivating.
Her gospel style is impeccable and as fiery as a Pentecostal ceremony. At the same time, she can sink her teeth into a secular ballad with no less fervor.
Cissy's ability to float between these two mediums is truly uncanny, as she proved during a recent engagement at Les Mouches's restaurant/nightclub. Belting out songs of love, disappointment, joy and frustration, she virtually turned the evening into a rousing prayer meeting. Her diction is clear and her message direct. She needs no choreography and gets her point across standing solemnly at the microphone. This she proved with her renditions of such standard tearjerkers as Tomorrow from the Broadway musical Annie, Dan Hill's Sometimes When We Touch and He Ain't Heavy, He's My Brother.
Wisely, Cissy stayed away from disco, ignored the formula material from her last CBS-released album and chose instead to rock the audience with some old time religion when the occasion called for heavy action. She shook the West Side eatery, packed with fans and admirers, right down to its foundation.
Jerry Butler made the second annual benefit concert for the United Negro College Fund worth every penny of the ticket price. The ice Man came on stage, following a rather lackluster performance by the otherwise titillating Marlena Shaw, and with a flick of the wrist, his voice held at times in suspended animation, Butler brought down the house.
Butler, dressed in a bright but simple suit, hit it off doing what be does best; standing there tall as a mountain, he sang with such personal depth and feeling that each tune became a dialogue between you, the listener, and Butler, the singer.
He shocked us all during his incredibly sensuous rendition of For Your Precious Love, which took on an unusually lusty yet eerie feeling. Butler stepped to the foot of the stage and, unaided by any electronic gadgetry, proceeded to warm the hall with his soulful timbre. The house rose to the occasion. Then, in an almost teasing fashion, Butler moved around to the left and then to the right of the mike, always keeping at a safe distance. Despite his playful manner, he delivered some of the purest vocal interpretations of love and caring that I've heard in quite some time.
Two of Butler's former singing partners from The Impressions, Fred Cash and Sam Gooden, didn't fare quite as well when they brought a revamped version of the legendary group into Leviticus the week before.
The vocal blend of former Impressions' lineups, where sweet melodies flowed from their lips as smoothly as expensive amaretto, was markedly absent from this performance, which featured relative newcomer Reginald E. Torian. But it would be rather difficult anyway for three guys to produce the kind of sound and excitement that the ten-man strong Impressions captured in their heyday. Perhaps some of the blame should be placed on the inadequate sound system the men had to contend with. But the group also looked bad. They need a choreographer, a light man, a costume designer and a musical director who will tell them to drop those overdone, trite dialogues about what they are going to do with their women when they get home.
The Impressions, whose act never really got off the ground, remained steadfast behind their mikes even though a barely half-filled house was emptying out little by little. If nothing else, their performance for this hard-to-please New York audience was a tribute to the group's perseverance to keep the dream alive and prevent it from turning into a nightmare. For this, they deserve credit and respect.
Records
Two of the most tantalizing singers in the business have come together to serve you up one big dose of vocal intimacy. Millie Jackson, the blues-gospel dynamo, united with Isaac Hayes, The Black Moses, for a special album, Royal Rappin's.
Considering the individual styles of these two artists, this album could have been a monumental flop. Millie can be rough — very rough — when she breaks into a rap. And Isaac can be devastating in his own subtle way. So, the two could easily have each gone off on separate tangents, never to find a meeting of the minds, not to mention the hearts — nothing doing. They prove to be a natural combination — at least from the sounds of this Jackson-produced outing.
Both sides of the album are basically soft and gentle, carefully avoiding any reference to disco. Their relationship grows quickly, and on the album's second side, they pop the inevitable question, Do You Want To Make Love. Then, with preliminaries out of the way, they embark on a personal, 10-minute lover's journey on intricately linked songs penned by Jackson, If I Had My Way and If You Had Your Way, which convincingly symbolize the give and take of human relationships.
The rappins are quite humorous and sensitive and, most importantly, are delivered in a sophisticated style that makes the whole encounter believable, or better yet, delectable.
Millie Jackson and Isaac Hayes: Royal Rappin's—Spring/Polydor PD-1-6229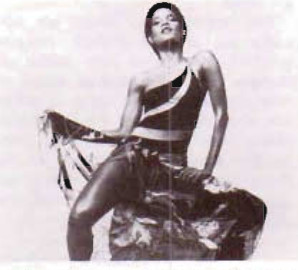 Melba Moore loves doing things in a grand fashion. So, when the pressures to put out a disco album became irresistible, she hired none other than Pete Bellotte to do the production honors. Bellotte, of course, is one of the creative powers behind the recording success of disco-queen Donna Summer.
However, despite Bellotte's efforts and Melba's thoughtful, self-penned tunes [neatly arranged by another Summer stalwart, Thor Baldursson], Burn misses the mark. Or to be more blunt, it is outright boring.
Melba's vocal range is hardly applied here to give this one-dimensional venture credibility. Even though Melba tries to disguise her voice on a couple of tunes, somebody left their creative juices at home.
The album's pick single, Miss Thing, [an over-used gay cliche] has Melba sounding like Mick Jagger. This song might become popular, but I doubt if many people will appreciate its strictly commercial motive.
Melba Moore: Burn — Epic JE36128
Scherrie Payne and Susaye Greene, formerly of The Supremes, also have a solo album out. Finally they have been allowed to write and produce their own material.
Partners is one of the most innovative works to have been released by Motown this year. Susaye, who is extraordinary, possesses five full octaves that are hauntingly evocative of the late Minnie Riperton. She writes her material to suit her voice and knows how to arrange the keys to tease the most guttural sounds or highest operatic phrasing from her pipes.
Scherrie Payne is also a very talented lady, with a strong, earthy voice, richly textured and more commercial than her partner's.
The single Leaving Me Was The Best Thing You've Ever Done has a lot of spunk, but the absolute clincher here is Susaye's Luvbug, an outrageous takeoff on the Ray Charles style. Ray, in fact, chimes in as the mean little "luvbug" himself.
I first previewed this album over a midnight snack, and when Susaye soared all over the musical ladder on the ballad When The Day Comes Every Night, I nearly choked on my ham sandwich. Take the song, Susaye. Take everything I've got. Wow.
Scherrie Payne and Susaye Greene: Partners — Motown M7-920R1
Listening to Barry White's latest venture I Love To Sing The Songs I Sing, one honestly can't help but wonder if the Maestro hasn't written himself into a rut.
The cuts on this album are indistinguishable from previously released material. Barry White's lush production ingredients are all there, but the feeling of déjà vu has now become rather nauseating.
The album's strongest cut is, oddly enough, of a stripe least associated with the singer. I Love To Sing The Songs I Sing is a jumping little burner which sounds as though it came straight from the Smokey Robinson School of Music, Detroit, Michigan, 1963.
I would hate to predict that Barry is past his creative prime, but this album fails dismally to give even a shimmer of hope that he is on the brink of latching on to something new.
Barry White: I Love To Sing The Songs I Sing — 20th Century Fox T-590
The O'Jays are one of those groups who have refused to lie down and play dead. They created a theme song for peace in 1972 with their classic Love Train. But not too long after, somewhere along the musical rails, their train, like the Silver Streak, hit a buffer at the depot.
Now they seem to be back on the right track with Identify Yourself, a long overdue effort. And again, they are hitting us with a message. And it's strong. Identify Yourself, the little cut, asks very straightforwardly: "Will you destroy or will you help? Do you bring peace, do you bring war?" and draws the only logical conclusion: "There ain't no in between." Heavy stuff.
Kenneth Gamble and Leon Huff [who else] wrote this telling opus, and the O'Jays sing it challengingly, conveying a deep sense of urgency that rips right through a solid, thumping and provocatively heavy rhythm arrangement.
However, much of the album's other material consists of cute little love tunes and standard disco-schlock. These songs are not particularly demanding but work well thanks to the O'Jays's strong command of vocal harmony and color. Among the ballads, Hurry Up And Come Back recaptures for me the kind of sensitivity associated with one of my favorite O'Jays ballads from 1972 — Who Am I?
The O'Jays: Identify Yourself — Philadelphia International FZ36027
While much is being said about the future of disco, one thing seems to be clear: disco will have to make some creative changes or it will be doomed. The enormous stockpiles of impersonal disco material attest to this fact.
Who then decided to tape the all-time classics of Sly and the Family Stone and rework them into the most mediocre of disco arrangements on Ten Years Too Soon?
The album's producer, John Luongo, could have come up with quite an interesting concept of a disco Sly, but what we have here is devastating.
In an effort to retain some measure of authenticity, the original Sly vocals have been preserved, as have some of the horns. But the sound, Sly's landmark fusion of rhythm and blues and rock that first jelled on Dance To The Music, has been flattened and literally driven into the ground with a pounding boomboom, save for a few hand claps and timbales. Instead of resurrecting Sly, this album has buried the man's music six feet under. Sly classics like Sing A Simple Song, Everyday People and Stand never sounded so monotonous.
I betcha more albums could have been sold by simply re-releasing the original material, perhaps using the latest studio gadgetry to enhance the sound rather than to smother it. Did anyone bother to consult Sly or his Family Stone on this?
Sly Stone: Ten Years Too Soon — Epic IE35974
Hank Jones has a reputation for being the most self-effacing member of the musical Jones family, which includes famous siblings Thad and Elvin. Nevertheless, he is a consummate pianist. I had the opportunity to fully appreciate the range of his skills during his tenure at the Sherry Netherland's bar a few years ago. Hank handled requests for Debussy, Ellington and the latest pop tune with equal grace and sophistication.
Love For Sale — The Great Jazz Trio, Hank Jones's latest outing, offers such standards as Love For Sale, Secret Lave, Glad To Be Unhappy, Someone To Watch Over Me, Autumn Leaves and Gee Baby Ain't I Good To You, all no-nonsense selections. Love For Sale starts with an energetic vamp that is taken over by the left hand and leads into an arrangement with manly appeal. Someone To Watch Over Me with its lush harmonies and Glad To Be Unhappy with Buster Williams's tasty bowed counterpoint are also worthy of praise. Both Buster and Tony Williams give wonderful support, and the mixing is good. The result is flexible and refined music of the highest order.
Hank Jones, Buster Williams, Tony Williams: Love For Sale—The Great Jazz Trio — Inner City IC 6003
Toshiko Akiyoshi is known these days primarily as a first-rate bandleader, composer and arranger. One rarely gets a chance to hear her keyboard technique anymore. So I imagine Dedications, Toshiko's new album, will be welcomed by her Legion of long-time fans. [Two of her most earnest admirers included Bud Powell and Hampton Hawes.]
Toshiko is the direct heiress of Bud Powell. Her playing is unadulterated bebop. Lightning runs highlight Solar and Tempus Fugit. She serves up fantastic triplets and grace notes reminiscent of Bud and Richard Davis, Jr., as well as block chords a la Red Garland, on Oscar Pettiford's Swinging Till The Girls Come Home, Toshiko excels on fast tempi, and you'll appreciate her treatment of Israel and Two Bass Hits, compositions rarely performed in the 1970s. I must confess, however, that after listening to Hank Jones, I find Toshiko a little dry. While Hank Jones opts for mellowness, Toshiko Akiyoshi chooses flash. In the long run, Jones's economy of means achieves more of an emotional impact.
Toshiko Akiyoshi Trio: Dedications — Inner City IC 6046
Gospel tunes rarely become national even though an overwhelming number of black singers have their roots in the church. Tomato, that eclectic record label, which releases everything from rock to avant-garde jazz and contemporary music, must be commended for supplying us with a whole series of gospel tunes in A Way Out Of No Way. Not too many companies would take that chance. Frances Moore wrote all but one of the selections and is the young lady whose photograph graces the back cover. Much of the album has power and drive, especially on The Blood and I Can't Let You Dawn. Stevie Wonder's  Wish A Way Out Of No Way is done with funky bass and organ.
Jesus is cannot help but evoke images of Aretha Franklin, although I find Aretha's way with lyrics more exciting than what is offered here. On the whole, the album is pleasing but perhaps a trifle too commercial for gospel purists.
Frances Moore and the Fast St. Louis Gospelettes: Way Out of No Way — Tomato, The John Daniels Gospel Series TOM -7026G
The motivations behind Individuals are unabashedly commercial. I imagine someone's out to peddle straight jazz artists [Woody Shaw, Dexter Gordon, Bobby Hutcherson and The Heath Brothers], whose selling potential is nothing for tycoons to gloat over, by sluicing them down in an outpouring of fusion material [Ramsey Lewis, Jaroslav, Tom Scott and the like)] The approximate ratio on this twofer: three funk for one jazz selection. As in any grab bag, some is good and some is bad. Funk lovers may find redeeming values. My guess, however, is that these CBS artists are too mismatched to truly satisfy anyone. As for the dull comments between each tune, I find them a real turn off.
Jazz Greats From CBS Records: Individuals — Columbia A25512. 7
Keep reading this issue – next article