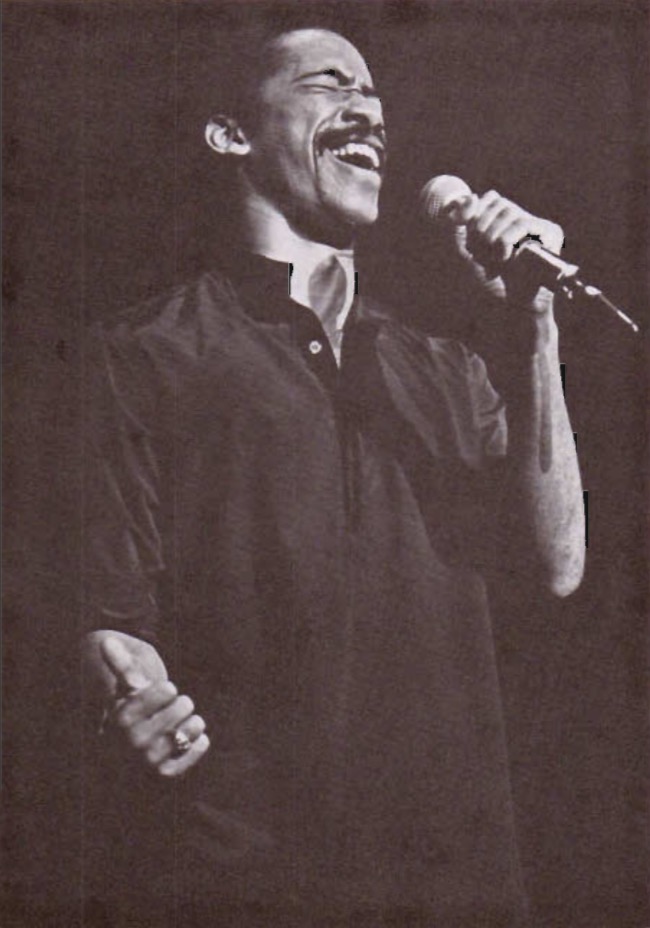 The atmosphere in the Indian restaurant, where I am to meet Obba Babatunde, is in stark contrast to the confusion of the rush-hour outside. It is nearly empty, and pleasantly serene. I hear "Obba" called out in greeting. One might assume from his lyrical name that Obba Babatunde is from Africa. As he speaks, certain words are tinged with an African flavor — not the dialect of his native Jamaica, Queens.
Obba Babatunde — his name has appeared on countless Broadway playbills, but a few people have gotten a real grasp of what the man is about. He is a multi talented entertainer who has appeared in such pays as "Timbuktu!", and "Reggae", and has performed with the likes of Liza Minnelli, Melba Moore, and Eartha Kitt — garnering rave reviews each time.
I am curious about the origins of his name. "My name is of a Nigerian lineage. Obba means ,'king,'" he explains, and "the literal translation of Babatunde is 'The spirit of the grandfather has returned in the child.' All of the firstborn males for the first six generations of my family have been born on the same day, the same month. My great grandfather, my grandfather, and my father were all born December 11. I sort of varied," he noted. "I was born on December 4, but four is exactly 7 days from the 11th. 4+7 is 11. And my son was born December 11." Says Obba, "It wasn't anything planned: just carries on."
His six-year-old son, Antra Tarik Babatunde, is following in his father's footsteps."He's ready very active in things like dance and gymnastics," Obba beams.
Like father like son. Obba himself can look back on a fruitful childhood. By the time he was 14 years old, he played about nine brass instruments. His first professional job was with the Metropolitan Brass Ensemble.
Obba is perhaps somewhere between 24 and 30 years old — a rough estimate since he refuses, at an instructor's advice, to tell his real age. He was told "after the age of 15, age ceases to have a continuum." According to Obba, people "Will credit you for what you've done at your age — or blame it on your age." He is wearing what looks like a dark green velvet suit jacket. The colors are hard to distinguish in the slightly dim restaurant. A gold necklace attracts one to a smooth, bare chest revealed by a light colored, open shirt. His flawless face emphasizes soulful, dark, oval eyes, and a mustache curves around the sides of his lips from which flows an eloquent voice. He's been called "A young Billy Dee Williams" his "contender," he laughs.
Obba majored in theater and speech while at Brooklyn College. He also began writing and directing plays while in school and performed with the Negro Ensemble Company, the National Black Theatre, the Afro-American Total Theater, and several touring companies. He was a lead male dancer and choreographer for the International Afrikan-American Ballet. "I was very inspired when I saw the ballets from Africa," he reminisces. "It was inspiring, because what always made me shun away from taking dance lessons was that I never saw any dancers that I wanted to look like.
"I didn't want to just express form — which I think is beautiful '— but when I saw the African ballets, there were stories with the movement. The dance was part of the production and although I didn't understand the language at the time, it didn't matter. The music, the dance, and the singing transcended the language."
Obba says he'll never forget reading "A Raisin in the Sun" in high school. "I remember the play being something that I' really' wanted to do, and they didn't choose me to read one of the roles," he recalls. "We were reading it, but I was living it! I wanted to do the character and the teacher didn't choose me." He seems transposed back in time, his face, at first darkened with despair, suddenly lights up as he sings, "If she could see me now." A boisterous laugh follows.
If his teacher could see him now, she could perhaps take notes on how his determination helped give birth to a budding career. To date, Babatunde's accomplishments have been the role of the undercover cop in the movie "Short Eyes," and an appearance in the touring company of "Guys and Dolls" with Leslie Uggams and Richard Roundtree. He had been offered a role in six musicals planned for Broadway, and finally join the cast of "Timbuktu!" and delivered a memorable performance as Chakaba, the stilt walker.
"I I had a specific interest in 'Timbuktu!' " he says. "It dealt with Africa and there was a story involved — the whole Timbuktu empire — that I found interesting. I also got a chance to work with Geoffrey Holder and to do certain things I had a knowledge of— certain forms of African culture' … ."
His ability to speak Wolof, and his familiarity with African folklore led him to write the words and music for to chants in the show. He also created the melody and lyrics and played the music for an "incidental music tape" used in the spectacular entrance but all the men and women in the cast. "It was incorporated into the show and I was told they would work out a compensation."
That compensation came out to exactly zero. He wasn't even giving credit for writing the music and he vowed to take the music with him when he left the show. And that he did.
Obba also had the idea for the stilt walker, from working closely with African ballets. He had never been on stilts before and learned just for the occasion. "Geoffrey Holder asked me, 'Can you?' And I said, 'yes,' " The stilts were 15 feet high, and he had to maneuver on a raked stage, adding to the difficulty. "As you walk, it's like walking on a ramp," he explained.
Obba didn't know that while he was walking on stilts and having a good time chasing Melba Moore up and down of the stage at as the Orange Merchant, he was being watched closely by Liza Minnelli's choreographer, who at the time, was auditioning male performers for her new act. Obba auditioned, won out over 60 competitors, and was also given a solo performance, entitled, "Mr. cellophane."
After touring the globe with Liza, he ventured into television and appeared on the Baryshnikov television special. The two Broadway plays that followed, "Reggae," and "It's So Nice to be Civilized," both had very short lives, but for Obba, it meant getting his name and talent around. Though his name is not yet a household word, his talents have won him the admiration of the most critical of all audiences — his peers.
Given the rave reviews he received in the two shows, one might wonder why he has yet to get that' starring' role '" his name in lights. "The things that I've done have merit," he states. "As far as my own vehicle, that comes with the right timing, getting in the position to handle it, and people trusting enough to think that you're ready for that piece of material written to suit you."
But nonetheless, in this dry time for black singers and dancers in the entertainment field, Obba Babatunde is fairing well."I am very choosy about the things that I do, because I have to live with me. Thank God I've never been in a position where I was literally starving. I don't know what positions other people have been in, but anything that would put me in a light that did not resolve in a positive means of a character, would be something that I would be less excited about doing. I have not had to do a job where I did something that I felt any black watching would be ashamed of."
Keep reading this issue – next article