L.B. Williams: Unsung Revolutionary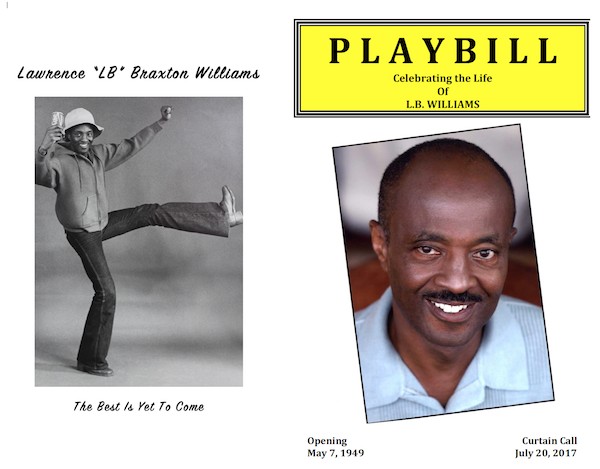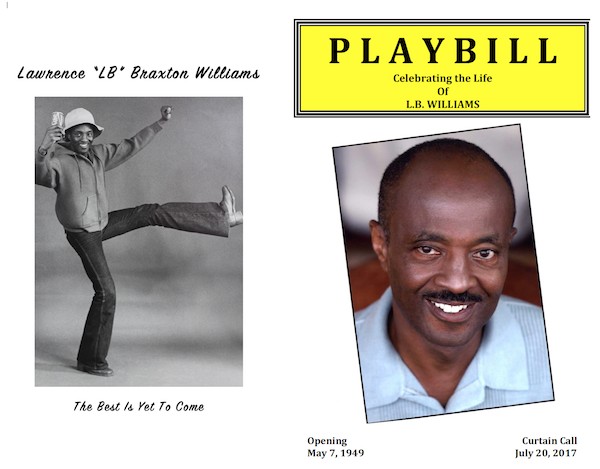 We are all here on this Earth, in this world, for a heartbeat and then we are gone. We leave behind a thumbprint, an impression, on the lives we've touched through our words, our actions, or inactions.
Nikki Giovanni wrote: "… if ever I touch a life I hope that life knows that I know, that touching was and still is and will always be the true revolution." That being so each of us is, on some level, a revolutionary.
L.B. Williams was a beautiful soft, steady light in the lives of all who knew and loved him. He was an actor and like most in that field, he managed to make a living through his art, yet remained largely unknown to his audiences. But he was a powerful, positive force to the few he allowed inside his inner sanctum. L.B. went home to our Heavenly Father July 20, 2017, and his life was richly remembered and celebrated September 23rd by the NYC Arts Community. This video montage below  Remembering LB Williams was created to pay tribute to the journey of this humble, thoughtful, diligent, generous giant who was always surprised by how many loved and looked up to him. We sing praises for this unsung revolutionary and the many lives he touched. Rest In Peace L.B.
THE BEST IS YET TO COME (An Ode to L.B.)
I met L.B. in a production over 30 years ago
He played a young man named King
And I played his mother.
Hanging with him from time to time through the years,
He later became a good friend and my brother.
With a small group of friends
I once stayed overnight at his upstate home
We grilled corn and steaks and veggie kabob skewers.
But since about 6 or so months ago
I realized I only vaguely knew him.
He was quiet and sensitive, thoughtful and kind
These are some of his qualities that come to mind.
About 2 months ago he shared some of his
Aspirations and Intentions
The details that give a life depth and dimension
An only child raised in Trenton
Moved West to San Francisco
Toured as a dancer with a non-union troupe
Until an ankle injury ended that pursuit.
I found something elegant and regal
In his stance,
His movements always leisurely and deliberate,
Maybe he adopted that from dance.
Months ago he said, I want to tell you something,
But you must keep it to yourself.
Marjorie was there and already knew,
It was about his health.
He said, "I was diagnosed with cancer nearly 2 years ago.
Everyday is a struggle,
But I need people Not to know."
Keeping People away
Sounds like fear or pride, I said.
But 2 Timothy 1:7 tells us
God did not give us a spirit of fear,
But a spirit of power, of love, and of self-discipline.
LB said, "It's not that. I need to work.
And if word got out that I was so sick, you see,
Agents and casting would stop calling me."
I felt blessed that he
Trusted me with news
He kept from others.
But then I thought, he should've told me
Long ago… after all, I was his mother.
Sometimes he'd look worried and say, "This is hard."
I'd stroke his brow and tell him,
"Be anxious for nothing." Philippians 4:6
With a whispered smile, "I know, but I'm new to this."
2 Corinthians 5:7
We walk by faith, not by sight
There's so much more to be done.
Keep looking up, my love, remember your motto
"The best is yet to come"
Nikki Giovanni said:
"… if ever I touch a life I hope that life knows
That I know, that touching was and still is
And will always be
The true revolution."
LB touched so many lives,
He didn't seem to know or believe it.
But, here we all are today
Celebrating his gentle revolutionary spirit.
Sharing what he taught us
Through his quiet, diligent brawn
Looking forward to tomorrow where
The best is yet to come!
Obituary
Lawrence Braxton Williams was born in Trenton, NJ on May 7, 1949. He was the only child born to Earline Pulley Williams and Thornton Thomas Williams, Jr. Lawrence went to school there and eventually became known as LB, graduating in the class of 1967 from Trenton Central High.
LB went on to receive a Bachelor of Arts degree in Sociology from Albion College in Michigan before moving to San Francisco where he became a dancer with a non-union, touring company. His dancing days ended abruptly after an ankle injury. So LB moved back East, to NYC, to study acting. LB garnered favor and friendship with many notables in the artistic world. Jessica Lange was one of his classmates in his first acting class. He became good friends with renowned playwrights P.J. Gibson and Anna Deavere Smith. He studied drama and forged close connections with celebrity acting instructors Susan Batson, Austin Pendleton, and Larry Moss. LB's 43-year career covered the spectrum of stage, film, and television – from Broadway, off-Broadway, and Regional Theatres to commercials, and live and taped industrials. Some featured TV appearances include; All My Children, Edge of Night, The Cosby Show, Law & Order, Law & Order Criminal Intent, and films; The Perils of P.K., Clockers and Party Girl, to name a few. Some of his more notable performances were as: Tupac Shakur's father in Juice, Jasmine Guys' husband in My Nephew Emmett, a beleaguered horsemen on Broadway in Equus with Leonard Nimoy. He was recently seen in the EPIX docu-series America Divided as an undercover housing tester alongside Norman Lear – for which he received the premier Outstanding Fair Housing Tester Award, posthumously. LB once taught acting as an Artist–in-Residence with the NY Foundation for the Arts and the NJ Council on the Arts, and he was also a licensed NYC tour guide.
LB Williams was a gentle, loving, elegant, and very private man who ardently believed that The Best is Yet to Come. He called Love his religion. That perfectly echoes the scriptures that teach us …God is Love (1 John 4:8), and We are the temple of the Living God. As God has said, "I will live with them, and walk among them, and I will be their God and they will be my people" (2 Corinthians 6:16 NIV). Richard Hire (his partner), Prince and Abigail (beloved canine companions), and both parents preceded him in death. LB Williams made his transition July 20, 2017 and leaves to celebrate his life and share his memories: Uncle John D. Williams, Aunt Maserine "Precious" Williams, Johnnie Williams (a cousin), "family" and friends from the NY arts community, and the Pancreatic Columbia Hospital Support Group with whom he shared much support and love.