It's African-American History Month 2021!
We planned to publish a list of notable African-Americans to celebrate. There are so many — most of them unknown to the general public and their accomplishments forgotten. What a shame!
While talking about our plans, we also asked each other about who's had an impact on our lives. We shared stories about our Inspirators and how their influences have guided us.
Slowly the focus changed. History is not just what ends up in books. History is made every day and we are all part of it. So we asked more people, used Social Media.
And it seems we've hit a nerve. Here are some of the responses (italics) we've gotten and a sampling of celebrants from our compiled list. We are working on a much bigger list we will publish later.
Do you want to share your story? Send it to us, or leave a comment below.
Ebony JoAnn, she's my best friend, she's also has been my teacher in many ways throughout our friendship. Which I will thank her for until my last. She's a wonderful performer. She's the person that takes on some of the pain for the ones that know better. Thanks EJA. — Anthony D. Floyd
Dorothy Irene Height was a US American civil rights and women's rights activist. She focused on the issues of African-American women, including unemployment, illiteracy, and voter awareness. (March 24, 1912 – April 20, 2010)
"Quiet Storm" Vaughn Harper was a US American broadcast announcer and DJ for WBLS, the black music radio station in New York. (March 1, 1945 – July 9, 2016)
Edward "Honeydripper" Comminey • If you lived in Compton around Alondra and Central, you knew this man (August 24, 1944 – February 8, 2017) — 😉😁  — Shannique Solaita
Bob Marley's famous quote: "The greatness of a man is not in how much wealth he acquires, but in his integrity and his ability to affect those around him positively".
Berry Gordy Jr. (Aka Berry Gordy III) is a US American record executive, product, songwriter, and film producer who founded the highly successful Motown Record Label. (Born November 28, 1929)
Alex Haley (Aka Alexander Murray Palmer Haley) was the US American writer/author of the 1976 book entitled "Roots" that was adapted by ABC into a record-breaking television series. (August 11, 1921 – February 10, 1992)
Mr. Stanley Edmond, the president of the Panola County Voters League in Sardis, MS during the heat on the Civil Rights movement in the 1960s. A union member auto mechanic at the Sardis Chevrolet dealership, who walked away from his high paying job, rather than quit the Voters League. I really admired him. — Curtis Wilson
Elizabeth Catlett was a US American and Mexican graphic artist and sculptor best known for her depictions of the African-American experience in the 20th century, which often focused on the female experience. (April 15, 1915 – April 2, 2012)
Ernest Crichlow was an American social realist artist. Ernest Chrichlow, Romare Bearden, and Norman Lewis were Co-Founders of the Cinque Gallery. Ronald Bunn, ROUTES Publisher is 2nd cousin to Ernest. (June 19, 1914 – November 10, 2005)
Frankie "Hollywood" Crocker was a US American disc jockey who helped grow WBLS, the black music radio station in New York. (December 18, 1937 – October 21, 2000)
This picture is of my maternal grandmother, Rachel Pumphrey and her older sister, Ollie Jones. My grandmother is on the left. They were from Kittrille, NC. Their parents were born into enslavement and witnessed when Freedom Day came. Their parents died when they were very young, and Aunt Ollie and their oldest brother, Blake, went up north to Massauchusetts. Somehow my Aunt Ollie sent for the rest of her family and she was able to amass property in Cambridge and on Cape Cod. This picture I believe is on Cape Cod, about 1950. My grandmother, whom we called Nana, used to go on demonstrations and marches. My mother said  that one time she went to go hear the Honorable Elijah Muhammad speak in Boston, when he saw her in the audience he pulled her out of the audience and said that she looked just like his mother. And when I look at my grandmother, I can see why he'd say that. — Dayvus Lees
Mr. Howard Baugh Tuskegee Airman. (I knew him personally and talk about an amazing man that deserves recognition!!) — Keith Walker
Melvin Edward "Slappy" White was a US American comedian and actor. He worked with Redd Foxx on the Chitlin' Circuit of stand-up comedy during the 1950s and 1960s. (September 27, 1921 – November 7, 1995)
Arthur Robert Ashe, Jr. was a US American professional tennis player who won 3 Grand Slam Singles titles. (July 10, 1943 – February 6, 1993)
My mother Willie Ann Richardson Jones was a teacher. She graduated from Saint Paul's College. She taught me the importance of believing in my abilites and having respect for people that I encounter. — Kathi Muhammad
Billy Dee Williams (Aka William December Jr.) is a US American actor, voice, actor and artist who is famously known for playing "Lando Calrissian" in the Star Wars franchise films. (Born. April 6, 1937)
My Father, Brandon Southern; My College President. Benjamin E. Mays; My Presbyterian Pastor, Bridges Edwards and all the deacons and sisters in my old country boyhood Baptist Church who nurtured, loved and showed me how to enjoy Easter egg hunts even when I could find only one and sometimes none. — Tom Southern
Andrae Edward Crouch was a US American gospel singer, songwriter, arranger, record producer and pastor. (July 1, 1942 – January 8, 2015)
Billy Daniels (Aka William Boone Daniels) was an American singer who was known for his hit "That Old Black Magic" and as a pioneer on 50's television being one of the first African-Americans to be on that platform. In 1977, he was given a star on the "Hollywood Walk of Fame". (September 12, 1915 – October 7, 1988)
Pretty much all of South side Black Chicago. Everybody I came in contact with either owned themselves outright by having their own businesses or working a job-job but with a hustle on the side. Starting my own business never seemed like something courageous or daunting for me; founding a school was just something I wanted to do. "What children see is what they'll be." — Toussaint Denmark Inugu
Billy Daniels (Aka William Boone Daniels) was a US American singer who was known for his hit "That Old Black Magic" and as a pioneer on 50's television being one of the first African-Americans to be on that platform. In 1977, he was given a star on the "Hollywood Walk of Fame". (September 12, 1915 – October 7, 1988)
My father Grover Ruffin he was a World War II veteran. He lied about his age to get in. On the first night he learned I guess their creed. When asked who knew it he had learned it overnight. They were so impressed that they sent him to school to be a radar repair technician. Mind you he did not finish elementary school. When he finished military he work for the United States Postal Service. He went to school for Electronic Technician and ranked among the top five in his class. While working for the Post Office he started his own business, Ruffin & Sons TV Sales and Service. He also did a commercial for RCA XL100 Television in the 1970s. We were able to find it, so I look at it often. He was in business for over 40 years. When he retired from the Post Office he went into his business full time. He taught me that you can accomplish anything that you desire. — Riquetta Carr-Jackson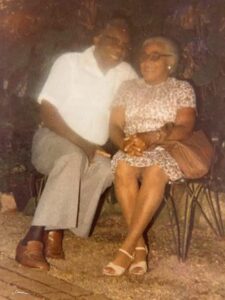 All of our colored poets, song writers, choreographers of the 20th century in America. — Carolyn Logan
Kenny Barron is a US American jazz pianist, who has appeared on hundreds of recordings. (Born June 9, 1943)
Angela Basset is a US American actress, director, producer, and activist known for her film roles portraying real life figures. (Born August 16, 1958)
Ruth Alston Brown, née Weston, was a US American singer-songwriter and actress, sometimes known as the "Queen of R&B". "Mama, He Treats Your Daughter Mean" was one of her 1950s Hits. (January 12, 1928 – November 17, 2006)
Dr. Barry Harris, Jazz pianist/composer and world famous educator of the music! — Rome Neal
Aretha Louise Franklin was a US American artist, singer, and civil rights activist who began her career singing gospel and after major hits in the 60's, she was given the title "Queen of Soul". (March 25, 1942- August 16, 2018)
Benny Golson is a US American Jazz saxophonist, composer, and arranger who was a member of the big bands of Lionel Hampton and Dizzy Gillespie. He went on to be a writer and arranger for film/television. (Born January 25, 1929)
Brown University Physics professor Jim Gates pens book, "Proving Einstein Right" — Jeffrey Hamlin
David Norman Dinkins was a US American politician, lawyer, and author who served as the 106th Mayor of New York City. (July 10, 1927 – November 23, 2020)
Althea Neale Gibson was a US American tennis player and professional golfer. She was one of the first black athletes to cross the color line in international tennis and win a Grand Slam. (August 25, 1927 – September 28, 2003)
My role model is Warren J. Bunn (1914-1986), he was also my uncle. Within the Bunn Clan we used to call him "Big Bunn" — he earned that title. Whenever one of us had a financial or emotional need, he was always available to help.

However, he was also a Union leader at the Squibb company, a Multi-Termed president of the Brooklyn Branch of the NAACP and an active supporter of John F. Kennedy's presidential campaign.

At that time, Earl G. Graves, Sr. was his Administrative assistant and Warren introduced him to Robert Kennedy who, at the time, had been campaigning in Brooklyn for his brother's presidential bid. This contact enabled Earl Graves later to start publishing the Black Enterprise Magazine, still in print today.

During the Montgomery Boycott, Warren also gave Martin Luther King, Jr. strategic advice and materiel support.

"Big Bunn" will always be the someone, many of us will be forever grateful for having known him. Ronn Bunn
George Washington Benson is a US American guitarist, singer, and songwriter. He began his professional career at the age of 19 as a jazz guitarist. (Born March 22, 1943).
Andre Keith Braugher is a US American actor who is best known for his roles as Detective Frank Pembleton on the series "Homocide: Life on the Street" and Captain Raymond Holt in the series "Brooklyn Nine-Nine". (Born July 1, 1962)
Byron Louis Cage is a US American gospel recording artist. (Born December 15, 1962).
Do you want to share your story? Send it to us, or leave a comment below.
Latest posts by Ronald Bunn
(see all)