Alex Harsley — Portrait of an Artist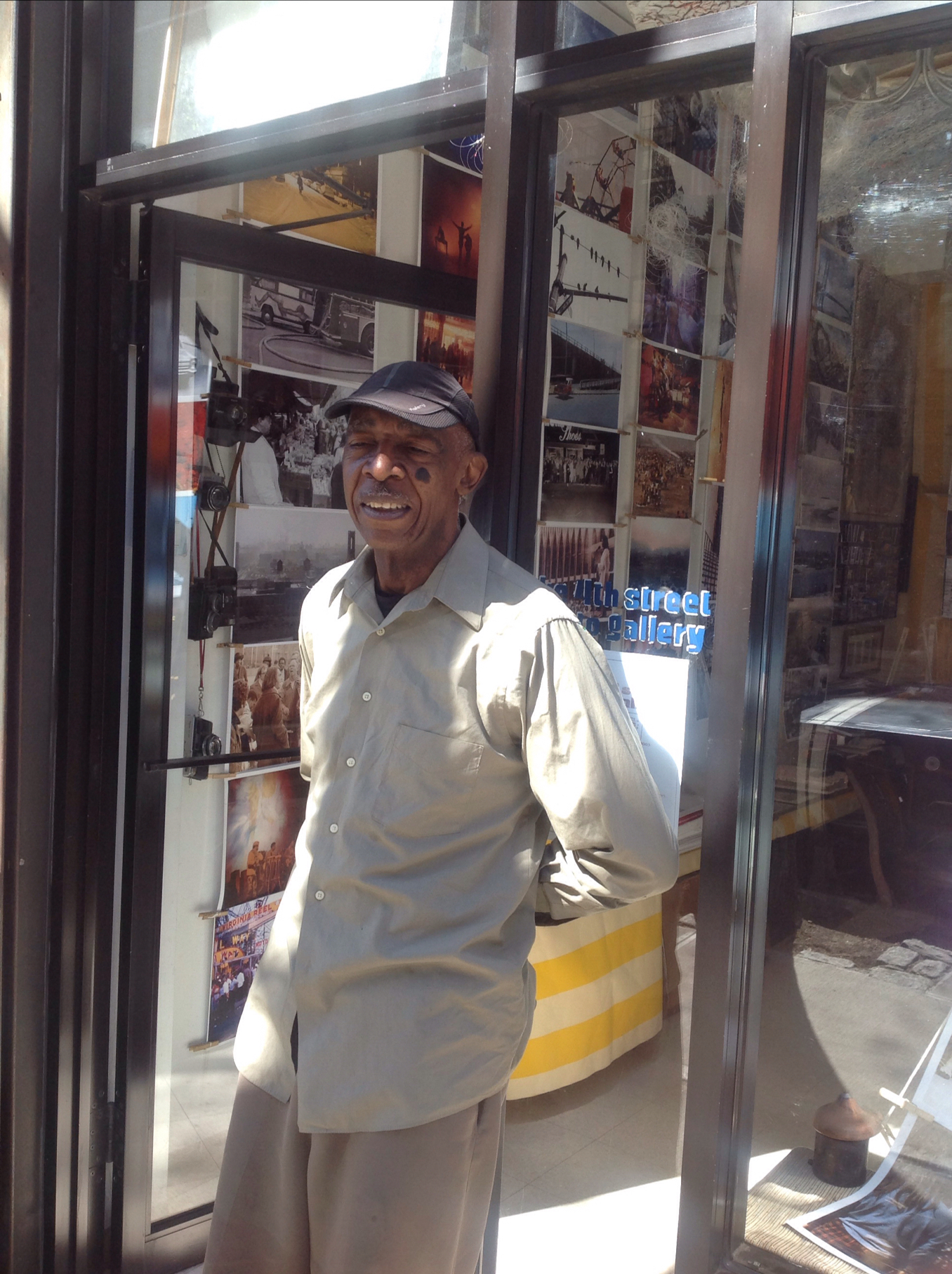 Alex Harsley — 4th Street Photography Gallery Photographer Extraordinaire. Videographer. Artist. Philosopher. Mentor. Whatever Mr. Alex Harsley does, he does exceptionally well. And I might add, with distinction and unfaltering skill. I met the legendary Mr. Harsley on a picture perfect day in April, and found him sitting in front of his 4th Street Photo Gallery. A native South Carolinian, like Mr. Harsley, I was greeted heartily,then graciously ushered into his iconic "museum of the past".
With a career that spans more than 50 years, Mr. Harsley is the heart, soul, and,indeed, the eyes of Minority Photographers, Inc., a nonprofit art organization he founded in 1971. In 1973, he opened the 4th Street Photo Gallery, a storefront at 67 East Fourth Street, befittingly located in New York's colorful East Village. Situated between Bowery and Second Avenue, 4th Street Photo Gallery is a welcoming oasis of creativity for New York's multifaceted community of emerging, as well as established photographers. Today, this salon continues to serve as an open forum, nurturing, assisting, and even guiding the careers of artists of various disciplines.
Alex Harsley was born in Rock Hill, South Carolina in 1938—out of wedlock—a condition he says gave him an "Innate ability to quickly differentiate between the very good and the very bad things in life". In 1948, at age eleven, Ales arrived in New York, and has been a resident ever since. Becoming a photographer was never his childhood dream, and he admits that he did not fall in love with the art of imagery until well into his adult life. He worked a number of survival jobs. But it wasn't until he began working as a messenger, picking up and delivering artwork for several photo shops that he felt photography seriously pulling at his heart strings. He was working in a camera shop when a stranger approached him and offered to sell him a camera for fifteen dollars. He bought the camera on a whim, at a time when he was searching for something to do withhis life, something he could love doing forever. Little did he know then, that the camera he had purchased, would lead him to that place in life.
New York's vast and vibrant melting pot became his preferred landscapes and subjects, and an endless canvas of inspiration to Mr. Harsley. For decades, he has photographed the gamut—from gritty scenes of life in Alphabet City on Manhattan's Lower Eastside, to glimpses of a bygone, snow-covered Times Square, Coney Island, circa 1959, and uptown to the indelible images of faces in the streets of Harlem, the Black mecca. He has captured it all. As a photographer, videographer, and artist, Mr. Harsley insists that his body of work reflects a constant search for "the unknown", adding that he likes to think of his art as a vehicle of sorts, propelling him through the many adventures of life.
"Photography is a medium that embraced me and forced me to challenge myself", Harsley states, matter-of-factly. "My Methodist upbringing, he continues, has always been a part of me, and as such, I've always believed that if I'm going to do something, I have to do it the best I can". Harsley took the art of photography seriously, learning everything he possibly could about the medium. He studied privately with Dr. Lloyd E. Varden, who was then, an Adjunct Professor of Photographic Science at Columbia University, New York City. Harsley considers Varden, who specialized in color photography, a genius, and, over time, has acquired a collection of books authored by Varden on the subjects of visuals and vision.
Over the years, Harsley has photographed more than his share of athletes, politicians, artists, scholars, entertainers, and, of course, everyday people. During the 1960's, he found himself surrounded by folk like Bill Safire, and others who were trying to get Richard Nixon elected President of the United States. He photographed a young Mohammad Ali riding a horse, Don King, Miles Davis, Abbey Lincoln, Amiri Baraka, and a long list of entertainers who have graced the stage at the world famous Apollo Theatre in Harlem. In 1959, he was hired as the photographer for the New York County District Attorney's Office. In 1961, he was drafted by the U.S. Army, and sent to training camp in Aniston, Alabama. Reflecting, he said, "I was in my uniform, so I thought it was okay to sit in the front of the bus. It was like walking back into my childhood in South Carolina".
During the course of his illustrious career, Harsley has had numerous solo exhibitions of his works including "A Visual History of the Lower East Side/East Village", 2014; "Alex Harsley: The Comeback of Mohammad Ali", 2014; "50 Years of Fine Art Images", 2012; "Dualities", 2005; "44 Years of New York", 2004; and "Patchworks", 2002, among others. His public collection is included in The Smithsonian Institution, National Museum of African American History and Culture, Washington, DC. In 2000, he was commissioned by Health and Hospital Corporation, Woodhull Medical Center, Brooklyn, New York. He has participated in numerousgroup exhibitions, and collaborated with other recognized photographers such as Professor Richard Martin, George Martin, and Don Hogan Charles, the first Black photographer hired by The New York Times. Mr. Harsley also crossed paths, and became friends with Michael Richards, a 37-year-old African-American sculptor whose conceptual art was inspired by the Black Arts Movement of the 1970's.Richards, who was killed in the 911 World Trade Center terror attacks, is remembered mostly for his 1999 "Tar Baby vs. St. Sebastian", a sculpture of a valiant pilot being pierced by airplanes, depicting the Tuskegee Airmen, brave African-American military aviators who were later used in experiments with syphilis.
Harsley concedes that, in recent years, he has come to terms with photographing the good, the bad, and the ugly. He will always be a photographer first. But now, he spends most of his time working on video and film projects, and experimenting with new art forms. As for Harsley, he, no doubt, has the best of all worlds. He is a photographer who has spent more than 50 years doing what he loves to do.
Appropriately, on the very day I was interviewing Mr. Harsley, Mr. Alex Roe, Artistic Director of Metropolitan Playhouse—The American Legacy, an award-winning theatre company in Alphabet City, came by and presented Mr. Harsley with a framed certificate that reads: "Thank you for sharing your East Side story, and helping us connect our community to the past and the present through art".
—Sandhi Smalls Santini 
Latest posts by Sandhi Smalls Santini
(see all)