Free For All – Longwood Art Gallery – "BRONX – AFRICA" – Panel Discussion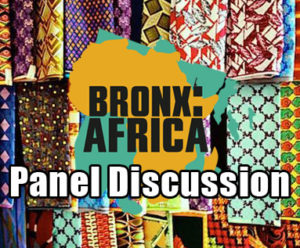 Wednesday,  February 17, 2016, 5pm
450 Grand Concourse. C-190
Bronx
  6:00pm: African Fashion and Textiles with Sudie Nallo, International Coalition of African Fashion and Catherine McKinley,
author, Indigo: In Search of the Color That Seduced the World. Moderated by Atim Annette Oton.
7:00pm: African Hair Roots: Black Hair in Art, and Identity with panelists Ijeoma D. Ihenacho and Nontsikelelo Mutiti.
Moderated by LeRonn P. Brooks, curator.
The Bronx Council on the Arts nurtures the development of a diverse array of artists and arts organizations, and builds strong cultural connections in and beyond The Bronx.