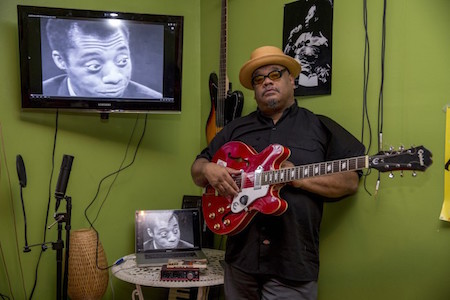 June 3–6, 2015, 7:30pm
June 6 & 7, 2015, 2pm
Harlem Stage Gatehouse
150 Convent Avenue
(West 135th Street)
Harlem

Native Song is a live collage of songs, text and video inspired by James Baldwin's brave and visionary proclivity for airing uncomfortable truths as celebratory events of poetry and beauty. Notes Of A Native Song is the culminating presentation of The Year of James Baldwin, a 14-month celebration of Baldwin spearheaded by Harlem Stage.
In his most personal work to date, Stew filters Baldwin's wisdom through his joyfully irreverent, surrealist aesthetic, utilizing the great individualist's work as a prism, shield and springboard to contemplate the limits of "socially engaged art." Along with his band, Stew creates a deeply personal and bitingly funny show.
Stew said, "The work of James Baldwin is embedded so deeply within my DNA that, until I began writing Notes of a Native Song, I was rather unaware of how intimately, if not thoroughly, it had guided my path: from church youth choir to punk rock clubs, from LA to Amsterdam, from Broadway to Harlem (Stage), Baldwin was my GPS. In my youth his work answered a lot of big questions but the challenges he posed I'm still wrestling with today.
"In this show I want to rescue Baldwin from respectability. I want to pull him out of the stuffy, noble, artist, activist tearoom and drag him back to the freaky cafe where he belongs. I want to reclaim him for those of us who knew we had to go to another country if we wanted to get to Giovanni's room. Notes of a Native Song deals with the complicated aspects of Baldwin's legacy, through a deeply subjective fan-boy's lens, with focus on his ideas around the limitations of protest art and his commitment to solutions that challenged us to see both the humanity behind the hurt and the healing power of art."
Latest posts by Ronald Bunn
(see all)