Whenever a Poitier film premiers, many viewers are confronted with the still fresh memory of Sidney once being the only Black film star. Sure, Paul Robeson made an impression that was all too quickly eclipsed by the McCarthy witch hunt of the fifties and James Edwards gritted his teeth for millions of Blacks as he snarled through the cinematic world of racism in several films. But, Poitier was the star!
A Piece of the Action, his latest production opened recently to almost universal critical acclaim … And, why not? To denigrate a Poitier film is akin to giving the Pope a bad Easter review. Poitier, along with the Disney Studio can be depended on, in an era when nothing can be taken for granted, to deliver a film guaranteed to entertain everyone. And, just like Disney, Poitier knows all the tricks of the trade.
A Piece of the Action is technically flawless, opening with a well choreographed stunt that rivals James Bond's ski parachute heroics of  The Spy Who Loved Me and finishing with all of the plots' loose ends neatly tied together. Poitier has utilized all of his skill accumulated over twenty-seven years of filmmaking. Cinematography, sound, wardrobe, and an outstanding musical score by Curtis Mayfield all inter-locked with a screenplay that is as intricate as it is interesting. Poitier portrays a con man who outwits the Mafia, while Bill Cosby is a hip, disco partying safecracker. The two are blackmailed by a retired detective, superbly acted and humanize by James Earl Jones, into working a 40 hour week at a local job training center for misguided youths.
Poitier's and Cosby's proven chemistry as a team in Uptown Saturday Night and in Let's Do It Again, coupled with a bon vivant approach to acting, works once and again as the plot quickly becomes secondary to the two actors forceful personalities. Once again, Poitier has surrounded himself with a supporting cast who occasionally light up the screen with well-timed emotional scenes. Hope Clark, as an inept social worker trying to bridge the gap between the haves and have nots, fills the screen with wounded pride, frustration and defeat with her motives or questioned by one of the youths in a scene that defines black class barriers better than any seen up to now.
Edward Love's tear jerker scene follows shortly afterwards and it is devastating, if a little too long. But that isn't Love's fault. Poitier, who finally controls the misguided youths on screen, fails to do so as a director. He gives the young actors all the rein they want and several, with an almost unbelievable lack of restraint, gallop in parts when they should have trotted.
Many will detect a similarity between A Piece Of  The Action and To Sir With Love, but Poitier's loose direction of the classroom scenes, suggests an even earlier success, Blackboard Jungle.
The kids (and that is the way they act despite the fact that many of them look 20 going on 30) all act as if they want to emulate Poitier to stardom vis-à-vis his role as the embittered, antisocial loner of 20 years ago, by trying to upstage each other in gross caricatures of urban black youths desperately in need of jobs. Ernest Thomas, the talented actor from television's What's Happening,  joins in the scene stealing and mugging that many of the less experienced actors (some of whom were literally discovered on the block) could be forgiven.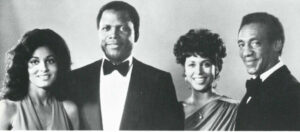 Tracey Reed, as Poitier's common-law wife, adds a little spice to Sidney's otherwise bland, image and Denise Nichols is more than a match for Cosby, as the head of the center, whom Cosby decides to Woo in order to discover who is blackmailing them.
Ja'net Dubois' cameo role as a tippling aunt Millie who unexpectedly visits her niece (Reed) and Poitier is hilarious and a show stopper. Tito Vandis gives a good stock impersonation of  a "wise guy" mafiosi chief that is brilliant, if only because Vandis is Greek, imitating an American with an Italian accent.
Poitier is reportedly very happy with this film. He considers it his best, and the audience reaction seems to bear him out. However, one wonders how long he will be able to use the carte blanche given him by both the critics and filmgoers, to make his own particular genre of films that appeal to everyone without offending anyone.
Poitier has carved out a well-deserved niche in Hollywood's short history that cannot be denied. And if the black saint of films, Sidney the good, never makes another film, he will always be remembered as the man who withstood 2 1/2 decades of alternatively being considered a black role model by some and the archetypical uncle Tom by others; yet still electrifying the screen in films such as The Defiant Ones, Edge of the City, A Raisin in the Sun and Lillies of the Fields (for which he won the Oscar).
Unquestionably one of the industry's revered personalities, Poitier will continue to entertain if A Piece of the Action is an example of what his new direction will be.
Keep reading this issue – next article