Whether Thanksgiving, Christmas or any special occasion that is partially celebrated with food; a special atmosphere is necessary. As urbanites in a "prepackaged, quick frozen, just-add-water-and-mix" world, such a place only seems to exist in our memories' — Mama's kitchen — unless you've had the good fortune to eat at the Horn of Plenty.
Dining at the Horn of Plenty is like a visit "home." The hostess greets you as if she's been waiting just for you. After she's taken your name, seated you comfortably in the candle-lit waiting area, and you've had your drinks served, the good vibrations begin to take hold. You're soothed and relaxed for the adventure that awaits your palate.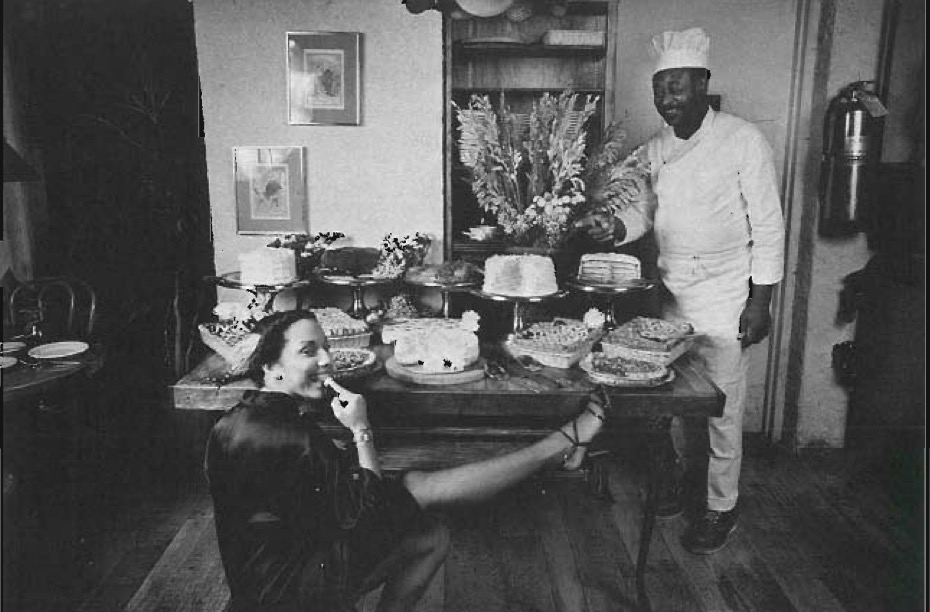 Here that art that all good cooks have mastered of blending a pinch of this and a handful of that has been balanced perfectly to produce dishes that are exceptional in taste. Imagine being tempted by "The Kind of Soul" — Chitlins, barbecued spare ribs, with a choice of sauces, medium or hot, smothered chicken (pan fried, then smothered in rich brown gravy). The menu cover reads "From the Soulful South" selections. If this part of the menu does not entice you, choose "From the Oceans" — Louisiana Shrimp Creole, Clam Casino Dinner or Broiled Red Snapper. These two sections of their menu are probably the most popular. They give you another choice which adds to their sophistication-" From the Four Corners of the World." In this section of the menu, choices range from Indian Chicken Curry on Rice, Veal Scaloppine, Beef Stroganoff and more.
The selection of entree does not end your dilemma. Horn of Plenty's baked pies, cobblers, and cakes justifiably demand that they be sampled. Calories can come and go, but desserts like these are inspired. The source of these inspirations, and all the culinary delights, springs from Chef Vinson Rolland, a man of warmth, charm and a love for his profession — so necessary to such good food. He has been with Horn of Plenty and its owner, David Williams, for over 6 years. I'd say that's certainly enough time to spread that warm personality of his throughout his productive kitchen. The rest of the personnel (90 in all) are just as good at what they do and maintain that sincere desire to please guests. If a dish (through some strange and unpredictable quirk of fate) should not be to your liking, it is graciously removed and a menu returned for another choice. This honest effort to please no doubt stems from Mr. Williams' policy of starting all his staff from the bottom up.
The man who not only owns the restaurant, but makes it all work is David Williams. No stranger to the restaurant business, Mr. Williams previously owned "The Mouse Trap" which featured cheese and pastries. His expansion to a full service restaurant was indeed a stroke of luck for New York.

Horn of Plenty offers an occasion to anyone who has fond memories of good items, good cooks, and good food and wants to celebrate. It is a one of the best in the business. Horn of Plenty is located at 91 Charles St., NYC (242-0636). It can be reached by using the 7th Ave IRT # 1 train to the Christopher St. at Sheridan Square stop. It is open seven days a week for dinner and reservations are not necessary for a party of 5 or less.
DEEP DISH PEACH COBBLER
1 lb can yellow cling peaches
3 tbls. cinnamon
3 tbls. nutmeg
3 tbls. vanilla extract
3 tbls. lemon extract
1 stick butter
2 tbls. flour (mix with 4 tbls. hot water to make a thickening or paste)
Preheat oven to 350°. Use a deep baking dish for the pie. Lightly grease the baking dish with butter. Line the bottom of the baking dish with the pie crust. Pour in above ingredients adding last the thickening, or paste. This thickening is to make sure that the juice will not be too watery. Add the stick of butter just before you put the top crust on. Put on crust. Flute the edges of the dough. With a fork, lightly puncture holes in the dough to allow the steam to escape as the pie is cooking. Ten minutes before the pie is done, lightly rub pats of butter over the pie crust. Cook until crust is golden brown. Baking time approximately 45 to 50 minutes. Serves 4 to 5 persons. Enjoy.
Keep reading this issue – next article