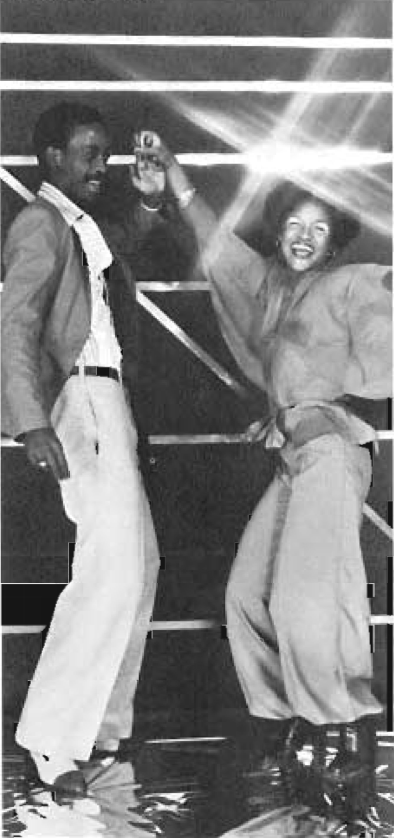 Dancing
Dance halls have always been an important part of the American way of life. Since the initial landing of the first slave ship on the shores of Jamestown, Virginia in 1619, both the settlers and their slaves have danced.
The dances in America have changed as rapidly as the attitudes of American society. The Foxtrot, Lindy-Hop and Charleston, for example, have become synonymous with certain eras in American history. We are currently in the midst of a dance craze that one day may be synonymous with the post-Vietnam War days. We are now in the "disco era."
Discotheques are basically modem day dance halls. Between 1973 and 1977, discos were one of the most rapidly expanding businesses in the country. Not only were they growing in quantity, they were growing in quality as well.  At present, a chic "membership only" discotheque is one of the soundest business investments to be made. Why? Because suddenly all of America is dancing again.
In order to get some expert insight into the disco boom of the 1970s, I spoke to Randy Muller who is the composer, arranger, pianist and leader of the phenomenally successful Brass Construction. Coming out of obscurity, Muller has guided his disco-oriented group to two platinum albums. (Their third album, Brass Construction III, is also expected to reach the platinum level.) Because of his undeniable ability to make people dance, Muller has been dubbed " The King of the Discos."
Muller states that discos as we know of them "Came of age in 1973 as a result of the post-war syndrome. At that time, people were ready to express themselves in a totally different way. After all of our troubles, the war, flag burning and demonstrations, people were ready to get into some old time fun again."
Muller also states that, "Although discotheques are relatively new, the dance craze is not. The disco era is really the 1920s in the 1970s. If you really examine it, you'll see that even the big band dance sound is coming back in groups like MFSB, Salsoul Orchestra and Fania All-Stars. It's just history repeating itself."
Even in the dance craze of the 1920s, the entire nation was not as preoccupied with dancing as it presently is. In the 1920s, ballroom dancing was basically an urban Social event. However, in this madcap disco era, everyone from politicians to farmers in mid-America are doing the hustle.
Within the past five years, discos have become the norm for America's young and old. What our parents use to do at home for free, now we pay as much as $25 a head to do in discos. The more you spend, the more you get. Spots like Regine's, Studio 54 and Starship Discovery I offer everything from "cool-out rooms" with closed-circuit television to huge dance floors with disc jockeys encased in smoke enshrouded glass "space bubbles."
Discotheques will not disappear according to Muller. He states, "It's economics. Discos have brought the record industry alive again. The hi-fi industry is starting to boom and there are all sorts of disco accoutrements: disco shoes, disco clothes, disco glasses, disco bells, etc. Now we even have the Billboard Disco Convention."
Many people feel that the disco boom is dying out. However, huge profit margins in discotheques and other related industries suggest that the current "disco era" may be around for a long, long time.
Keep reading this issue – next article