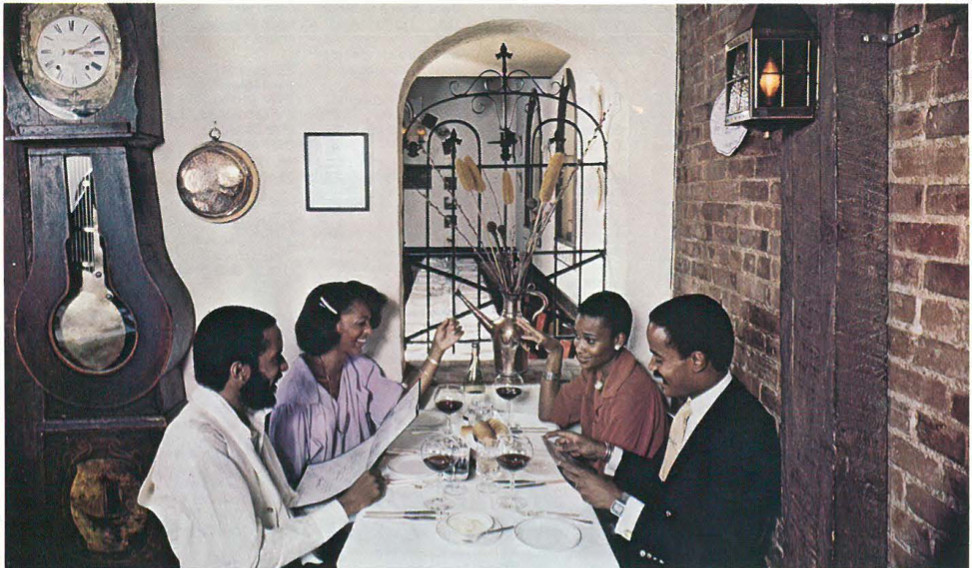 Ask any self-respecting gourmand to name his Mecca and you will get France for an answer. Each year, thousands of visitors from all over the world are lured to the tables of France's restaurants in quest of extraordinary culinary experiences. Cooking, in the classic tradition, remains a vital part of the Frenchman's spiritual expression, for neither socio-economic changes nor the McDonald's invasion has rocked the foundation of La Grande Cuisine Français, the gastronomical canon decreed by master chef Marc-Antoine Carême some 150 years ago.
If going to Paris or Marseilles for dinner is an extravagance your wallet won't tolerate, try Manhattan — it lacks the old-world charm of Marseilles, but it abounds with excellent French restaurants that are within reach, both geographically and financially. Of course, they vary in quality and authenticity, so we don't advise that you merely check the Yellow Pages for the one nearest you; ROUTES visits a number of restaurants each month, drawing from the experience an occasional plum to share with you.
This month's ROUTES recommendation is René Pujol Restaurant Français, a delightful dispensary of cuisine fine at 321 West 51 St.
Monsieur Pujol's restaurant (formerly known as Le Berry) is a delight at any time of the year, but with Thanksgiving upon us once again, you might consider it as an interesting alternative to the usual holiday fare. Many of us dig into a turkey each year at this time simply because we are told it's the thing to do. Somewhere, in a lofty rosewood paneled conference room, a gathering of conservatively dressed businessmen probably meets with regularity to talk turkey, to plant articles and plan advertising campaigns designed to keep us believing that their bird and our holiday go hand in hand; they know that we are creatures of habit, sentimentalists ready to believe that skipping the turkey is down right un-American. It's time we stop gobbling up such propaganda. After all, Thanksgiving was actually the invention of a magazine editor, Sarah J. Hale, who, in 1827, suggested it in her publication, Ladies Magazine. Its origin aside, Thanksgiving is an official holiday, and that alone calls for some sort of celebration — if you are ready to break loose, René Pujol's delectable canard à l'orange gets our recommendation as the perfect alternative, besides, a visit to Monsieur Pujol's establishment is in itself a memorable holiday experience.
The night we paid our visit, the amiable host greeted us himself and led us with Continental charm to our table, through a cozy setting that evokes the atmosphere of a French country inn: brick and plaster walls, bridged by dark ceiling beams, are adorned with copper pots and pans that softly reflect the warm glow from several sconces; a stately grandfather's clock ticks away patiently, a large fireplace crackles invitingly. En route to a table decorated with fresh carnations we passed a buffet laden with desserts and other cold delicacies that were as much a delight to the eye as they proved to be to the palate: sturgeon, bass, beef, chicken, and a variety of vegetables, fruits and pastries — all dressed up for the occasion.
The personal attention given us by host Pujol on our arrival was indicative of the excellent service we received throughout our visit to his restaurant; there was never a need to search the room for a waiter — our man not only stayed nearby, he seemed on constant alert. While a warm, friendly atmosphere and good service are vital, it is the food that counts, and at René Pujol's Restaurant Français that part of the Frenchmen's spiritual expression is expertly articulated.
For appetizer there is the obligatory Quiche Lorraine ($2.50), a browned, fluffy, steamy one, studded with chunks of tasty ham. If you're in the mood for something from the sea, you might try Little Necks aux Amandes ($2) or Coquille St. Jacques ($2.50), the former are, of course, clams, sweet and tender with slivers of lightly browned almonds swimming in a naughty sauce of clam juice, butter and wine, the latter are soft and fibrous fresh scallops in a brown sauce. Should you prefer the traditional onion soup, you won't go wrong s hearty and ever so oniony, and Pujol does not skimp on the cheese.
You may never eat turkey again after tasting Le Canard à l'Orange ($11), a thoroughly cooked yet almost passionately juicy duck, covered with oranges and served basking in a sweet, cloyless sauce — the taste simply beggars description. Other delicious main courses are Poulet au Calvados ($10.50), tender chicken hugged by sliced apples and covered with a creamy sauce; Ris de Veau Financiere ($12.50), sweet breads braised in stock and served in a wine sauce to which the braising liquid has been added; and the classic Boeuf Bourguignon ($10.50), beef cooked in Burgundy wine with shallots [tiny onions] and mushrooms. Most main courses are served with rice [cooked just right] and a vegetable [often puréed].
You have already seen the desserts as you entered — they are as good as they look: round glasses filled with huge ripe strawberries or assorted fruits; pear, apple, apricot or blueberry tarts with paper-thin pastry shells; a wonderful Mousse au Chocolate, buried like a rich, tasty treasure under a mountain of whipped cream. Dessert prices are in the $1.50 area.
In France, even children drink wine [slightly diluted, of course], and it is almost a crime not to sip a taste of the grapes with your meal. At Monsieur Pujol's the waiters perform the traditional wine-serving rituals with utmost elegance, and the selection of wines is broad, ranging from a superb Chateau Lafitte Rothschild ($65) to Monsieur Pujol's daily selection ($7).
We have not covered the entire menu at Pujol's, there are, for instance, daily lunch and dinner specials. Lunch? But of course. At Pujol's that can include Rognon de Veau Dijonnaise, a simply delicious dish of veal blanketed by a brown mustard cream sauce, or Mousse of Sole, a filet of sole, wrapped in smoked salmon with a chunk of lobster in the center, served in a fragile pastry shell and drenched in a cream sauce that weds lobster and wine. These luncheon dishes are not available every day, but their stand-ins are not to be ignored. A complete lunch includes appetizer, soup, entrée, coffee, and dessert, and costs $7.50. Dinner is à la carte. Bon appetite,
Lunch hours: 12 noon-3 pm (Mon-Sat) Dinner hours: 5:00 Pm – 11:30 pm — (Mon-Sat) Closed Sundays
Reservation required: 246-3023 or 974-9076 Credit cards accepted.
Keep reading this issue – next article