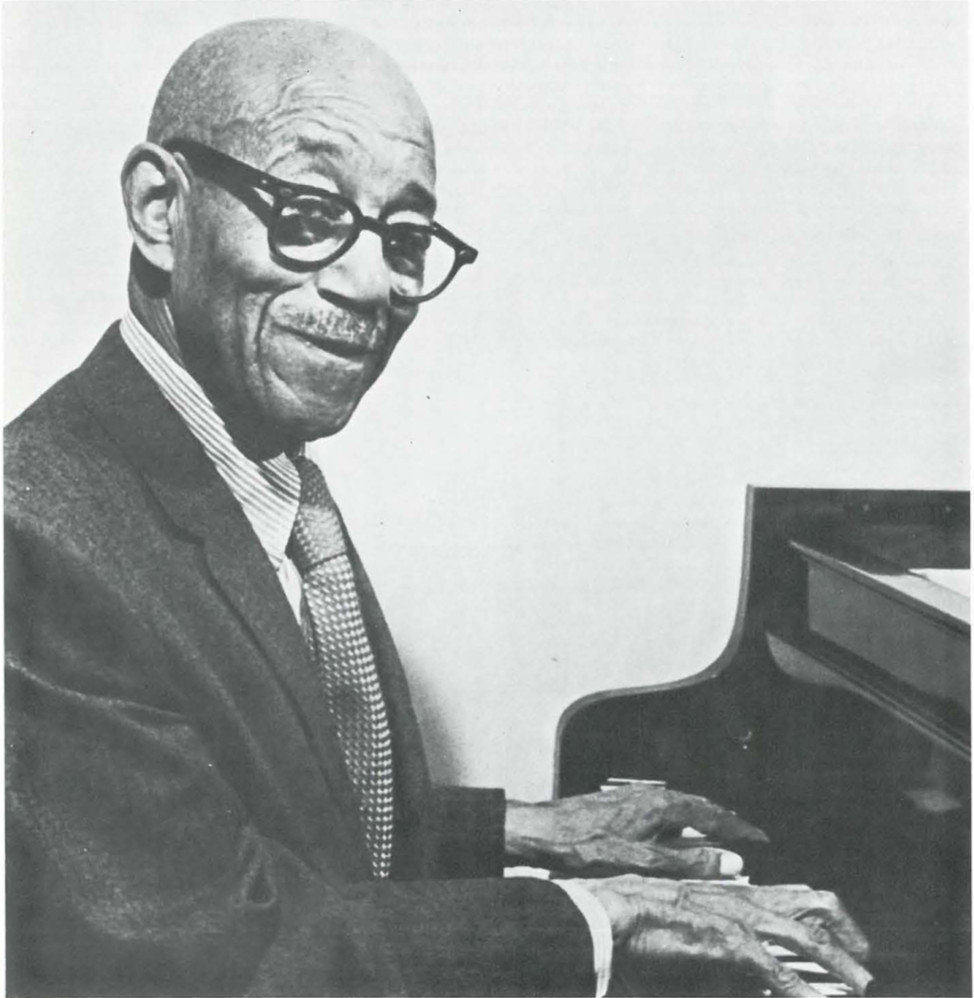 He is approaching 96, but Eubie Blake, the last of the great ragtime composers, is still going strong. Seeing this remarkable man perform his often complicated piano inventions or trade witticisms with Johnny Carson on the Tonight show, one finds it hard to believe that, in his lifetime, 18 Presidents have occupied the White House, the Statue of Liberty was unveiled, and Ellis Island received its first wave of immigrants. He has seen such fellow performers as Bessie Smith, Louis Armstrong, Jelly Roll Morton and Duke Ellington come and go, and he was already an accomplished pianist when Scott Joplin published his first ragtime composition. It was 57 years ago that Mr. Blake first conquered Broadway with Shuffle Along, a highly acclaimed show that changed the course of the American musical theatre; and it had been almost four decades since he last saw his name on a Broadway marquee when Eubie! opened at the Ambassador Theatre (215 W. 49th Street) in late September of this year.
Eubie!, a plotless revue featuring 24 of Mr. Blake's songs, follows a trend that probably started ten years ago with Jacques Brel Is Alive and Well and Living In Paris and continued with such productions as Side By Side By Sondheim and, most recently, the hit Fats Waller tribute Ain't Misbehavin'. Chronologically, the music in Eubie! goes much farther back than that of the aforementioned shows, and — with the exception of I'm Just Wild About Harry and Memories Of You, which have become standards — the material is therefore largely obscure, but that doesn't make it any less interesting. In fact, though the show is sprinkled with comedy (mostly visual), it is the strength of the music and lyrics — by Mr. Blake's chief collaborators, Noble Sissle and Andy Razaf — that carries Eubie!
The choreography by Henry LeTang and Billy Wilson is brisk and Bernard Johnson's costumes are dazzling against designer Karl Eigstis simple but effective sets. There are good performances from the cast of twelve, but I would be remiss if I didn't single out the Hines Brothers,
Maurice and Gregory (formerly of the nightclub act Hines, Hines and Dad), who are simply spectacular; Gregory's talent for clowning and his show stopping rendition of Low Down Blues give him a slight edge, however. Though it is in the comedy department that the show is weakest, Lynnie Godfrey, Alaina Reed and Mel Johnson, Jr. do manage to generate some laughs, and Leslie Dockery's pantomime to Baltimore Buzz (staged by Dana Manno) is amusing, but Jeffrey V. Thompson relies almost entirely on his obesity to get laughs, and that is not enough. The company's big production number to the tango rhythms of  There's a Million Little Cupids in the Sky also falls short of hitting the intended mark.
Despite such shortcomings, Eubie! is a delightful entertainment resounding with glorious sounds from the fertile musical mind of Eubie Blake, sounds enhanced by such talented singers as Janet Powell, Terry Burrell and Ethel Beatty, not to mention the sultry Marion Ramsey whose flair for the theatrical comes to the fore in If You've Never Been Vamped By a Brownskin, You've Never Been Vamped At All.
We have come a long way since Shuffle Along broke the rule against having black shows on Broadway during the theatre season (black shows had previously only been presented during summer months, considered off-season before the advent of air conditioning), and we can also in large measure thank Eubie Blake and his early collaborators (Noble Sissle, Flournoy Miller and Aubrey Lyles) for supplying vital ingredients that have made the American musical theatre the powerful entertainment medium that it is Eubie! is a most fitting, if long overdue, tribute to a very extraordinary man.
Keep reading this issue – next article