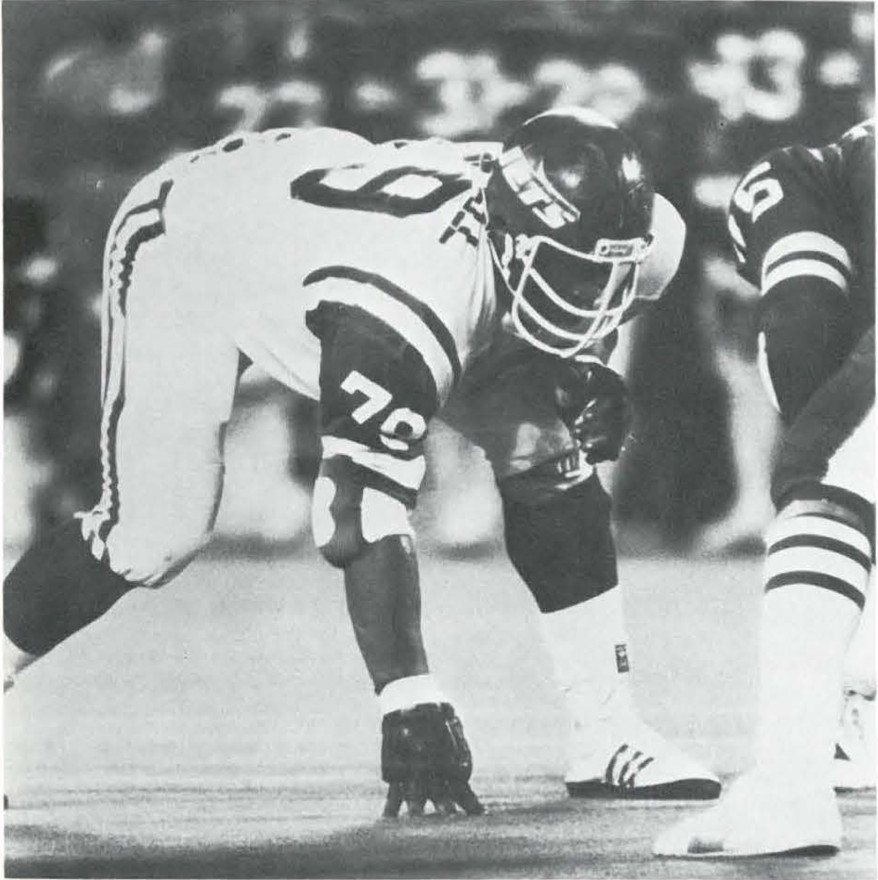 There is a tendency to think of football players as dumb jocks, but while some players may well fit that description, New York Jets offensive tackle Marvin Powell is not one of them. Before going to interview him at his apartment, I did a bit of homework and found out that he was a conservative who majored in speech and political science, and was a devotee of classical music — not exactly the sort of stuff dumb jocks are made of.
"I only brought a few things with me, my stereo, records and some books,'' he explained, as if making an excuse for his sparsely furnished apartment, ''the rest of my stuff is in Los Angeles. I live here during the season, but my home is actually in California."
Marvin Powell's trek to New York began about six years ago when he left high school in North Carolina to attend the University of Southern California, ''I couldn't afford college, but I knew I had to find something that would get me there — football was it. I liked California and I knew USC to be a good school. Actually, I was a highly sought-after recruit in college, and I didn't really want to go into football — my other choices included law school and the position of graduate assistant at West Point, but I chose football for various reasons. I love it, but I will eventually move on to other things."
Adjusting to football on a professional level has not proven difficult for the six-foot-five player, he has great confidence in his ability, and he feels that his USC training has prepared him well for the task. "Because of the high level of football and coaching at USC, I was not all rookie coming into this game, however, the pro league is different from college, and though the shock is not devastating, the stark realities of playing as a professional are overwhelming. Of course, I learn from the guys I play against, but a player of my caliber learns from all pros."
Powell knows that he is good, but he does not suffer from any delusions: "Time and chances were better for me than a lot of others," he says, indicating that he considers himself more fortunate than exceptional. I asked him if there were pressures on him to perform well. ''There are winners and there are losers,'' he replied. "I know what I have to do, and I do it."
When a New York newspaper recently asked the Jets to fill out a questionnaire, Marvin Powell got the team's vote as a possible future presidential candidate. That's really not so surprising, for Powell — a Republican — makes no secret of the fact that he has political ambitions. He loves to read books on the subject, and on government in general, and he plans to take some related courses as soon as the football season is over. The road ahead is not cut and dry, however, stating that he may eventually enter law school, Powell also admits that a career in magazine publishing has crossed his mind. ''I really don't know," he says in a soft voice that belies his current profession. "I'm still looking for a medium, a form."
In his search for a form, Powell can draw from a wealth of experiences. The oldest of four children, he was an Army brat whose early years were spent living in Paris and in various other places where his father's nomadic military life took the Powell family. He recalls that coming back to the United States was an immediate culture shock, but he has obviously survived that, and he feels quite at home in California. ''California is the most socially progressive state in the Union," he says in a very matter-of-fact tone, ''and I consider myself a socially progressive person. I love it, I love the life out there."
I asked how he felt about New York. ''I love New York," he replied, and I sensed some excitement creeping into his voice. ''I love the diversification of culture — it's the capital of the world. My only complaint is that I never have the chance to do what I want to do while I'm here.'' Powell may wish for more leisure time on the one hand, but when a football player is idle during the season it is usually as a result of injury, that plagued him during last season when he was placed on the inactive list, and prevented him from really proving himself. This season doesn't look much better, a sprained ankle has already caused him to miss some crucial games, but Marvin Powell is an optimistic soul, and he is confident that he will be back on the field before long.
The Jets is the youngest team in professional football, I asked Powell how he thought they would fare this year. ''We could do very well — this should be a good year,'' he replied with continued optimism. ''All things are directly related to time and chance. We're a young team — that's the Jets, young and hungry."
That also describes Marvin Powell, a man named by Street and Smith as "one of those players who come along once in a decade."
Keep reading this issue – next article