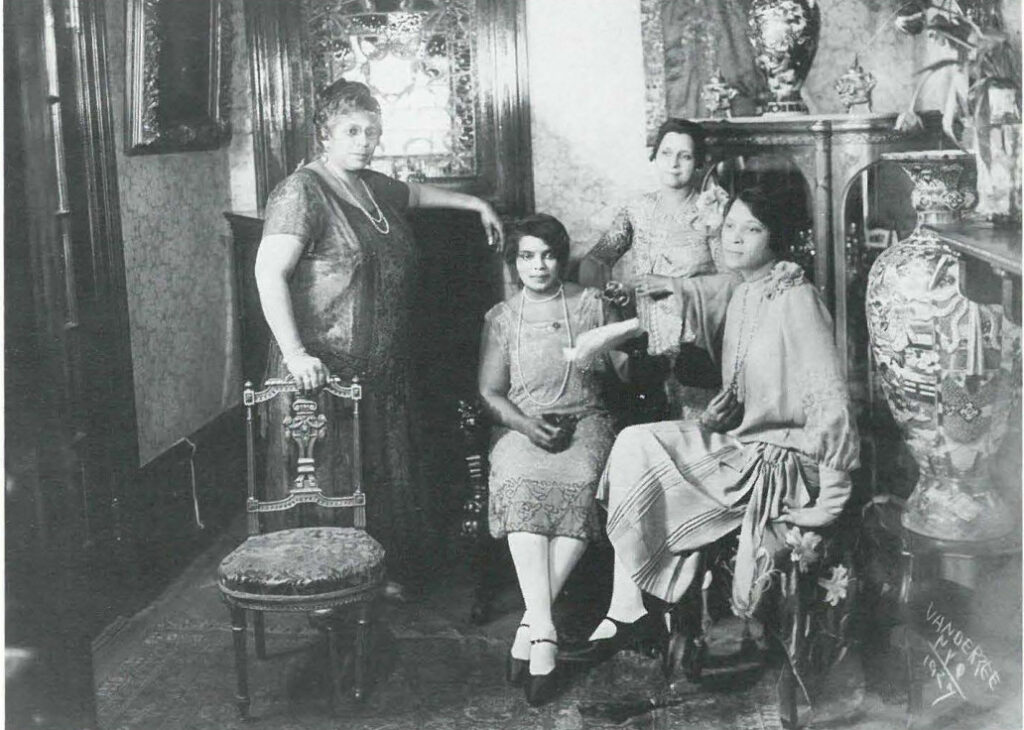 James Van Der Zee — photographer, artist, historian, documentarian — has given us, and generations to come, one of the finest pictorial histories of Afro-American life that exists anywhere in the world today. The magnitude of his accumulated works is staggering! There are 75,000 plates, photographs and negatives that span a period roughly from 1900 to the 1940s. They show us Harlem as the cultural capital of Black America. Through his camera, we see a Harlem populated by beautiful, dignified and proud people. No other single individual has given us such a splendid pictorial history of Black life in New York City as Mr. Van Der Zee.
He was born in Lenox, Mass. in 1886, three years after his parents moved there from New York City, where they had been employed by General Ulysses S. Grant. As a child, his home was filled with music and art. After he settled in New York in 1909, he was involved, for a period of time, in both music and photography. He played piano at dances, taught piano and violin and played part-time with the Fletcher Henderson Band. However, during this same period, his interest in photography began to mature.
His first camera was purchased in 1900, and by 1915 he was working as a photo studio assistant in Gertz Department Store in Newark. In 1916, he opened his first studio in Harlem on 135th Street and later moved to 272 Lenox Ave., where he established his GGG Studio on the ground floor. He and his wife lived on the third floor above the studio.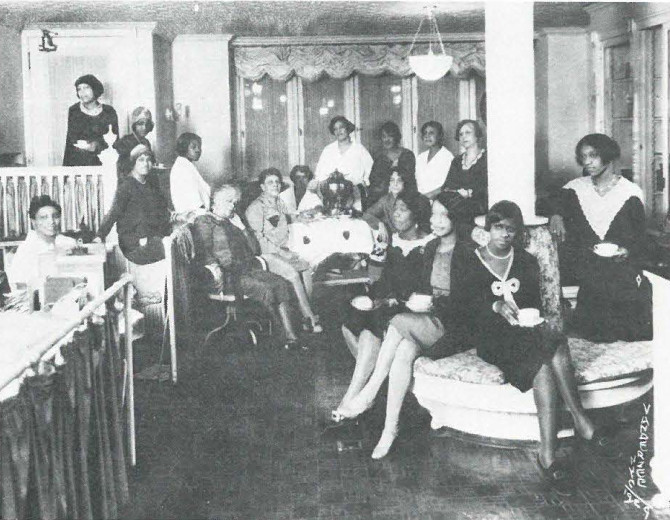 In 1969, Mr. Van Der Zee began to get the worldwide attention that was long overdue him with the opening of the Harlem on My Mind show at the Metropolitan Museum of Art. The majority of photos used for this exhibition were his. Two years earlier, Reginald McGhee, who was the Photographic Research Director for the show, uncovered the wealth of material that Mr. Van Der Zee had retained over the years and was instrumental in including a great many of them in the Museum exhibit. Today, Mr. McGhee is the Director of the James Van der  Zee Institute at the Studio Museum on Fifth Avenue at 125th Street, which houses the total collection. If there is an overriding theme to the pictures, it is the dignity and pride that Mr. Van Der Zee seems to have captured with his subjects.
He has an uncanny and artistic eye for texture, composition and light. His backdrops and props always seem suited for the subject. There is not slapdash feeling, but rather carefully conceived images that convey the subjects' pride in posing for the photographer.
Today, we see thousands of studio portraits in newspapers and magazines that all give the same identical feeling — head and shoulders only, as if the subject had no torso and, consequently, no soul.
This is not what Van Der Zee photos are about! His are social documents that depict every conceivable aspect of life in Harlem in the 1900s. There are family groups, soldiers, bathing beauties, basketball teams, Greek letter societies. Harlem drawing rooms and even nudes. As history, they show us what life was like — how the people of Harlem lived, dressed and behaved. Included in the collection of photographs are some of the famous people involved in the Harlem Renaissance period of 1919 to 1929 — Countee Cullen, Langston Hughes, Marcus Garvey, Jack Johnson, Hazel Scott, Daddy Grace, Adam Clayton Powell, Sr.,Harry Wills and Bill Robinson. What is commendable is that the not-so-famous were treated by Mr. Van Der Zee with the same degree of professional approach. The subject was the most important thing at the moment, regardless of who they were. His interior pictures of homes, shops, tearooms and wedding receptions clearly show the great elegance that was Harlem at that time.
You get a real feeling for the people photographed by seeing how they dressed, how they decorated their homes, and how they deported themselves in social and civic situations. They are grandiose in stature and demeanor. Whether they were balancing a tea cup on a knee, posing with their children, or holding a basketball, they all have an aura of elegance when seen through the eye and lens of Mr. Van Der Zee. Since the Harlem on My Mind show, he has received increased recognition and respect throughout the world for both his artistry and contribution to history. Two book collections of his photographs have been published, and his current book Morgan & Morgan, $14 is available at the Metropolitan Museum Book Shop and Scribner's book store on Fifth Avenue. Last December and January, there was a very fine show of his work at the Alternative Center for International Art at 28 East 4th Street, where 59 of his photographs were exhibited. To meet and talk with Mr. Van Der Zee, you instantly become aware of why his pictures convey such warmth and understanding in the subjects he photographs.
He is warm, friendly and outgoing with an alert and agile mind, and he regales you with stories and anecdotes about the people he has known and photographed. He has a sincerity and modesty that is an attribute of many truly great men. For generations to come, we will be indebted to James Van Der Zee for capturing Afro-American life as it was during an important period in American history.
Keep reading this issue – next article