The cultural values I teach can be used in any walk of life, not just dance. My children will be great leaders. The discipline of dance gives them a certain demeanor, teaches them how to be still, so they can observe.
This is the philosophy of Marie Brooks, who little more than a year ago opened the doors to the Marie Brooks Children's Dance Research Theater. The children she speaks of are her students, which include three of her own. The cultural values she teaches are those of African people.
Marie Brooks believes in positive images, self-pride, discipline, heritage, family love and education. Through dance, she imparts these values. She has instilled these values in her children, Pierre, Yvette, Francoise and Claude and proudly watches them develop into young adults.
Ms. Brooks, a native of Guadeloupe, was raised in Trinidad. She was granted a scholarship to study dance under Katherine Dunham, but confides, "I couldn't conceive of learning to dance in school." When she was 18, she discovered that she could learn dance techniques in school and she did just that. However, the experience was not complete. "I saw movement and dance with no essence of feeling." Marie Brooks, who later danced and choreographed her way around Europe and other parts of the world, proudly states, "I was agile because I had the resources."
It is this sense of resourcefulness that she brings to her students, who range in age from 3 to 17 years old. The Children's Dance Company has been in existence since 1972. Members of her dance company, who range from 8 to 17 years, come from her school. These children have traveled extensively, visiting Trinidad, Haiti, Jamaica, Martinique, Ghana and Surinam.
"Visiting the Bush Negro in the interior of Surinam was one of the most wonderful experience's I and my children have had. We danced a series of Black spiritual dances, Baptist, Pentecostal, and Shango ritual. After each dance they ran and hugged us and chanted their messages of acceptance." When asked how she and the children managed to communicate with the Bush Negroes, she replied, "There was so much warmth that we didn't need language. Besides,"she continued with a smile, "it's been so long [the separation of American Blacks and African Blacks] we didn't have anything to talk about."
Marie Brooks Children's Dance troupe offers children the opportunity to learn what is positive about themselves. The three to six-year-olds are taught "natural movements" and are guided to develop naturally. "Children don't need the pressure of having to strive to look like anybody else," she says. Because the dance company practices with the dance school students, those who do not travel benefit by what the others learn. Countries that extend invitations provide room and board for the children. Parents pay for the group-rate air fare (it's usually cheaper than a few weeks at summer camp).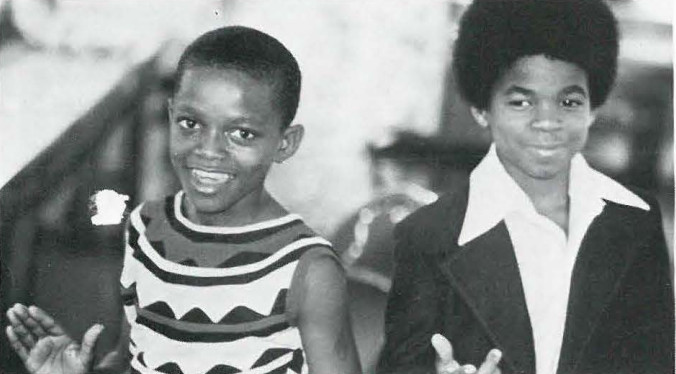 There also is a family feeling Marie brings to her school. It's important to her that both students and parents participate in its growth. Among the talented and concerned staff are dancers Homer Bryant and Lorenzo Newby, dramatist Bernard Johnson, musician Maurice McKinley and, for rhythmic accompaniment, Conga player Kathleen Thomas and Gordon Rutledge. Ms. Brooks instructs a "Mother's" class, which teaches them how to avoid pressuring their rising stars, whether they become dancers, accountants or homemakers.
Ethnic dance, ballet, tap, special exercises, Yoga, drama and drumming are the classes presently offered. In just over a year, the school has multiplied its students many times over, proving that people know a good thing for their children when they see it.
The Dance Group performs primarily for private groups, which pay all their expenses. With little funding, they cannot afford to advertise shows themselves. There is an Open House dance performance by the company every third Sunday of each month at 178 Bennett Ave., off Broadway and 191st St. (IRT subway line). For ticket prices and general information call 281-7789.
To Marie Brooks, "Dance is too creative to be art just for entertainment." She is pleased by the trust parents have in her to educate their children culturally. It's a big responsibility, but if anyone is up to the task, it is Marie Brooks.
As I watched the young bodies take position after position, stretching, heads bent to knees, I thought of how wonderfully eager children are to learn and experience new things. That fearless energy needs only to be properly directed to have good outgrowth. I realize to that The Children's Dance Company or even one hundred similar schools are not enough.
Keep reading this issue – next article