In the community room of Manhattan's 32nd police precinct, we watched the video tape of a recently filmed segment of the children's program Wonderama. The camera zoomed in on two Enders turning ropes while two jumpers did some fancy footwork that would have put Muhammed Ali to shame. Detective David Walker's face beamed. "Just look at those girls do their stuff. I love it!"
Indeed, the four young girls, ages 10 through 13, were doing "their stuff." They were creating intricate dance routines while turning and jumping Double Dutch on national television.
Watching the girls jump Double Dutch brought back happy childhood memories. Who would have thought back then that the game would become a national, let alone, a world invitational competition. Well, The World Invitational Double Dutch Championship does exist, thanks to the Detective and Ulysses Williams. With the sponsorship of the 32nd Precinct Community Council and Mobil Oil Corporation, they developed the competition in 1973 and brought it to national attention in February 1974, when the first Double Dutch Tournament was held in the gymnasium of New York City's Intermediate School No. 10. The year before, Detective Walker, with the aid of the New York City Board of Education and Training and Gwen Mitchell-Maristany of I.S. 10, developed the annual Father's Day Urban Bicycle Marathon Race, which meets at Marcus Garvey Park in Manhattan for a one-mile lap around the park. [More details on this in the June issue of ROUTES.]
The video tape ends and Detective tells how he got involved with Double Dutch. "You see, most organized sports activities for youngsters, especially in the public schools and community centers, are geared toward boys — nothing for girls. I am a community oriented individual, and I realized that there are many, many young girls who are talented, but who just do not have an outlet for their talents. I don't mean sewing, arts and crafts, or things like that. I mean a sport. When I was growing up in Harlem, jumping Double Dutch was a girls' activity — none of the boys jumped rope, never mind Double Dutch! Today it is still — girls' activity, but our schools and community centers did not even recognize it as a sports activity until Ullyses and I brought it into light."
This was no easy task for them to accomplish. For not only did they have to delve deeply into the literature for a background on Double Dutch — in vain — and speak to a myriad of officials in the public schools and community centers, they also had to go into the homes of the girls to speak with parents.
"Parents are very protective of their children, especially girls. If a sports activity is not an established one, the parents are not interested. I found that it was the mother I had to get to. This is not to say that fathers were not interested in girls' activities, but they could not relate to Double Dutch as a sport, unlike with baseball. I came up with an idea I call the kitchen program, where I communicated with the mothers only. When I spoke of Double Dutch, it became a nostalgia thing. It was something they remembered. With the help of Mobil Oil Corporation, it's all history now and I'm very proud of it."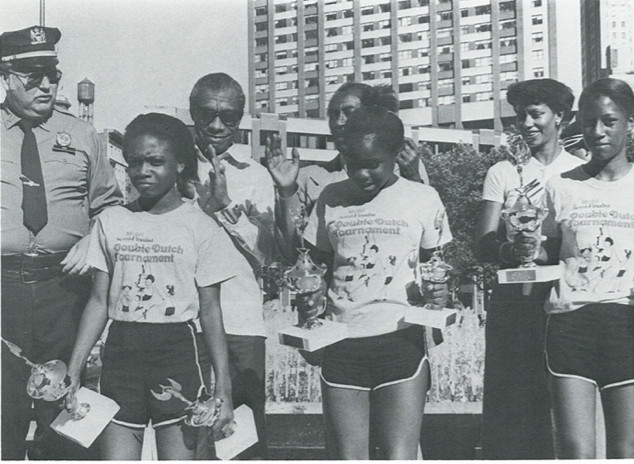 The World Invitational Double Dutch Championship is the only national sports competition exclusively for girls. It also is the only competitive sport that is organized and controlled by Blacks. In this sports-recreational activity, there are no prima donnas; it is based on team work, harmony and creativity. There is a Double Dutch Rule Book that gives the details on the competition, which is based on an elaborate elimination system. Originality, execution and free style tests determine the finalists. Winners get a trophy and a savings bond.
So girls, if you want to enter, you'd better get on the "case" now. Check with your school or community center or write for further information to: Rules Committee, American Double Dutch League, PO Box 776, Bronx, NY 10451. The semi-finals will take place this month and the Fifth Annual World Invitational Double Dutch Championship will take place at noon on June 23rd at Lincoln Center Plaza, 63rd Street and Broadway. New York is jumping!
Background: Five, ten, fifteen, twenty, Nobody leaves the jump rope empty. If they do, they shall suffer: Take an end and be a duffer! This little ditty has captured the imagination of little girls with jump-ropes the world over. A relatively new twirl added to rope jumping and rope rhymes is Double Dutch — two twisting ropes turning in opposite directions like egg beaters, coupled with fancy footwork and catchy verses.
Turn-of-the-century historians say girls developed the rhymes to keep the boys away. Supposedly, rhymes were considered a bit threatening to young masculinity. It must have worked! Boys shunned the sport.
Little girls have not always been able to claim jump rope on their own. Peter Skolniks' Jump Rope! published by Workman Publishing Co., points out that the pastime probably originated as a boys' game. A warning went out to little girls in the 1850s: "Instances of blood vessels burst by young ladies who, in a silly attempt to jump a certain number of hundred times, have  persevered in jumping after their strength was exhausted."
Some think jump-rope started in Caesar's time. Historians point out that young boys shot marbles in the shadow of the Sphinx, that kids played tag while Mark Anthony bent a few ears and that Socrates helped his nephew fly kites. So why not a piece of hemp twirling and twisting for jumping in the Forum? Others credit the ancient Phoenician, Egyptian and Chinese rope makers. The original rope makers practiced their craft at rope walks, large work spaces that were 900 feet or more in length; many were built in long houses or outside a seaport. With a bunch of hemp around their waists and two strands of fiber attached to a wheel, the spinners walked back-ward twisting the rope into uniformity. Numerous strands could be spun at the same time. Runners traveled the cluttered floors supplying the spinners with hemp and often had to jump the twisting ropes to make their deliveries. They needed quick feet, lithe bodies, and good depth perception.
It was at these ancient rope walks that the basic framework of Double Dutch could have evolved. It is not improbable that the rope spinners, runners and their families patched together from their work experience a leisure time activity for their children. The game was passed on through generations of seafaring families and maritime colonies.
The Dutch settlers of America brought the game to the Hudson River trading town of New Amsterdam. When the English arrived and saw the children playing their two rope game, they called it Double Dutch — an English slang term that described the Dutch language as confusing or unintelligible to the English.
Since this apparent beginning, the activity grew, primarily in cities, as a game for girls. It became a favorite pastime to sing rhymes while turning and jumping. After World War II, the game was often seen on the sidewalks of New York City, in front of apartment houses where children safely could be watched by mothers and neighbors. The girls generally used discarded clothesline rope. But by the late 1950s, the radio music boom, the dangers of sidewalk play and the lack of recreational areas close to apartment buildings had made the game nearly extinct.
Double Dutch came to mind again in 1973, when the New York City Police Community Affairs Department was looking for a sports activity specifically designed for girls. The Department asked some New York City teachers to help devise a competitive game. The result of that joint effort was the first Double Dutch Tournament. Some 900 girls, from fifth to eighth grades participated. Since then, competitive Double Dutch has expanded to a citywide championship. Nearly 40,000 girls representing schools and community centers all over New York vie for team positions in the finals. Similar tournaments are now held in Washington, DC, Plainfield, NJ and Hartford, Conn.
In the last four years, with supportive grants from Mobil Oil Corporation, Double Dutch has again become firmly established as a healthy, organized, sport-recreational activity — unique to girls!
Keep reading this issue – next article