It was a typical New York Afternoon — unpredictable. A sudden rainstorm had drenched the city, and when Melba Moore arrived at her manager's suite of offices for our interview, her full-length silver fox coat and black felt hat dripped steadily on the carpet. But her smile was radiant. And within minutes, she was out of her wet things and sitting next to me on the sofa.
The walls of the room where we sat talking were covered with posters, album covers from Peach Melba, This Is It, Melba, and Portraits of Melba and two framed 'thank you' notes from the White House, signed by former President Ford and President Carter. Melba dominated the room.
Her return to Broadway in Timbuktu! has created excitement for theatre-going Melba fans. Although she has not worked in a Broadway show since her 1968 Tony Award-winning performance in Purlie, she has been swamped with concert tours, recording sessions [Her current hit single is Standing Right Here] and television appearances.
Melba says she plans to get more involved in films. Presently, she is anticipating the revival of her role as Lutiebelle in the film Purlie, which will begin production this summer. There also are plans to produce a film version of the musical Hair.
Ironically, all of her Broadway roles have been of teenage girls.
ROUTES: How do you feel about being back on Broadway portraying a 15-year-old?
Melba: I'm ecstatic to be back on Broadway. I love it! I did have a problem with the role of Marsinah at first. It was hard for me to believe I was 15 years old. No one else had any problem believing me, but I did. I didn't realize what I looked like to other people. . .. What I was giving off. I'm thinking like a grown-up lady and a young mother. I'm a woman now. So it occurred to me to look at myself in the mirror. I cracked up! I don't feel at all like I look. I have to admit after looking at myself — that [image] person could be possibly 13 years old sometimes. I guess you need to look at yourself so that you'll know what other people are looking at — I think it's fabulous to be able to do that. I don't have any one way that I want to look or be. I just want to be good.
This is only my third acting piece, [Hair, Purlie, now Timbuktu!] and I get to be young in all three roles. I now look at that quality as acting. I see myself as an actress now, because this image that I now sustain is no longer a fluke or an accident — as it may have been in the beginning. I was amazed at first that I was a comedienne, an actress and that I could make my style of singing fit into a Broadway musical. I had no frame of reference. I constantly surprised myself. It's never like work — it's discovery.
ROUTES: Why haven't you expanded your acting career into other mediums more than you have?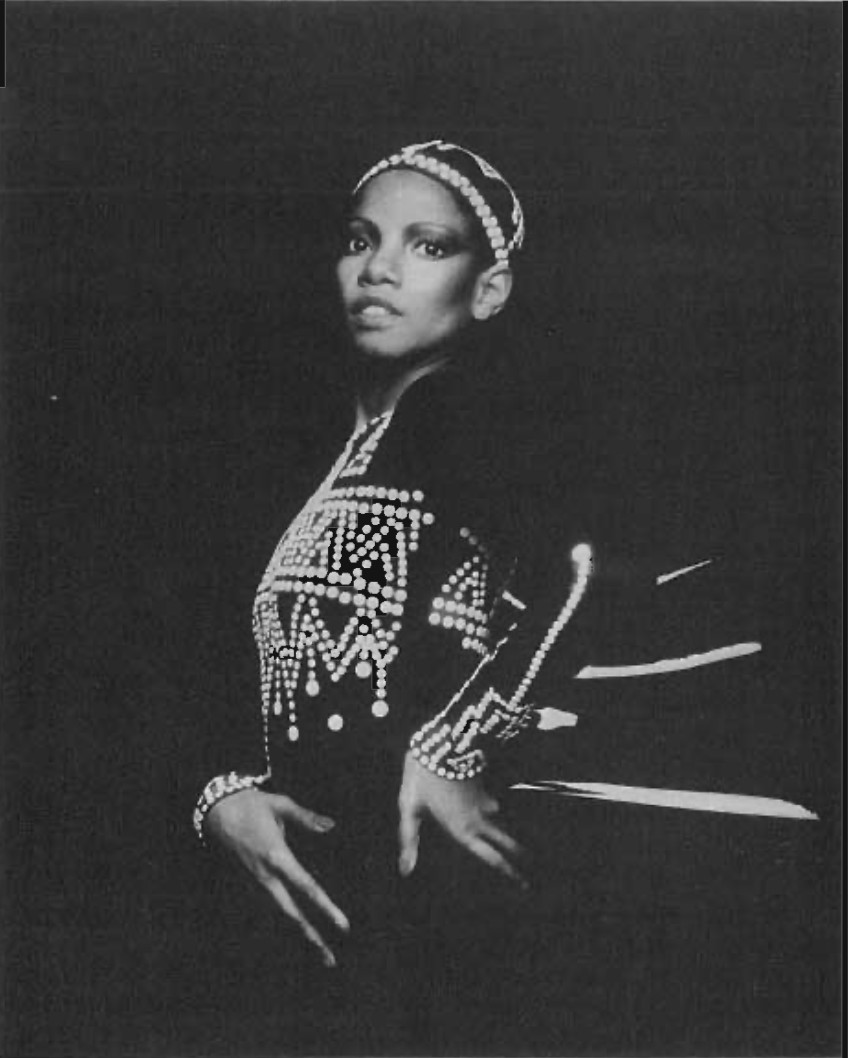 Melba: A problem in the beginning of my career was that I didn't have anyone guiding my career. So much came out of Purlie and Hair that other people just took for granted. But it wasn't that easy for me. Instead of acting, I pursued an exclusive singing career because all of my training and background was in that area. I didn't know what to expect from an agent or a manager, so I didn't get one. Many film offers were made to me, including Jane Pittman, but I didn't feel ready. Possibly, with good direction it would have been all right. Many roles just weren't right for me. Now that I have good management, I realize that writers and producers can offer a product that has been created just for me.
ROUTES: How has the recent birth of your daughter affected your busy career? [Little Melba Charli Sharlee Huggins was born June 23, 1977. So far, Melba and manager-husband Charles have kept the little Cancerian on her own private schedule. Occasionally she gets to go to the theatre.]
Melba: I'm glad to be doing Timbuktu! presently. It keeps me in one place. I have definite hours and days. I'm stable. And I get to spend time with my daughter every day.
Being a mother has had the same effect on my professional life as it has on my private life — I've become sentimental. It softens me. I look at people with the eyes of a mother. Everything is more tolerable.
I knew it would be good. I absolutely believed that I'd be a good mother and that it would be easy. I love it! How can you know how it's going to affect you? In
some ways you can't explain how it touches you and how it influences your whole view of life. I've come closer to my ideal of loving people as a result of motherhood. I see in myself, in a more sophisticated way, the same needs as my baby — the need to be touched, loved, to be secure. I see that in everybody now, more so than I see the distances and differences. It's not a lie. So that kind of truth infiltrates the very core of your life . . ..
Charles and I just watch her and feel her out as she grows. Everything associated with her has been beautiful, even giving birth. It was easy. It's hard to believe she has teeth already.
ROUTES: Does living in New York City while appearing in a hit show cause tremendous readjustments in your personal lifestyle?
Melba: The show is a smash and fortunately, everyone is in such demand that you stay on the move. Lately, to relax, I just pass out and sleep when I can. I was just thinking that I'm going to have to find new recreational habits. The show requires good muscle tone and concentration.
I diet a lot. You see, I love to eat absolutely everything. I consider dieting a discipline through which I "suffer for my art." Otherwise, I'd eat everything in sight. But seriously, I don't consider anything in this business interference — even when I go out into the street walking and people recognize me and approach me. I know what is expected. I give it willingly. It is not a chore. I don't feel like it's a sacrifice at all. When I don't have time to meet people or dress properly, then I don't go. I enjoy being recognized and I make time to stop, sign an autograph or whatever.
I love being in New York, not just because I was born here. Even when I was about five years old and my family moved away from the city, I missed it. I've always wanted to be in New York. There are many fabulous cities, Los Angeles, Chicago, Paris. Cities are where your dreams come true. But I like New York best of all. This is my soil. I blossom here.
Now on the other hand, I love the country too. My husband and I just bought a 110-acre plantation near the Darlington Raceway in South Carolina. I love it! I guess I'm happy wherever you put me.
ROUTES: Have you ever found satisfaction in a career not associated with entertainment?
Melba: In my own case, as a teacher I was good. In fact, I was more than the average teacher. But I had to leave a profession that I loved, that I was making good money in and that I was great in because I couldn't grow! Yes, I was doing things with kids that no one else could do. I loved it but it was killing me. I had to leave for my survival, and no one understands that — not my friends or my loving parents. I had to search myself for answers. It's scary doing things for the first time. How do you know what's going to happen?
ROUTES: What would you say to youngsters trying to cope with the pressures of today?
Melba: Schools are in a bad way now. The system let things go too long before they tried to do something. Young people feel like there's no way out, but they should know that we all get scared. That you're supposed to get scared. Sometimes you have to stand alone and make decisions. No one can tell you how it will be; there are no guarantees. Listen to good advice, but there are still no guarantees. I'd say that life hasn't gotten any harder nor any easier. Life is a treadmill and you have to keep trying. If you can develop a loving attitude towards what you do, you can achieve a sense of accomplishment — love for life and one's self. Develop your own standards for success because somebody else's may not be right for you. One reason I feel I should be in show business is that I feel that life is very valuable. On stage, you can magnify and reach more people. To share love, that's my value in show business. I reach more people now than I could in a classroom. Hopefully, I can go back and teach one day or try another perspective.
You have to start cycles by giving and taking. By wanting something and wanting to give something. If it's the "right something," then you'll blossom. Even if you don't make a lot of money.
ROUTES: Do you consider your career successful at this point?
Melba: I don't look at my life as simply successful. I don't take sides. I can't have cutoff points. Things are forever changing and there are so many things I want to do. And when they're finished, I'll go on to something else.
Keep reading this issue – next article