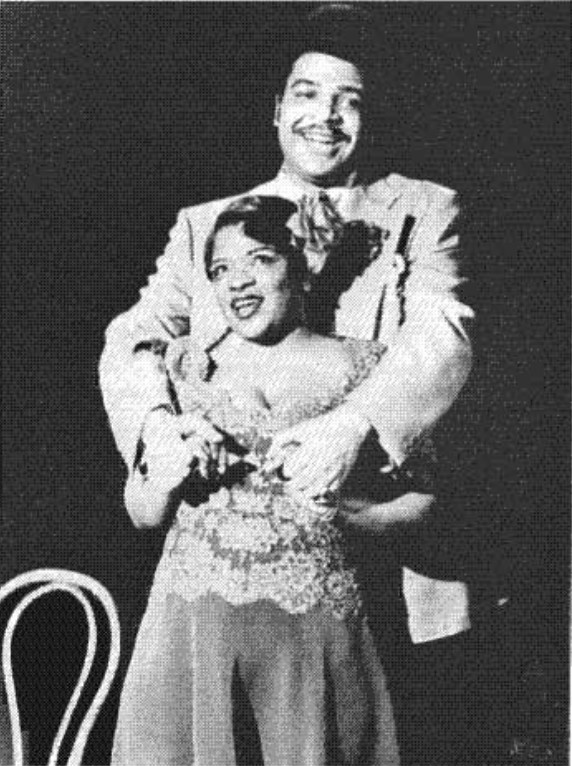 The most marvelous and fantastic aspect of live theater is that you never know how the performance is going to affect you. You anticipate a dramatic experience and hopefully a mysteries touch of magic.
The musical Ain't Misbehavin' at the Longacre Theater certainly gives its audience more than has been anticipated. The production literally has people clapping their hands, snapping their fingers and bouncing down the aisles at intermission. During the second act the entire theatre joins in to sing Fat and Greasy and the spirit of a Harlem house party reigns.
Ain't Misbehavin' does have several advantages that helps it to grab you out of your seat and transport you back into the thirties and forties-the sensational music of Thomas Waller and an excellent cast.
"Fats" Waller was a master of the "stride piano". House parties were his favorite outlets for his "earthy" music and humor. Fats loved to keep people laughing and dancing. His jazz was usually tempered with up-tempos and high spirits. His charisma and charm was partly due to his jovial attitude towards his weight (almost 300 pounds) and his overindulgence in life's pleasures.
The small cast does an unbelievable job of creating and sustaining the spirit of Waller from beginning to end.
Nell Carter renders superb performance. Her songs are well suited for her versatility. She is able to deliver a song and dance with ease, while at the same time, impishly flirting with the audience. Nell never stops the momentum that she generates in the opening song, Ain't Misbehavin'. She's a show stopper and the audience begs for more. Miss Carter's voice is strong and clear and her phrasing reminds you of other former female Blue's greats but her delivery has a very unique quality. Lounging at the Waldorf is a number that allows her to exhibit that quality.
Ken Page visually and spiritually keeps Fats Waller on stage. He is perfect as the devilish lover, the shy suitor or the complaining boyfriend in Your Feet's Too Big.
Ken is especially good with the use of the "aside" and he gives the feeling that he is sharing a well kept secret with the audience. He performs with jovial consistency and sincerity. He is delightful.
Amelia McQueen proves to be more than ready for the Broadway stage. Miss McQueen's debut is a smash. She is the perfect balance for Nell Carter. She has sweet naive mannerisms that enhance the love-struck, man-chaser attitudes projected in many of her selections.
Andre De Shields gives the ingredient Ain't Misbehavin' needs more of… Dancing! My only criticism open (if wanting more is a criticism) is that I wanted to see more physical movement. The music danced… It was the swing era. Why not let Andre and Charlene Woodard do more dancing? The open How You Baby dance routine in the first act was tastefully an inoffensively "rowdy ". Mr. De Shields and Miss Woodard, got the party in full gear and on its feet.
The Vipers Drag on the other hand takes the house party one step further and onto a reefer imposed hallucinatory trip. Andre dances solo and uses his body to mesmerized the audience like a snake charmer. De Shields' choreography is splendid! He sings and dances with such "coolness". Andre depicts the uptown male macho ambience of tranquil-undisturbed-serenity with perfection.
Charlene, is a good match for Andre. Miss Woodard, has a lot of energy, a body and a big voice. Her portrayal of a drum, was fantastic, she performed the rhythm with humor and skill and Charlaine's rendition of Keeping Out of Mischief Now, without a doubt, was one of the more thought provoking songs of the evening.
Ain't misbehavin' is a rendition of Fats Waller's material, but larger meaning smoothly slides into focus with the musical selection, Black and Blue. The subject of Blackness doesn't seem to be a part of this happy-go-lucky musical, until the seriousness of the melody and lyrics of Black and Blue penetrates.
The cast's stern, still delivery highlighted by cold blue lights hits you hard. The realization of the trials and tribulations that Waller obviously suffered as a Black man during the war and depression years is startling. His music is so free, and unrestricted that it is difficult to imagine the pain out of which it grew. It is a great tribute to Fats Waller that in spite of the world he lived in he created wonderful music, that can still make people happy.
The keyboard music is provided by Luther Henderson in the former Fats Waller "stride piano" style. His supervision o f the musical selections is masterful.
Ain't Misbehavin' is playing to sell-out houses and will be around for a while. It's packed with power and is down right fun. It's no small wonder that this production, which originated at the Manhattan Theatre Club during the winter, has found its way to Broadway.
Nell Carter's performance alone is worth the trip. When it's time for the Tony Awards, don't be surprised if Miss Carter's name is high on the list.
The entire show is theatre at its best.
Keep reading this issue – next article