Teaching Via the Tube: WNET-TV's Ellis Hazlip appears to have 2 winner in Watch Your Mouth, an educational/comedy series that teaches language and communication skills to high school students. Designed by Ellis, who also is its executive producer, the 26-part series, which began in March, will be aired every Sunday through September 17th.
And the music goes on and on: Nina Simone, High Priestess of Soul, has signed an exclusive contract with CTI Records after a four-year absence from the recording studio. Over the past years, Nina has been living and performing in Africa, the Caribbean and Europe. Her new album Baltimore (CTI) was recorded in Brussels.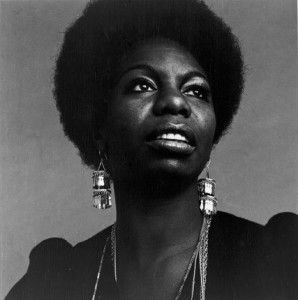 Reeves is Back: Also back on the national music scene is Martha Reeves [Yes, as in Martha and the Vandellas.] A born-again Christian, Martha is extremely active in church activities which is evident in a gospel-tinged cut on her new album We Meet Again (Fantasy).
In Memorial: The untimely death last December of Rahsaan Roland Kirk, versatile avant garde jazzman, left a permanent void in the music world — but his music lives on. His last album Boogie-Woogie String Along For Real [Warner}], recorded in 1977, was posthumously released in May.
Works in Progress: Artist Tom Feelings is in the process of assembling a picture book on slavery for adults. The book — whose working title is The Middle Passage — follows the institution of slavery from Africa to the New World through pictures. Tom's latest book Something on My Mind [Dial Press}]  was released this spring. A children's book Something, centered on drawings of African and Afro-American children that Tom has done over the years, has a text written by Nikki Grimes, [Tom's drawings can be seen at his studio. Give him a ring at 695-5569 for an appointment.]
New Wright Bio: Critic-writer Addison Gayle is currently at work on his ninth book — a biography of Richard Wright. Tentatively titled The Reluctant Outsider, the biography promises fo shed new light on the life and career of the famous author of Native Son.
Rainbow: Poet-writer Ishmael Reed and composer-music-critic Carman Moore are collaborating on a musical that they intend to have mounted on Broadway. Currently titled Rainbow, the play is a contemporary version of The Beggar's Opera, rewritten for a multiracial cast
Congratulations are also due Carman on his appointment to the executive directorship of the Lenox [Mass.] Aris.
Black Artists: Romare Bearden, renowned painter and collagist, has finished his latest book, tentatively titled The Evolution of the Afro-American Artist. The result of over ten years of research, Evolution deals extensively with the social and historical forces that helped shape these artists. Special emphasis has been given to the less well-known artists of the 19th century such as Edmonia Lewis and Henry O. Tanner.
Media Routes: Valerie Bradley, Deputy Counselor of Public Affairs, United States Mission to the United Nations, is the organizing force behind the New York branch of the African Film Society (AFS),
According to Valerie, the NY-AFS will continue in the path of the two-year old San Francisco-based parent organization, "I hope the New York African Film Society will become a viable organization for exposing audiences to films about African peoples other than those made in Hollywood. We will also be a source of much-needed exposure for African and Afro-American cinematographers."
The Film Fund: Headquartered in New York and founded to aid in the production and distribution of films dealing with social issues, recently awarded twenty-two grants in amounts ranging from $1,000 to $10,000. According to The Fund's National Director, Jennifer Lawson, among the topics covered by the award-winning projects are environmental abuse, racism, labor history, nuclear policy and occupational health and safety, Application guidelines for the next cycle of grants will be available next spring, Interested? Write to The Film Fund at 80 East 11th Street, New York, NY 10003.
Keep reading this issue – next article