Late-night television talk shows, at best are used to lull me to sleep. One night several years ago, I turned to the Joe Franklin Show and it proved to be quite illuminating. Dr. Helen Johnson was his guest. She talked of theatre and Black entertainers with such enthusiasm and intimacy that it was like seeing history come to life. She had at her fingertips obscure information and facts about famous Black performers. I hung onto her every word and scrambled for a pen to record her phone number and address for future reference. Almost three years have passed since that show and I was finally able to use the phone number. Luckily, she had not moved, but she was attending the International Federation for Theatre Research in Munich, Germany.
When she returned, I went to talk with her. The living room where we sat was alive with paintings, photographs, plants, wall hangings and friendly vibrations. It was the ambiance Dr. Johnson seemed to have created with great care and life.
As we talked about her research, she showed me a picture of Bessie Smith, a classic, and some hundred-year-old Theatre Posters of Black slaves who performed the Buck Dance and the Wing Dance. Pictures of Ethel Waters and Florence Mills as young girls were a part the extraordinary collection. Although, the bulk of the collection is kept in the "museum room" of the apartment, it is hard to separate the rooms. They overlap and intertwine thematically.
ROUTES: Dr. Johnson, how long have you been interested in Black theatre?
DR. Johnson: I can't say Black theatre, not for my work. I've been interested in "theatre" all my life. As a young girl, my parents took me to see Rio Rita, which was a Ziegfeld production touring York, Pennsylvania, where I was born. I've loved theatre since that day. My family was an advantage for me in so many ways. I saw Bringing Up Father — that's Maggie & Jigg's not Life With Father, and a passion play from Germany. Those three still stand out in my mind.
ROUTES: Since you were exposed to theatre at an early age, did you get involved?
DR. Johnson: There was a man named A. Lincoln Harris from Philadelphia, who wrote over 30 plays and understudied in Green Pastures, which came to York every summer. He gave pageants to raise money for Negro playgrounds. I danced a fire dance with red cellophane around my ankles. No acting. My mother produced school and church plays. She was interested in theatre. She was a brilliant woman.
ROUTES: Did you receive formal training in the arts?
DR. Johnson: I took all the arts. When I went to boarding school in Bordentown, New Jersey; I sang in the glee club under Fredrick Work, the uncle of John Work from Fisk University, who published one of the first books of collected Negro Spirituals. All of the Negroes who were somebody during the Harlem Renaissance period came there. Not only Negroes but Einstein. That's where I first met E. Sims Campbell, Langston Hughes and Countee Cullen; they spoke at the chapel. There's a continuity to my background.
ROUTES: Did you feel pressured to be a high achiever by your family?
DR. Johnson: No, you see in my family there was never any question about college. The question was "where" not "if." My difficulty was with my mother. She wanted me to be a teacher, no matter what else I did. Looks like she won out! (Dr. Johnson teaches at York College in New York) My bachelor's degree from Howard University is in Psychology. My master's degree is in English and so is my doctorate from Penn State.
ROUTES: You seemed reluctant to be confined to the topic, Black theatre. Why?
DR. Johnson: I'm interested in theatre. I don't think you can be terribly competent in Black theatre unless you know where it fits in the whole spectrum. During the sixties and early seventies Black writers reflected the impulses of the period just as whites do. We were in a revolutionary kind of theatre in a Black contest. We were not represented totally. I was deeply troubled by the narrow scope of the presentations. Like the Long Black Block, it was not representative of life as many, many of us know it. Now it does exist.
ROUTES: Are you saying that you want the Black experience painted pretty?
DR. Johnson: No, no. I'm not about painting pretty pictures, I want to see a spread of Black experiences. I don't think there is any single Black experience. The period of the sixties and seventies was about slum life. I don't believe that anyone has the right to tell the writer what to write, but once he puts it out there anyone can react.
ROUTES: What prompted you to start the collection?
DR. Johnson: In 1966, the year I moved to New York, I met Nobel Sissle. I began taping him and he introduced me to Eubie Blake. As a disciplined research scholar, I knew it was important to get this information from those men.
ROUTES: Is the collection filled with gifts and donations from performers?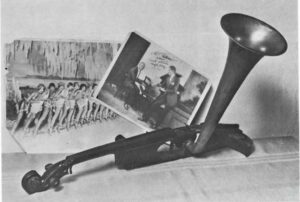 DR. Johnson: What is here is personal. Most pieces were given to me by elderly performers. They have turned over the whole collection — everything. They were so grateful that someone was taking them seriously, on the level that I was working. Lots of people grab things. Performers now know that things will be reserved and that I'm accurate. Occasionally, I make a mistake and it kills me.
ROUTES: What's the formal name for your collection?
DR. Johnson: The Armstead Johnson Foundation for Theatre Research. My collection will satisfy the need of artists who have something to give and answers the question: What will happen to my things when I die?
ROUTES: How do you differ from the Schomburg Collection in Harlem?
DR. Johnson: In many ways. We're highly specialized. They are general Black culture. We deal with the performing arts — theatre particularly.
ROUTES: Are Black performers aware that you exist?
DR. Johnson: Yes, many of them are. Mostly when they want something. They come to see costumes and to get materials. Unfortunately, the commercial markets have exploited me more so than try to be helpful (magazines and Broadway shows about the Harlem Renaissance period have used Dr. Johnson's services and collection without any contribution or personal compensation). In 1975, a producer from the television special, Minstrel Man, called from Hollywood, came to New York and took hours of my time and got information.
ROUTES: Were you paid for the consultation?
DR. Johnson: They said they had paid one consultant and couldn't pay another.
ROUTES: Who supports the collection?
DR. Johnson: I do. People have no idea of the hidden costs that it takes to maintain a collection of this size.
The public will have a chance to see the exhibition of the Armstead Johnson Foundation For Theatre Research this fall at the Graduate Center.
Keep reading this issue – next article