Motown was the first influential, lucrative black-owned entertainment corporation in America. Both artistically and commercially Berry Gordy's trendsetting record company has had a remarkable history. From the early days when a skinny kid named Smokey Robinson recorded Shop Around to the release of Stevie Wonder's Songs In The Key Of Life album, the Motown label has offered some of the best music of the rock era. Since its inception, the Motown sound has been imitated and revered throughout the music industry. Yet significantly, the end of the company's period of dominance coincided with its move from Detroit to Los Angeles in 1970.
This move represented not merely a geographical change but signaled a major shift in emphasis as well. Amidst the glitter of Hollywood, founder Gordy has been attempting to fulfill a longtime dream of his: to become a movie mogul. How much this ambitious quest has affected Motown's record division is difficult for an outsider to determine. But former top Motown record producers Lamont Dozier and Norman Whitfield have cited Berry Gordy's absorbing film interest as a deciding factor in their departure.
Motown's initial visual media ventures revolved around its recording stars. Between 1969 and 1974, the company produced or co-produced six television specials, most notably TCB, with The Temptations and Supremes, and Going Back To Indiana, with The Jackson Five. Motown also gave its blessing to a Jackson Five Saturday Morning cartoon series.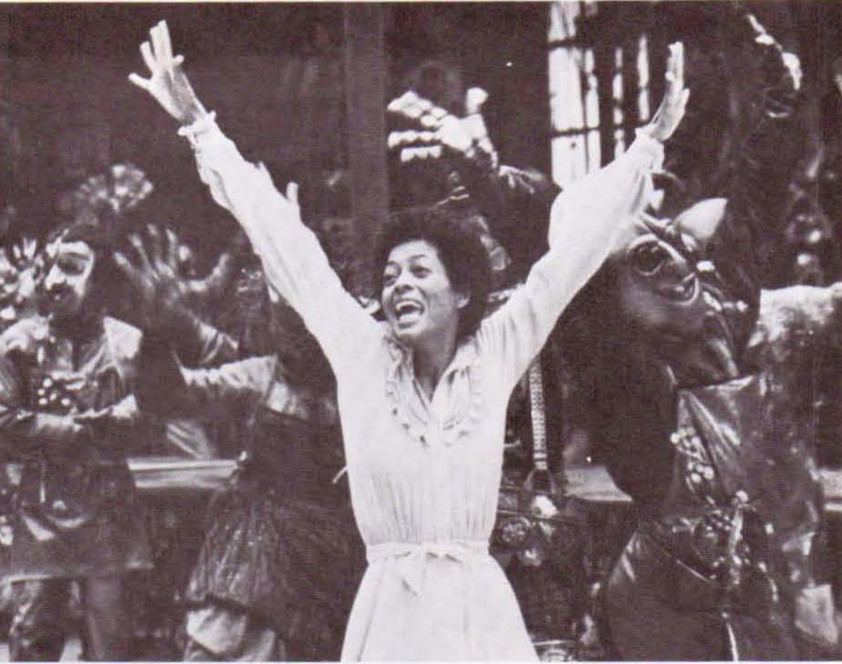 Since the company's arrival in Los Angeles, Motown has been involved in six feature film productions: Lady Sings The Blues [1972], Mahogany [1974], Bingo Long And His All-Stars And Traveling Motor Kings [1976], Almost Summer [1978], Thank God It's Friday [1978], The Wiz [1978] and Scott Joplin King Of Ragtime [1978], a telefilm that saw theatrical distribution.
Motown exercised varying degrees of creative control over these productions. Thank God was co-produced by Casablanca Records, which also handled the film's marketing campaign. Due to the cost of the project, Universal made most of the creative decisions on The Wiz. During the filming of Lady, Motown paid Paramount $2 million to ensure creative control, and Berry Gordy himself directed Mahogany, though that is not exactly a credit to be proud of.
In contrast to the musical innovations its records introduced, Motown's films have been frighteningly traditional in both their subject matter and approach. The seven films fit very neatly into three categories:
Biographies or historical dramas on black personalities of note. Lady, Bingo Long and Scott Joplin fit here.
Direct or near remakes of Hollywood films. The Wiz is the obvious example, but Mahogany belongs here also.
 Summer youth movies cover the elusive pleasures of Almost Summer and Thank God.
Almost Summer was one of a series of youth-oriented films distributed by Universal during the summer of 1978. Also part of this motley crew were Sgt. Pepper's Lonely Hearts Club Band, I Wanna Hold Your Hand and FM. Most of the films played New York City theaters about two weeks before disappearing into the memories of trivia fans and accountants.
Set at a California. High school, Almost Summer was a take-off on Watergate that didn't take off. Aside from making some quick summer cash, Motown used the film to promote High Energy, a female singing group.
With Thank God It's Friday, a great example of corporate cooperation, Motown and Casablanca Records tried to perform a Saturday Night Fever music and film parlay. By packaging a three LP set featuring artists from both labels, they persuaded Columbia to distribute this low-budget flick. Casablanca's Donna Summer and Motown's Commodores were the stars of the film.
The album did well, capturing hit singles for Summer and the Commodores; in fact, Summer's Last Dance won an Oscar for best song of 1978. The film was also quite profitable, though, like several recent releases, it was in actuality only a soundtrack with visuals.
In the historical dramas and biographies, truth was made subservient to dramatic effect. Thus, actual events were often taken out of context, and fictitious characters were introduced into the plots. But rarely has the Hollywood bio stuck to the real facts, and one shouldn't expect an organization so enamored of the Hollywood star system to break tradition.
It is more pertinent here to consider what was presented than to compare real life with screen life. All three films were bittersweet, occasionally tragic tales of black stars frustrated by racism and personal weaknesses. Lady has been the most widely discussed of these films, but Scott Joplin remains the most fascinating and dramatically effective of the group.
Young director Jeremy Paul Kagan elicited a tremendous performance from Billy Dee Williams in this downbeat look at Joplin's frustrated career. While Lady and the attendant hype established Williams as the black Clark Gable, his portrayal of Joplin showed him unafraid to expand his image by taking on a demanding dramatic role.
Williams's graphic portrayal of Joplin's physical disintegration from syphilis emotionally devastated the viewer. The sequence in which Williams tried to audition for a part in a show but couldn't control his fingers and so blew the gig managed to encapsulate all Joplin's trials with understanding and style. The closing shot of Williams's Joplin walking slowly through a harsh New York snowstorm lingered in the mind long after the gloss of Lady had faded.
Joplin has had a strange career. Although it was made on a small TV movie budget, executives at Universal saw the strength of the film and wanted it for theatrical release. It reached some US markets and was later shown on NBC. Even though Joplin is the company's strongest film, word came that Kagan's film noir approach didn't totally please everyone in the Motown family. Without the attention a large theatrical release guarantees, the film went almost unnoticed in the black community. Considering the power and integrity of Scott Joplin, that is a real shame.
More reflective of Motown's approach are the remakes. Gordy's fascination with old Hollywood glamour was in full evidence in Mahogany and The Wiz. The latter was knocked hard by critics [this one included], but the film's faults resided as much in director Sidney Lumet's pacing as in Berry Gordy's casting decisions.
Mahogany, however, came under Gordy's direct control. He financed it and directed it. The result was an awful compendium of Hollywood clichés. The premise of Mahogany' was the same as in the Audrey Hepburn, Fred Astaire film Funny Face [1957]: plain girl meets fashion photographer who makes her a star model. But parts of Love Story, including a hokey catch phrase, the pseudo-political overtones of The Way We Were and various smatterings of other soap-operaish features were also present.
Gordy got through his directorial debut without embarrassing himself, though one wonders how much editing room assistance he received. Mahogany shows Gordy's 1973 comment to Black Enterprise magazine that "Our message is that we have no message" to be quite true.
The lack of originality of these cinematic undertakings reflects Motown's weakness in the film market. While it was a pioneer on wax, Motown has been truly pedestrian on celluloid.
This trend shows no signs of ending. Janet Hubbard, a veteran member of the Motown film production team, recently outlined three upcoming projects. Two are biographies — no surprise there. A screen treatment of Josephine Baker's life is being prepared for Diana Ross; The Gene Tierney Story, a co-production effort with ABC, is in the works, with Jackie "Charlie's Angels" Smith playing the title role.
The other project, another remake, is Nightmare Alley, a Tyrone Power film of the 1940s, now being tailored for Billy Dee Williams. This is not your typical Power film, for his character is that of an unscrupulous hustler who gets involved in the mind reading business. He manipulates women, swindles the gullible but is eventually set up for a fall. In the original film, Power ends up a broken man.
This plot has fine possibilities. But with Gordy directing Nightmare Alley, no one can predict what the resulting film will look like. At any rate, with the disappointing Wiz movie closing out Motown's first decade in films, the company's production schedule for the 1980s could certainly use a creative transfusion of ideas.
Keep reading this issue – next article