Eartha's Still Here
Eartha Kitt's comeback is now complete. After 261 shows in Timbuktu and more planned for the near future, she returned to cabaret to again radiate in all the beauty and sensuality that made her famous.
Even though the show had its tender moments, the message was clear from the opening bars of I'm Still Here.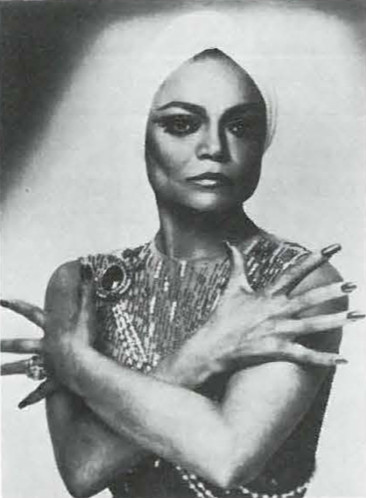 She sang about her survival of the criticism of the white establishment that scorned her for advocating the cause of the black civil rights movement, and human rights 15 years ago. But most of all, she seemed to relish in the thought of having survived the black-balling of the 1960s by President Johnson after her outspoken comment on the war in Southeast Asia.
Most notable in her act was her rendition of I Will Survive, the Gloria Gaynor disco-hit which she stripped of all paraphernalia and turned into a raw emotional vehicle with haunting phrases of subtle victory.
Eartha Kitt has aged a little. But like a good bottle of wine, she has gotten a lot better. Those of us who remember her from past eras, hopefully, have too with a fraction of the same results. Hats off to Les Mouches for securing the great lady for the recent engagement.
The Futures. A Philadelphia based quintet with a new album under their belt, blew into the Big Apple as a featured act at Leviticus' Thursday night showcase. A tightly knit group, with slick choreography in the best tradition of the Temptations, has a showmanship that is a throw-back to predisco days. One of their strongest drawing cards is a dynamic and versatile baritone, John King.
Two numbers out of the 90 minute routine stand out: Mr Bojangles, with King doing some fast footwork— complete with a cream-colored melon hat — to the tight harmonies of his four partners, and a well arranged composition, The Greatest — a tribute to boxing champion Muhammed Ali.
The 9 piece backup band played best on subdued ballads, but on uptempo numbers they mercilessly assaulted the audience, reaching a decibel level better suited for Madison Square Garden.
Off stage
Singer, Actress Stephanie Mills — Dorothy of the Broadway version of The Wiz — has just released her first album on 20th Century Fox Records label. The album What Cha Gonna Do With My Lovin is produced by James Mtume and Reggie Lucas. Ms. Mills feels that her arrangement with 20th Century will give her greater flexibility in the development of her multi talented career.
Diana Ruth Wharton is a name you should look forward to hearing more about. The twenty-seven year old Howard University graduate is currently making the rounds in some of the City's showcase cabarets. By all accounts, Ms Wharton displays the charismatic qualities of Nina Simone coupled with the musical creativity of a Stevie Wonder. She is the composer of the musical score for For Colored Girls Who Have Considered Suicide When the Rainbow Is Enuf; in 1975 she composed an orchestral work performed by the District of Columbia Youth Orchestra, and in 1977, she composed a musical score for the Boston University production of Animal Song, written by Fai Walker.
Records
Oregon, a West Coast group, as the name lets one guess, recently had a lot of exposure, including a concert at Carnegie Hall. It uses a combination of classical, jazz and oriental instruments, creating a mixture that is neither jazz nor classical or folk music. There are excursions into flamenco reminiscent of Chick Corea and excursions into Indian rhythms, but without the passion of ragas. I don't quite know what to make of this record, except that it doesn't swing and doesn't move me. As with previous fusion attempts of the same kind, the music never seems to coalesce. It is a little bit of this and a little bit of that, without achieving an original language. Waterwheel is a flat modal piece with no tension point, Story Telling is just a tabla demonstration. For real Indian music, I still recommend Ravi Shankar and Ustad Ali Akhbar Khan. Oregon: Out of the Woods — Elektra 6E-154
Tom Scott's new record is entitled Intimate Strangers. Strangers, yes. No credits are given to the musicians. Intimate, no. This is boring, sterilized, mechanical funk with loads of synthesizers and electric keyboards. The record gives an impression of deja entendu [heard before]. It comes in one ear, goes out the other, and I wonder how long producers are going to keep forcing this kind of merchandise down our throats. Tom Scott: Intimate Strangers — Columbia JC 35557
Eddie Harris. Now here's some good down-home funk, and an inventive cover. On Two Times Two Equals Love, a vamp reminiscent of Listen Here sets in the groove. From there on, it's a soulful voyage throughout the album. I'm Tired of Driving has a rousing gospel piano introduction. No synthesizers here, hallelujah! Just bluesy vocals and a saxophone that really talks and shouts and gives different shades to different notes. Eddie Harris also has an interesting throaty voice. His vocal gymnopedics a la Leon Thomas can be heard on The Loneliest Monk, The sparsely used strings do not drown the music. Although this record doesn't break much new ground, it is thoroughly enjoyable and will make ya get on your feet and dance. Eddie Harris: I'm Tired of Driving — RCA APLI -2942
All the heavyweight funk stable seems to have been assembled on this date: Eric Gale, Ron Carter, Ralph MacDonald, Steve Gadd, Idris Muhammad, Hubert Laws, Mongo Santamaria, Dave Sanborn, Earl Klugh. As for the brass section, it reads like a musicians' Who's Who. This is slick glossy, competent studio work with touches of Quincy Jones here and there. But nothing is really happening. If I want to boogie, I'll have an old James Brown or an Old Aretha Franklin anytime. Bob James: Touchdown — Columbia/Tappan Zee JC 35594
Another World — a double album — is Stan Getz's new scholastic outpouring. There's nothing wrong with the sidemen, who are all able musicians. Drummer Billy Hart and percussionist Efrain Toro especially swing throughout. Bassist Mike Richmond had the same teacher as Stanley Clarke. It shows. He too plays fast and approaches the instrument as though it were a guitar. Pretty Girl, the first track, starts off with a lilting Latin feeling but the music never gets off the ground. After so many years of playing, Stan Getz has acquired an undeniable metier, but the trouble with him is that he has no feeling for dynamics or texture, no knowledge that a horn is an extension of the human voice. All great saxophonists, Byrd, Dexter, Trane, Sonny Rollins, have always had an original sound of their own. Stan Getz doesn't. Another World is a cold world, which is probably why it also has, to doctor things up, to resort to so much electronic gimmickry. Stan Getz: Another World — Columbia JG 35513
Since his return to the US, Dexter Gordon has assembled one of his best groups ever. Drummer Eddie Gladden had been making sparks in Jersey for  years. George Cables, well known for his association with Sonny Rollins is one of the best piano players around, I have been listening to some of his solos so much that the grooves on my albums are all worn out. As Time Goes By opens with a lovely line by Cables then Dexter comes in with straightforward swing.
Dexter, a master balladeer, knows how to sass and caress. And there is nothing like acoustic instruments to tell a story. Moment's Notice, which opens and closes with a polyrhythmic vamp is an implicit — and befitting — tribute to Trane, as is Body and Soul. Although there are echoes of Trane in both pieces, Dexter remains his own man, I Told You So, composed by George Cables, is a showcase for this formidable pianist. Listen to his Tatumesque runs, to his astounding dynamics and timing, to his harmony! In these mass-consumption times, it sure feels good to hear some real music. Dexter Gordon: Manhattan Symphonie — Columbia 35608
It took something of a miracle to revive Gloria Gaynor as one of the chief exponents of disco. This LP Love Tracks and particularly the single I Will Survive from the album has brought the lady back from obscurity.
It's a shame about Gloria Gaynor. She is credited by many with having been the first soloist to introduce disco with the mind-boggling Never Can Say Goodbye that topped the charts in 1974. Because her vocals are only a notch above average, at best, and her stage presence at that time was almost embarrassing, she was easily knocked off her disco queen throne by Donna Summer a year later.
If it were up to her vocals alone, this album would have been another flop. Only the melody and lyrics of I Will Survive [which is being billed as more than a song — but a way of life] penned by Dino Fekgris and Freddie Perren, make it work. Gloria Gaynor: Love Tracks — Polydor PD-16184 $8.98
Destiny is the first album The Jacksons are responsible for writing, singing, producing, and conceptualizing. For a first outing it is not bad although none of the cuts stand out as exceptional.
Michael Jackson's vocals are tender and sincere and it appears he has settled into his post-puberty range. This is best demonstrated on Push Me Away, a soft ballad in which Claire Fisher successfully weaves a sultry string arrangement with Michael's voice.
The lyrics leave a lot to be desired, they are at times insipid, confused and rarely cohesive or logical. This latest production will not help the Jacksons recreate the musical phenomenon that skyrocketed them to world fame in the early 1970s. The strongest cut on the album Blame It On The Boggie provides good dancing music, but lacks the sparkle and originality required to immediately catch the ear. The upbeat songs and their harmonies are reminiscent of Enjoy Yourself, but a far cry from the tense, electrifying excitement of I Want You Back. The Jacksons: Destiny — Epic JF 35552
Gamble and Huff, the Philadelphia Sound, have taken Jerry Butler's mellow vocal flair for romance, given him soft-rhythmic background — instruments and vocal harmonies — the result is an album, Nothing Says I Love You Like I Love You. It is as soothing as warm tea and rum on a cold Winter's night. Gamble and Huff produced an earlier album by Jerry, Ice on Ice, which contained the hit single What's The Use of Breaking Up?
Nothing Says I Love You Like I Love You, quells the disco fire and enflames romance. So put this record on the turntable when you plan to spend a quiet evening at home with your main squeeze. Beware of Butler he knows what he is doing. Jerry Butler: Nothing Says I Love You Like I Love You Like I Love You — Philadelphia International JZ 35510
Here is an album designed to bridge the generation gap. Vincent Montana and his orchestra have cooked up a musical adventure into the Big Band Sound of disco in I Love Music.
This production is richer, much more elegant than the sounds of MFSB and outshines a Mecco concoction for its variety in rhythms, solo instruments and concept. There are no studio gimmicks. You can actually picture a big band orchestra if you close your eyes and use the imagination. Outstanding on this release: You Know How Good It Is? and Fanfare For The Common Man.
In the first cut, the orchestra grinds away at the disco beat, but then horns beckon a gutsy rhythm change that would make Count Basie want to rush to the piano, Crisp clean piercing brass shout out the theme that is picked up on the vibraphones and held together by a jazzy bass line that works well with the drums.
Aaron Copland's Fanfare has all the ingredients necessary to awaken even the most lethargic among us — complete with timpani, gong, and crash cymbals. The only major disappointment is Montana's version of The O'Jays' I Love Music. It adds nothing new to the music, the vocals can't match those on the original recording and the cut is inconsistent with the rest of the album. Montana: I Love Music—Atlantic SD 19215
Is it still good to ya? — No it's better. In fact, this is the best album yet by the songwriting and sing duo Nick Ashford and Valerie Simpson. Is It Still Good To Ya? bears out the new stature that Ashford and Simpson have cemented with their Broadway debut at the Belasco Theater.
Valerie's vocals have mellowed since her first solo album on Motown and even Nick's singing has improved drastically, even though there is still room for improvement, as his voice thins out in the higher tenor ranges.
All the compositions are lyrical, the phrasing is smooth and the vocals stand out well over a solid arrangement. There is no overproduction here.
Those who have had second thoughts about Nick's vocals will be particularly pleased with Ain't It A Shame — lo and behold — he is a baritone. His vocal range gives Valerie's fragile voice a more solid backing. The added harmonic coloring for her soprano is enhanced by able background singers instead of a strained almost wining Nick Ashford.
Is It Still Good To Ya? will give every listener the satisfaction of having the best of this multi-talented duo and some of the tunes, particularly Get Up and Do Something will make you want to hit the dance floor. Ashford and Simpson: Is It Still Good To Ya? — Warner Brothers BSK 3219
Keep reading this issue – next article