There is nothing new about seafood dining, least of all that it's often expensive. An old adage has it that You pay for what you get, but, alas, there is an exception to that rule.
Tucked away uptown (94th & 3rd Ave.) is Cockeyed Clams Restaurant. Some name huh? Well, don't let it fool you. There is nothing strange about the food; it's some of the best you'll find in the city. But this isn't what makes it an exception; what does is its excellent food and its stealing prices. This is a place where you get more than you pay for.
Actually Cockeyed Clams is one of four restaurants with the same ownership. (Others are Nodeldini's, 93rd & Madison; Hobeau's, 53rd & 1st Avenue; and Butterfish Hole, 79th & 3rd.) They all have the same menu, but Cockeyed Clams is our favorite.
One attraction is its location—away from city crowds, where there's plenty of parking. But the main attraction is that Cockeyed Clams serves quality fish. More and more in New York restaurants fish seems fresh but tasteless and mushy—no smell, but nothing else either.
Here fish is fresh and carefully prepared, so that each variety maintains its character. The owners own a wholesale fish business, which may account for the restaurant's good reputation. They catch many of their fish, and then filet or steak it and ship it directly to the restaurant. ''Catching the fish, filleting it ourselves, we know our fish is fresh on your plate. We sincerely try to give a product that is good,'' says Joe Adinaro, one of the general managers.
But there are still other things that make Cockeyed Clams a nice place to dine. Casual and unpretentious, its pub atmosphere is relaxing and friendly. A wooden partition separates the bar and dining area and you can dress as you like. The nautical decor is filled with lanterns, suspended oars, nets, wooden fish and so forth. Candle lit tables are very close together; people chat freely with each other. Comfortability, quality food and inexpensive prices are keys here, and with this combination who wouldn't dine here every night?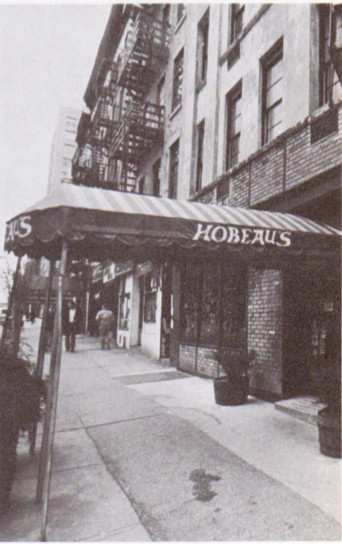 You'll also like the menu, that is, the physical thing itself: a sheet of paper (your place mat) with cute listings such as Munch and Crunch, Slurp, Burp, Splash and Creatures From The Deep. On the back it says All the fish that's fish to eat and that you can count on — dark, delicious bluefish ($4.25), flaky red snapper ($4.95), savory salmon ($5.25), succulent sea trout ($4.95) and more. The broiled and steamed lobsters ($7.95) are done perfectly, and if you happen to see someone eating one, you may change your order. There's a dish called Seafood Supreme ($6.50) that is a real knockout—clams, mussels, fresh fish, crab legs, calamari, veggies and oriental seasoning. Delicious! Or if your taste buds ask for old standbys, there are mussels ($2.25), crabs ($6.95), shrimps ($4.50) and others.
The only problem you'll have at Cockeyed Clams will be deciding what to eat and eating it all. The servings are heaping so don't be surprised. (A friend ate an order of clams and then a Brook Trout. She couldn't move for almost an hour!) All fish are broiled with wine and butter and served piping hot, but while this is getting under way a large bowl of superb fresh salad (chunks of carrots, cabbage, etc.) is brought to your table along with warm, delicious French garlic bread.
With the entrée is a baked potato with sour cream or tasty French fries and a fresh vegetable. (On one of our visits the choices were zucchini, cauliflower, string beans or corn.) While fish is the main course, meat lovers aren't forgotten. Burgers, chops and steaks are available and prices range from $3.25 to $7.95. Desserts feature an inviting homemade cheesecake ($1.25) (my weakness), homemade pecan pie ($1.50) and strawberry supreme ($1.25).
Considering the crowd, the waiters seem eager to please and the service is always good. We once changed an order three times and each request was handled with a smile.
Interested in lunch? This is the place. Served 11:30 a.m. to 4 p.m. daily, lunch prices are $2 to $3 cheaper than dinner. How about brunch? They offer that too. Hours are Noon to 4 p.m., Saturday and Sunday, and the price is another steal. Everything, including fresh fish; omelettes; ham, bacon or steak and eggs; burgers or French toast plus either three Bloody Marys or Screwdrivers is just $3.50. Check it out.
By the way, Cockeyed Clams is always crowded for dinner (after 4 p.m.), so do make reservations. Cash only. 831-4121
Keep reading this issue – next article