Joseph Papp's Black and Hispanic Shakespearean Company recently performed Julius's Caesar at the Anspacher Theatre [Public Theatre, 425 Lafayette St., Man.]
Curiously, the internationally acclaimed Earle Hyman portrayed the relatively minor roles of Cicero and Messala. The rationale for the casting may have been that such an assignment would astound critics and audiences alike, giving the impression of a company so strong that even bit parts could be assumed by an Earle Hyman. Moreover, roles of comparable size were performed by members of the company with such depth, elevation and clarity of diction that one may praise their interpretations as truly Shakespearean.
The performances of Tucker Smallwood as Cinna and Titinius, Count Stovall as Decius Brutus and Lucilius, Robert Christian as Metellus Cimber and Caius Helvius Cinna, the Poet, Peter Francis-James as Octavius Caesar, Jay Fernandez as Trebonius and Keith Esau as Octavius's Officer exemplified ensemble acting at its best.
Joseph Papp's calculation failed to work out, however, because the otherwise considerably gifted actors, who played Brutus (Roscoe Orman), Cassius (Gylan Kain), Casca (Morgan Freeman) and Julius Caesar (Sonny Jim Gaines) simply lacked the Shakespearean timbre so evident in the aforementioned supporting players.
Such roles require the stature of an Earle Hyman or a James Earl Jones, whom Mr. Papp considers America's greatest classical actor. The Portia of the accomplished Mary Alice won her both the plaudits of some of the critics and an Obie, but I found her qualifications to be closer to those of Mr. Kain than to those of Mr. Hyman. [Of the Hispanic principals, Miriam Colon was a dignified Calpurnia, and Jaime Sanchez was, though hampered at times by his accent, a viable Anthony.]
The Cast of Julius Caesar — Surprisingly, the Public Theatre's Coriolanus, a tragedy both less familiar and more difficult to perform than Julius Caesar, succeeded better dramatically. The evening got off to a good start: Count Stovall, as the First Citizen, delivered the opening speech, and as long as the plebeians were conversing, everything was suitably Shakespearean.
But, all too soon, the patricians entered, and we were back to the cornbread and glass so distressingly characteristic of the Julius Caesar production. Though less prevalent, upside-down casting, was still the rule. However, one of the wiser casting decisions was the more extensive use of Earle Hyman as the consul Cominius.
If one of the reasons for establishing this Black-Hispanic company was to demonstrate the deficiencies of minority actors in traditional classical acting, they have almost succeeded. Only one performance, that of Robert Christian, demonstrated the contrary: as Tullus Aufidius, Mr. Christian speaks clearly and carries himself with dignity; alongside of his colleagues, he shines, to quote from the Merchant of Venice, "like a good deed in a naughty world."However, though Christian effectively captured the noble soldier in Aufidius, he thoroughly failed to explore the duplicitous politician side of his character; the scene in which he welcomed the renegade Coriolanus into his camp was played at mere face value despite the two men's established venomous hatred.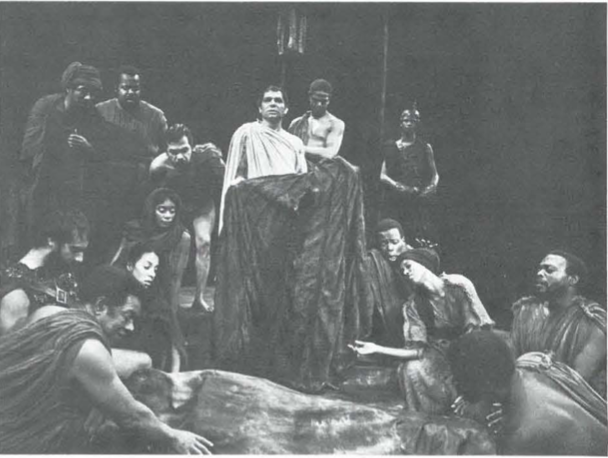 In smaller roles, there were meritorious contributions from C. C. H.  Pounder as the chatterbox Valeria and from Ben Halley, Jr., Reginald Vel Johnson, and Francisco Prado as the three Volscian clowns. The trio who played these bit parts in the Phoenix Theatre's Coriolanus — Gene Saks, Jack Klugman and Jerry Stiller — have since gone on to distinguished careers — a similar fortune should await Messrs. Halley, Johnson and Prado. How strange that these comic scenes should have been among the most memorable of this production! Few of Shakespeare's tragedies have as little comic relief as Coriolanus does — or, at least, should. Shaw considered this play to be the greatest of Shakespeare's comedies; but unless the protagonist can impress us with the strength and dignity that accompany his aristocratic scorn, his behavior will verge on the ridiculous, especially after Coriolanus, taking his bat and running to join the opposing team, pulls a switch and does what his mommy tells him to.
Both Morgan Freeman as Coriolanus and Gloria Foster as Volumnia were miscast. Foster played Volumnia as a strong black mother, even though the character's style of matriarchy is unquestionably that of a white woman. In addition, Michael Langham's direction of her contained a grave misjudgment. When Volumnia came to plead with her son not to attack Rome, he was astounded, as the audience should also have been, to find this granite woman capable of kneeling — earlier in the proceedings, Ms. Foster had already twice fallen to her knees.
The one completely stirring scene in the production was that in which Clebert Ford [who shares Mr. Hyman's and Mr. Christian's Shakespearean comportment] and Frank Adu, as the tribunes of the people, provoked Coriolanus into revealing his true colors, thereby inciting the populace to banish him. The effect was obviously not one Shakespeare had intended. It was perfectly clear that the director envisioned both tribunes as corrupt, self-serving union leaders. Even though Jean-Paul Sartre has pointed out, "The strikes in the United States do not reveal conflicts of character between industrialists and workers", it nevertheless filled me with elation to see these citizens ridding themselves of this Goldwater figure.
Class-conscious arrogance like that of Coriolanus and his family and friends is something not merely alien but positively inimical to black existence. Bertolt Brecht has made an adaptation of this play that attacks rather than supports such elitism. Perhaps Brecht's libertarian bias rather than Shakespeare's reactionary one would have been more congenial to a minority company.
As Mr. Papp must certainly be aware, his venture must face the objections of those who take the position that a performance cannot be both Black and Shakespearean. Some moderates, however, may grudgingly accept [or even applaud] Mr. Papp's interpretation rather than reject the whole business. Whether such projects may be detrimental to Black consciousness is less definite today than during the 1960s. Anyone holding this belief is not likely to be an opera buff or to respond to the argument that Reri Grist — the best Adina in Donizetti's L'Elisir d'Amore since Bidu Sayao — might have made an indifferent blues singer. The bias is by no means limited to Afro-Americans; in a conversation with a Yugoslavian theatre delegate, my praise of soprano Zinka Milanov elicited the dismissing response that she had made her reputation singing Italian opera.
At this juncture, it can scarcely be necessary to state that black artists have a wide range of abilities. Composer Vernon Duke stated that Josephine Baker had a coloratura technique that would have put Lily Pons to shame, and indeed, Josephine once sang in a Paris revival of the Offenbach operetta, La Creole. Whether the prodigious talents of Bessie Smith or Billie Holiday would have been adaptable to Mozartian bravura or to Bellini's Cantilena is, however, another matter.
There remains the alternative of adapting Shakespearean material to Messrs. Orman, Kain, Freeman and Gaines instead of vice versa. Ira Aldridge, for example, reworked Titus Andronicus, making a noble hero out of the villainous Aaron the Moor. One of the problems with Woody King Jr.'s ill-conceived revival of Orson Welles's Haitian Macbeth [which ended the curiosity appeal of black actors in a Shakespearean production] was the half-heartedness of the deviations from the original text. It contained, for instance, references to Dunsinane side by side with those to Montserrat, and presented an Obeah person with the Greek name of Hecate.
If, however, the company decides to draw their repertoire from the European classical theatre, there is a wide range of challenging material that is less demanding [and less subject to invidious comparisons] than Shakespeare. Incidentally, Clive Barnes noted in his reviews of the plays that the company included Blacks and Hispanics but, predictably, no Orientals. The Pan-Asian Repertory, an organization formed to deal with this customary neglect, has presented revivals of Feydeau's Hotel Paradiso and of Goldoni's The Servant of Two Masters; the farcical requirements of either play could make for advantageous usage of the body English that is so prevalent among black actors.
Through July 22, 8:30 pm daily, except Monday, Coriolanus, with Gloria Foster and Morgan Freeman, may be seen at the Delacorte Theatre, Central Park at 81st Street.
Keep reading this issue – next article