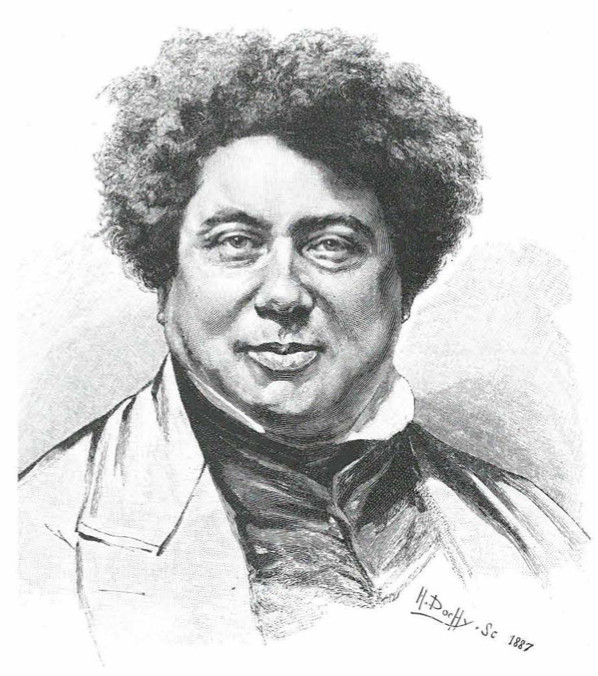 At a recent symposium on Black theatre, a woman of the Harlem community stood up to say that she had heard of the existence of European black playwrights, and that, although she did not know their names, she felt she had the right to see their plays. She further expressed the wish to see these plays performed by black actors. Perhaps, in the near future the woman's wish will be fulfilled if and when the many branches of the black theatre reach back to their common origins. What will be found will be a wealth of materials written by black playwrights heretofore not known as black playwrights?
The earliest of these playwrights, Publius Terence Terentius Afer (?195-159 BC), better known as Terence, came to Rome from Africa, as his third name indicates. His master, from whom he took his second name, was the senator Terentius Lucanus, who educated and, subsequently, freed him.
It is only recently that Terence's blackness has been acknowledged. One classicist of the not-too-distant past proved that the playwright could not have been black with the incredulous assertion that a reputation for great good looks precluded his having been anything but white!
Coupled with his talent, these good looks won Terence an entree into the patrician set known as the Scipionic Circle, whose members probably encouraged him to bring out in 166 BC the first of his six plays, Andria. Already, in his initial effort, he displayed the polished verse, elegant conversational style and subtle characterization that comprise the hallmarks of his comedies. It would have been difficult for Terence's contemporaries to deny or pretend not to notice his blackness; instead, his rivals publicly insinuated that his society friends were the true authors of his plays, since no African could have commanded such a mastery of Latin.
The six Roman comedies of Terence have had a major impact upon the development of Western comedy. We discover a curious example of his influence in the medieval German nun Hrotsvitha, who, though she admired his style sufficiently to have annotated his plays, wrote six edifying comedies which presented an imitation of that style adapted to Christian subject matter. Similarly, in the sixteenth century, one Schoon of Gouda, sometimes known as the Christian Terence, followed suit with six comedies on Biblical subjects in the Terentian style.
Besides Andria, Terence's other plays include: The Mother-in-law, a clever treatment of a perennial subject of satire, The Self-Tormentor, a play which compounds psychological insight with comic inventiveness, Phormio, the funniest of all the plays and The Adelphoe, one of the few truly great comedies in the history of dramatic literature. The Eunuch, also much admired and nearly as funny as Phormio, has always aroused misgivings because of a scene in which young Chaerea gloatingly describes his rape of Pamphila and her subsequent anguished humiliation. Possibly, Terence who, after all, had been a slave himself before moving up in the world wished to demonstrate that one's position in society determines one's liability to exploitation. When Pamphila turns out to be of good family, Chaerea makes everything all right by marrying her.
The only one of Terence's plays to include even a hint of his African origin [in the tiny role of an Ethiopian slave girl], The Eunuch has inspired modern adaptations by such distinguished authors as the Restoration playwright Charles Sedley [Bellamira], Jean de la Fontaine [L'Eunuque, 1654], and Holland's leading comic dramatist Gerbrand Adriaanszoon Bredero [The Moorish Girl, 1615]. In 1923, Carl Zuckmayer's version so shocked German audiences that the authorities closed the show. Additionally, a dominant plot device of The Eunuch, that of a man who feigns impotence as a means of attaining his sexual ends, reappears in both Wycherley's The Country Wife? and in Wole Soyinka's The Lion and the Jewel. By a roundabout route, Terence had found his way back to his native Africa before the 1963 appearance of Soyinka's comedy: in 1961, Soyinka's compatriots, Dopo Adelugba, Alfred Opuber and Brownson Dede, made a Nigerian adaptation of Les Fourberies de Scapin, the farce that Moliere had based on Phormio. Entitled That Scoundrel Suberu, it toured the country to wide acclaim.
The Dictionary of Latin Literature lists Hosidius Geta as an African poet of the third century. Whether he was a native, a colonist or a man of mixed blood is uncertain, but his contribution to the field of drama is a literary curiosity. Geta's tragedy Medea, found in a collection sometimes known as The African Anthology, is a cento: that is, the author pieced it together entirely from quotations, in this case from Virgil.
The first author of African descent to write plays in a modern European language, Portuguese, may have been Afonso Alvares who, on commission from the Franciscans, wrote Autos, dramatizations of the lives of the saints, three of which dramatizations are extant. But for a quarrel with another dramatist, Antonio Ribeiro [known as Chiado], who called Alvares a Mulatto sprung from a rubbish-heap, we would know nothing of his racial origins.
Domingos Caldas Barbosa also wrote in Portuguese and is considered the first great modern lyric poet of African descent. Born on a slave ship between Angola and Brazil, he was educated at the Jesuit College in Rio de Janeiro. His poems satirizing the Viceroy, Bobadella, brought down on him the punishment of military service in the outlying province of Sacramento. Later in life, he immigrated to Lisbon, where he earned the esteem of his fellow writers, who elected him the first president of their literary society. However, one member, Manuel de Barbosa du Bocage, dissented so vehemently that a poetry duel, similar to that between Alvares and Chiado, ensued. Bocage attacked Barbosa in two sonnets, calling him, respectively, an ape with a witch doctor's face and characteristics and a foul-smelling monkey that a Brazilian witch had dressed as a man. Perhaps because the other members of the literary society came to his defense, Caldas Barbosa's retaliation displays none of this rancor. Admiration of his general good humor in part undoubtedly derived from the great popularity of his poems — particularly those employing Afro-Brazilian folk idioms — and his plays: Os Viajantes Ditosos, A Saleia Name rads, A Vinganca a Cigana, and A Escola dos Ciosos.
Pushkin's Russian citizenship was the result of experiments, popular during the Enlightenment, to ascertain what would happen if an African native received all the benefits of a European education. Another product of these experiments was Ibrahim Petrovich Hannibal, whom Peter the Great educated and who eventually became both a lieutenant general and Pushkin's maternal great grandfather.
This same Peter the Great hanged Pushkin's paternal ancestor for taking part in the revolt of Streltsy. As a writer and as a man, Pushkin remained true to his family heritage of opposition to autocracy. His Boris Godunov was the first Russian play to dramatize his country's history; a dedicated humanist and libertarian, he showed his literary colleagues that the pen could be a weapon against Czarist oppression. Naturally, such activities did not endear him to the establishment; during the reign of Alexander I, Pushkin was ordered to leave St. Petersburg, and, though the succeeding Czar Nicholas I, pardoned him, it was during his regime that Pushkin died in a duel apparently set up by agents of the state.
The founder of Russia's golden age of literature and still her most popular author, Pushkin is best known in the West through the many operas that composers, primarily Russian, have based on his works. Among these are Moussorgsky's Boris Godunov, Rimsky-Korsakoff's The Golden Cockerel, Tchaikowsky's Eugene Onegin and The Queen of Spades [the latter of which has also inspired operas by the ultra-serious Jacques Halevy and the ultra-frivolous Franz von Suppe, as well as a film with the late Dame Edith Evans in the title role], Glinka's Ruslan and Ludmilla, Stravinsky's Mavra and Rachmanioff's Aleko. The source of the Rachmaninoff opera is Pushkin's poem, The Gypsies, which Prosper Merimee translated into French and from which he derived the novel on which Bizet's librettists based Carmen. Thus, in another roundabout way, Pushkin was the original author of Carmen Jones. [Black opera companies such as Opera Ebony and Opera South might wish to consider some of these Pushkin operas for their repertoire.]
In 1857, Alexandre Dumas, pere, visited Russia. This was twenty-one years after Pushkin's death, but the French author still devoted a chapter of his travel book to Pushkin and translated some of his poems and short stories as well. Like Pushkin's ancestor Hannibal, Dumas's father was a general; he died when his son was four, bequeathing to his family little but the memory of his bravery. Always versatile and enterprising, Alexandre won his first advantageous position by means of his writing — in a different sense — when the future King Louis Philippe engaged him because of his elegant penmanship. As befitted his dashing personality, as flamboyant as that of any of his swashbuckling fictional heroes, his first literary successes were in the theatre. A great lover himself, he inevitably wrote a play about Don Juan; in fact, it was from Dumas's Don Juan de Maran that Jose Zorilla derived the innovations that have made his Don Juan Tenorio the most popular play in Spain.
Better remembered as a  novelist, Dumas is not without historical significance as a dramatist. Although Victor Hugo's Hernani (1830) had often been hailed as the first play of the Romantic movement, critics now point out that Dumas's Henri III et Sa Cour had its premiere the year before. He inserted the romantic elements into Henri III less because he was a theorist than because they emanated from his temperament. Afro-American playwright Paul Carter Harrison, who is also a theorist, would undoubtedly affirm that the spontaneity that was the source of these elements was part of what he terms the African continuum.
Dumas's stage pieces number more than a hundred, including an adaptation of Hamlet that long held the stage and — of interest in a season in which Dracula has been a recurring theatrical character — a play called Le Vampire. By 1832, Dumas's popularity was such that the management of the Opera-Comique, not having a new opera, cashed in on the Dumas name by presenting his new play, Teresa, with one song by a composer named Rifaut, and with incidental music made up of such favorites as Mozart's overture to The Magic Flute. Dumas wrote two libretti — one entitled Le Roman d'Elvire and the other, in collaboration with the poet Gerard de Nerval, entitled Piquillo. In the judgment of the eminent critic Petit de Julleville, Dumas's comedies are the finest of the period.
It is the name of Alexandre Dumas, fils, however, that we usually associate with the thesis play. If the son looms larger as a playwright than the father, it is not because the former was a more serious-minded author, for whom the stage was a means to educate and refashion society, but rather because of one piece he wrote — his dramatization of his own novel, La Dame aux Camelias. Among its many incarnations are Verdi's renowned opera, La Traviata, and three ballets choreographed by Anton Dolin, John Taras, and Anthony Tudor. The appearance of Marguerite Gautier as a character in Tennessee Williams's Camino Real, Mameliadamen, a reworking of the play by Danish dramatist Kjeld Abell, Bertolt Brecht's revision of Ferdinand Bruckner's German translation and Enrique Jardiel Poncela's modern adaptation and parody Margarita, Armando y Su Padre are further illustrations of the play's omnipresent influence. The plot, which, at first glance, seems to be stagy, actually came from life; the model for Marguerite Gautier was Marie Duplessis, a courtesan at eighteen who attracted the love of Dumas, fils, and who eventually died of consumption. Among the many notable Camilles of this century are Greta Garbo, Eva le Gallienne, Lillian Gish, Colleen Dewhurst, and Tallulah Bankhead. Recently, Camille, in which actor Ludlam played the heroine in drag, had a run off-Broadway.
Like Caldas Barbosa, Victor Sejour, born in 1817 in New Orleans, immigrated to Europe and began his literary career as a poet. In 1836, his father sent him to study in Paris where, after his 1841 poem Napoleon's Return had gained him the friendship of Louis Napoleon, he had successful productions of more than twenty plays.
In nineteenth-century France, the black population was small, and, since blacks there had been supporters of the French Revolution, their position was relatively secure. Although Sejour wrote about blacks in the short-story form, he did not do so for the theatre, which was geared toward a mass audience; he translated his fight against prejudice into terms readily understood by those who attended his plays and turned out two dramas, Diegarias and The Fortune Teller, both of which attacked Antisemitism. Eva Brisban Young, the author of an unpublished thesis on Sejour [available at the Schomburg Center for Research in Black Culture], feels that there are speeches in each of these two plays that might have been spoken by any black man today.
Allardyce Nicoll, one of the few modern critics to record Sejour's achievement, exhaustively discusses the comedy The Devil's Money in his comprehensive World Drama; however, he errs in overlooking The Brown Overcoat, a one-act comedy about love in the tradition of Marivaux and Musset, that differs from its predecessors as the lyrics of blues differ [as semanticist S.I. Hayakawa has pointed out] from those of popular songs. Perhaps this witty and tough-minded examination of how to break off a love affair merely demonstrates that Sejour saw Musset's society from underneath, or perhaps it was his New Orleans birth and upbringing coming to the fore. In 1972, there was an off-Broadway revival of this comedy, and in 1976, Armstrong State College presented it as part of its bicentennial celebration.
Three of Sejour's plays in particular deserve the attention of Joseph Papp's Public Theatre. La Chute de Sejan, a distinctive interpretation of the protagonist of Ben Jonson's tragedy Sejanus, Richard III, one of Sejour's most admired works [far from being a mere imitation of Shakespeare, the playwright anticipates the complaints of modern historians that Shakespeare maligned Richard] and the She-Wolf Children, a fresh approach to some of the material covered in Shakespeare's Henry VI — all of these plays could add variety and spice to any theatrical season.
Back to table of contents of this issue