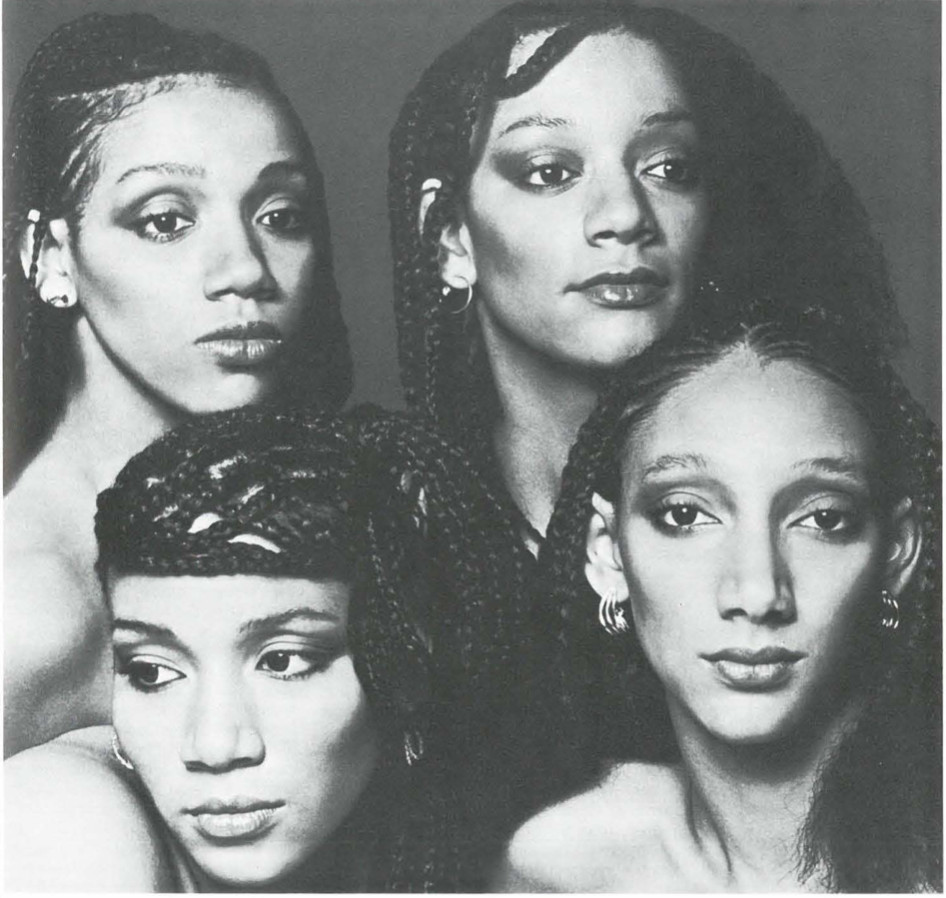 Sister Sledge, one of the most dynamic and multi-talented groups on the current music scene, is helping to coin a new adage: "The family that works together stays together." Kathy, the youngest member of Sister Sledge, describes their relationship "Our lives are intertwined because our careers are intertwined. As we grow in our singing careers, we grow as a family. That has been the main thrust to keep us together, to keep us strong."
The Sisters emerge as strong as ever with the release of We Are Family, their latest album. We Are Family, their third recording on the Cotillion label but first venture into disco, has been written, produced and arranged by Bernard Edwards and Nile Rodgers of Chic (ROUTES May '78 cover story). These two talented men have contributed their skills as performers to the album as well.
Although the Sisters recognize that the three cuts on the record getting the most play are disco, they believe We Are Family draws a diverse audience. Kathy explains, "In a way, I think it appeals to a great number of disco fans, but then it has proven to appeal to a large number of other people too. We like all kinds of music. Disco is just one of the types we do that we like."
As the album became more and more successful, there were those who doubted whether the Sisters could handle the burden of a concert without the back-up of Chic. A very impressive stage show was the almost unanimous response from Roseland to the Felt Forum to Rutgers University. Highlighting their new act is the trio's (Kathy, Joni and Kim) rendition of Home, the song from The Wiz. Each sister sings lead for several verses, thereby displaying her unique vocal abilities.
The burgeoning growth of disco music has brought the Sisters to the forefront of public attention, but they have been performing for quite some time. The four sisters (Kathy, 20, Kim, 21, Joni and Debbie, both 24) began singing at the local Second Macedonia Church in northeast Philadelphia. While still in elementary school, they appeared on a local television show, The Al Alberts Talent Hour. Their next encounter with television occurred in 1975 when they performed on Adam Wade's Musical Chairs.
The distinction between Sister Sledge and most other disco groups resides in the powerful communal effect produced by the high quality of each member's contribution. Debbie supervises vocal rehearsals and teaches harmonies. The responsibility for the choreography is shared by Kathy and Joni, while Kim takes care of the costumes.
The Sisters' interests are as unique as their talents. Kathy, the only sister yet to complete college, is a junior at Temple University majoring in Therapeutic Recreation. Eventually she hopes to start a network of special schools. Gorgeous Joni majored in Communications and is now interested in television production. She and Kathy remain the only two single Sledges. Kim, on the other hand, just recently married on May 13.
An International Relations major, she has had an offer from Harvard to work on her doctorate. Debbie, a former Art major, has been praised by her professors as one of the finest still-life artists to have graduated from the Tyler School of Art. Currently, living in upstate New York, she has just given birth to her second child. Joni explains why the Sisters pursued college careers even though they were successful singers "You want to expand your knowledge and grow in all areas and ways that are available to you. Everybody should take advantage of education. Our mother [Flo Sledge] has even gotten into the act. She has taken courses in business law, and she is learning a great deal as far as the business angle of our operation is concerned — that's just as important as singing."
On the stage of The Midnight Special telecast several weeks ago, a new face appeared with the group, their eldest sister Carol, an Education major at Cheyenne State College. Only four credits away from receiving her M.A., Carol explains her initiation into the group "I replaced Debbie the first time she went on maternity leave two years ago but left after she returned. This time it was the same situation."
Where was Carol when the other four sisters were singing? "I wasn't much interested in being a personality because I'm not really an extrovert. But from my experiences I have gained some confidence. I think I will be good at performing, and I'm beginning to enjoy it a lot," she confides.
Personal enjoyment was not the sole motive which persuaded Carol to re-enter the group. She admits, "At one point, I didn't know whether I could add anything and I [just] didn't want to be there." But now she feels confident that she can add another dimension to Sister Sledge. "I have my own personality and voice, and I'm a good dancer," she continued.
Carol has only the highest praise for her sisters: "The group is very versatile in that they can sing any and all types of music. In fact, Kathy's favorite era is the 20s and 30s Jazz. She loves Billie Holiday. The growing popularity the Sisters are experiencing is not," Carol insists, "due to any great difference in the style of our act but to the different way in which people now perceive us.
"Teaching will always be a part of my life, but I might stay [in the group] this time. Teaching was my first love, but now entertaining has grown to be my second love. "[If she remains, the next appearance of Sister Sledge may be the first time we witness all five sisters performing together.]
The group's musical influences range from Grandmother Viola Williams, a former opera singer, to Stevie Wonder and Aretha Franklin. The sisters admire the Jackson Five for sticking together as a family group and are currently performing several engagements together.
From The Al Alberts Talent Hour to The Midnight Special, the Sledge family has endured. Discovering the source of the group's durability in the family's proximity, Carol points out that their mother travels on the road with them and acts as their manager. She further asserts, "The family support system is so vital. It's important for people to rely on each other. It's comforting to know that your family will support you even if you fall on your face." Joni remarks that "We Are Family is not merely our album title but our philosophy as well. We hope to be examples of togetherness for many people. We represent strength in family, and we hope to spread truthfulness through what we're doing. We hope to be examples that God is the living force within all of us. If we can do that, then we have accomplished our goals."
Keep reading this issue – next article