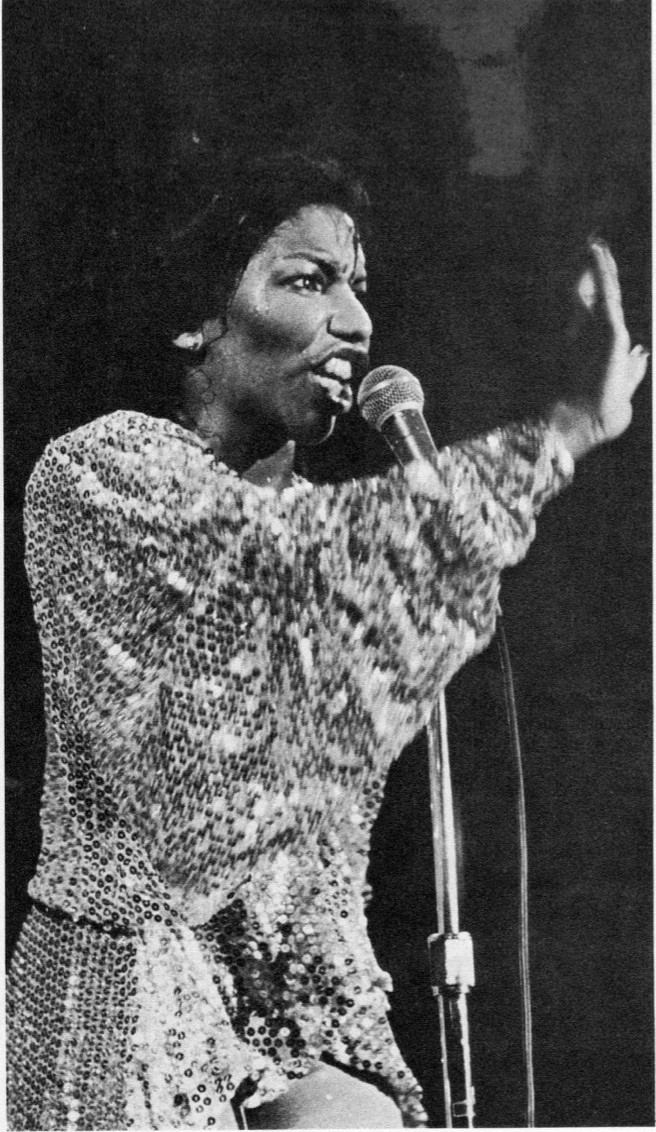 Having crossed the yellow brick road of the Broadway stage onto the glittering highway of the recording world, one wonders how Stephanie Mills has handled the transition. The somewhat shy and soft-spoken Stephanie spoke to ROUTES about her Broadway apprenticeship and her future as a recording artist and actress. "Broadway has been my home and always will be, but with it as my springboard, I'll move on and embrace new opportunities as they come."
Now, four years after the opening of The Wiz, the Brooklyn-born entertainer speaks well of the lengthy tenure she spent with the show. "Naturally, performing eight times a week in The Wiz for two and a half years did get to be tiring. But in looking back, I'm glad I stayed because it really disciplined me and made me more secure as a performer."
Since the April release of What Cha Gonna Do With My Lovin (20th Century Fox Records), a second major career is developing for Stephanie. The title tune has taken off and is rapidly approaching the number one spot on music charts around the country. "Everything is happening so fast that it frightens me, confides Stephanie, but | will try to deal with each phase of my career step by step. I feel prepared for the rigors of the concert circuit and the promotion of my new album."
The new album marks a dramatic departure for Stephanie from the little girl image of her successful stage role. "I had a lot to do with this album," remarks the five foot singer. "I played a big part in the production and chose a great deal of the material." Produced by James Mtume and Reggie Lucas, the record showcases Stephanie's ethereal soprano voice in a tasty collection of tunes, ranging from the mildly disco flavored title track, What Cha Gonna Do With My Lovin', to a fine assortment of trendy musical blends.
Formerly, Stephanie was under the wing of Motown Records. In 1976, an album entitled Stephanie Mills For The First Time, a production of Hal David and Burt Bacharach, of Dionne Warwick fame, was issued. "The album got very little promotion," comments Stephanie. "I later went into the studio and did another album, which was quite good, but it was never released."
Industry sources have indicated that her style on both albums was a bit too reminiscent of that of Diana Ross, Motown's top female vocalist. "Now that my current album has taken off, Motown might begin to promote the others."
She describes her Motown experience as being a disappointment. Apparently, Motown failed to grant her either a direct involvement in the production of her material or the exposure she needed.
Thus, once her two and a half year contract with Motown terminated in 1978, she signed with her present label, 20th Century Fox, where she teamed up with Mtume and Lucas.
Stephanie's training began at the age of three in the choir of the Cornerstone Baptist Church in Brooklyn. By the age of ten, she had earned her first professional booking—a week's engagement with the Isley Brothers at the Apollo Theatre, where she had won an amateur night contest.
A year later, Stephanie made her Broadway debut in the musical Maggie Flynn, which starred Shirley Jones and the late Jack Cassidy. Her acting ability was further enhanced by a short stay at the School of Performing Arts.
This extensive training made Stephanie a viable candidate for the role of Dorothy, though she herself had qualms over her ability. "I had a single out on Paramount Records called I Knew It Was Love which was doing fairly well in New York City. Ken Harper [producer of The Wiz] heard my record on the radio, called my manager and asked that I come and meet with him."
"I dismissed the idea. I really didn't want to audition for the show because I doubted that I could get the part. I had been trying out for so many musicals, and the rejection was really getting to me. But then Ken called back because he still hadn't found anyone. Finally, we went and had lunch with Geoffrey Holder [the director], during which they convinced me I was right for the part."
Stephanie speaks with sensitive reservation about The Wiz movie. Ironically, the film was a Motown/Universal production, with Diana Ross portraying Dorothy. "I don't think the movie should have been called The Wiz because it was nothing like the play. There was no fantasy in the film. But I enjoyed Michael Jackson, Ted Ross and Diana and appreciated the concept of the production.''
Although Stephanie was given a copy of the movie script when the film was budgeted at six million dollars, once the initial director was replaced by Sidney Lumet, Diana Ross was installed. The production costs then escalated to 30 million. Despite losing this opportunity to make her film debut, Stephanie still expresses her respect for the star of the movie.
"Diana Ross is my favorite performer,"  Stephanie affirms. "My other musical inspirations have come from Gladys Knight and The Pips and The Jacksons." However, her biggest inspiration has been (and still is) her family who give her the needed support and guidance.
Even though she is presently being offered scripts for new Broadway shows, Stephanie claims that my recording and performing careers are of primary concern right now. "I plan to go full force ahead. She hopes in the future to act in a straight dramatic role."
Another of her aspirations is to do a television special for and about children, because they certainly have been an inspiration to me over the years, says Stephanie.
Offering her professional advice to show-biz hopefuls, Stephanie stresses, "really believe in yourself, but don't come into this business thinking that everything is going to be handed to you on a silver platter, because it isn't. There is no such thing as starting at the top. Most of us have had to work from the bottom up."
At a time when recording artists are being signed to and released from contracts faster than the public has the opportunity to even recall their names or their hits, one wonders if these overnight successes and failures may be the result of inexperience and the lack of prior professional training necessary to sustain a show business career.
Such is not the case with Ms. Mills. Stephanie's solid theatrical background and promising new singing career give her a better chance to succeed where so many others have failed. Broadway's grueling demands have impelled Stephanie to acquire stamina, discipline and resourcefulness of character, the stuff that artistic longevity is made of.
Talking with Stephanie, one cannot help but hear the determination in her voice. Unquestionably, she possesses the potential to join the ranks of the superstars.
So, it will be interesting to see just how far Miss Mills will go. For the time being, she's easin' on down the road to a long and successful career.
Keep reading this issue – next article