For thirty-four years, the Metropolitan Museum has been collecting works by black artists—paintings, sculptures, watercolors, drawings, prints and photographs that span three centuries and are distributed among several curatorial departments.
In the Museum's American Paintings and Sculpture collection are works by I8th and 19th Century black artists such as the portrait, Edward and Sarah Rutter, by Joshua Johnson (1765-1830), who was active in the Baltimore area around 1789-1825; Landscape with Cow Watering in Stream and Landscape with Shepard by Robert Duncanson (1817-1872), who was a prominent participant in the art scene centered in Cincinnati and Detroit during the last century; and The Sabot Maker, a gouache by the expatriate Henry O. Tanner (1859-1937), who acquired an international reputation and was the first American artist to be included in the collection of the Palais Luxembourg in Paris.
The Department of Prints and Photographs houses works by Charles Alson, Peter Bradley, Preston Phillips, Frederick Floy, and James Van Der Zee. The last two names point to the range of the reputations of the black artists such as Van Der Zee to younger artists such as Floyd who have not become established within the art world but who are producing work of note. The greater part of the Museum's collection is housed in the Department of Twentieth Century Art. These represent a variety of modernist tendencies, from the naive vision of Horace Pippin's Victorian Interior to the lyrical abstraction of Thomas Sill's Dance.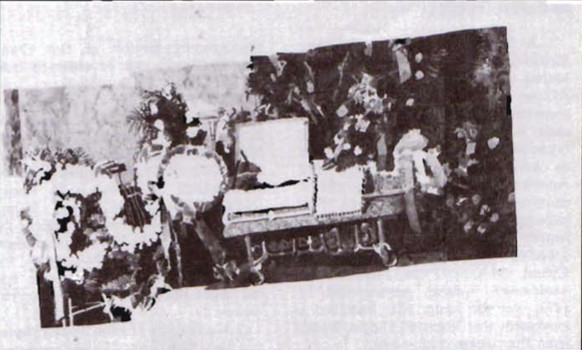 The first two works by black artists to enter the Museum's collection were Boxer, by Richmond Barthe and Pool Parlor by Jacob Lawrence. Both were awarded purchase prizes from the Artists for Victory exhibition which was held at the Museum in 1942. The following year, the WPA presented to the Museum a large gift of paintings, sculptures, and prints by artists employed by the Easel Section of the Federal Art Project in New York, Pennsylvania and Washington, DC These included Blind Beggars by Jacob Lawrence, Barn and Tree by Charles Alston, and two watercolors, Girl in Blue Dress and Self-Portrait by Samuel Joseph Brown.
During the 1940s, the Museum began to seriously collect works by living American artists; Showmaker, by Lawrence was purchased in 1946 and in 1949 the Department of American Art was established—given the mandate to acquire and exhibit especially in the controversial contemporary field.
With regard to the American art collection, it was agreed that it should be national in scope, that evident gaps in it be filled, that certain advanced trends not then represented should be included, and that better works by artists poorly represented should be acquired  (H. Geldzahler, American Painting in the 20th Century).
In order to achieve this goal, a series of national competitions were held: 1950 paintings, 1951 sculpture, and 1953 drawings and watercolors. Cash prizes were awarded to winners, and works were purchased for the Museum's collection from these exhibitions. Charles Alson's abstract work, Painting, was purchased through this competition,
Since these initial acquisitions, works by black artists have come to the Museum through purchases (i.e., photographs by Frederick Floyd, Preston Phillips, and paintings by Alma Thomas, Jack Whitten, and Palmer Hayden, and a sculpture by Richard Hunt) and through generous gifts from the donors, including the artists themselves such as photographs from James Van Der Zee, Gordon Parks; paintings by Avel de Knight, Horace Pippin, James Denmark, Thomas Sills; and a drawing by Barbara Chase Riboud.
The Department of 20th Century Art has acquired works by seven black American artists over the last two years: Leah's Renoir by Sam Gilliam, Johnny's Gone by Richard Yarde, Black Valhalla by Noah Jemison, two untitled works on paper by Howardena Pindell, Figure by Hale Woodruff, and Genesis by Frederick Brown.
Since museums function as repositories of cultural heritage, the number of black artists on exhibit at the Met is still far too small, and the scope of contributions by black Americans to the visual heritage of this country must be rectified. Museum collections, from their inception, have reflected primarily the interests and needs of the individuals who have founded the collections, and obviously few blacks were initially involved in this process.
There has never been an equitable accreditation of the work by black artists through adequate exhibition, collection, and critical assessment. Therefore, their historical position has yet to be affirmed. The market value for their work still lags far behind that of other artists, and opportunities to market their work are still scarce. The few galleries and specialized museums are only beginning to solve the problem.
Suggestions for solutions are as numerous as the problems, but it is clear that there is a need for an art interest lobby for black artists by black people. The resources exist. The nuclei of important collections of art by black and white artists have already begun to develop in black universities such as Atlanta University, whose collection was started by Hale Woodruff, and that of Howard University, so carefully nurtured by James Porter.
In Detroit, the African Art Gallery Committee as being a vital force at the Art Institute, raising money for the purchase of African Art and works by black Americans over the last 18 years. A purchase fund for works by black American artists has recently been established at the Metropolitan Museum of Art. To date, institutions such as the Met have already taken steps to recognize black artists. Now their commitment should be encouraged, and its sustenance insured.
Keep reading this issue – next article