The Czars called him the immortal interpreter of Shakespeare. The Austrians hailed him as the greatest Othello. Wherever Ira Aldridge went, he was hailed as the first black American actor of international fame. The records are unclear about Ira Aldridge's heritage. It seems his grandfather was a Senegalese chief who had ruled prisoners of war should be exchanged and shouldn't be offered for sale into slavery. His tribesmen, displeased with this edict, killed him and his family. Only one son — Ira's father — was saved.
The senior Aldridge was brought to the United States by an American missionary who converted him to Christianity and gave him the name Daniel. He later became the pastor of a black Presbyterian church in New York City.
Ira was born July 24, 1807, supposedly in New York. But Maryland claims him too. He attended the African Free School in New York, founded by a society to protect the rights of freed slaves. The school had a well documented reputation in the 1800s for educating black children.
When Ira was thirteen years old, he decided to become an actor, even though his father was vehemently opposed to the idea, in part because theaters at that time were considered dens of iniquity and the life of an actor was thought to be one of corruption and immorality. Daniel Aldridge tried to persuade his son to become a minister, but failed to put out the acting fire that was glowing in Ira's heart.
Ira Aldridge studied at the University of Glasgow, Scotland, where records showed him to be a brilliant student, who studied Latin, Greek, and literature, completing three years of work in half the required time. But he never graduated. He returned to the United States.
Eager to make it as an actor, he learned the ropes by making local theaters his second home, watching others as they learned their parts and observing what thrilled the crowds. He eventually joined the African Grove Theatre near City Hall in New York. The theater had been founded in 1820 by blacks who, among other things, performed the works of Shakespeare.
His contact with the African Grove Theatre gave Aldridge the opportunity to learn first hand how to move an audience and how to achieve the best effects. He performed with such dignity and realism that he angered the crowds. He evoked resentment, and perhaps jealousy, because a man of color could so convincingly and decisively pass what is considered the greatest dramatic test—to perform Shakespeare and perform it well.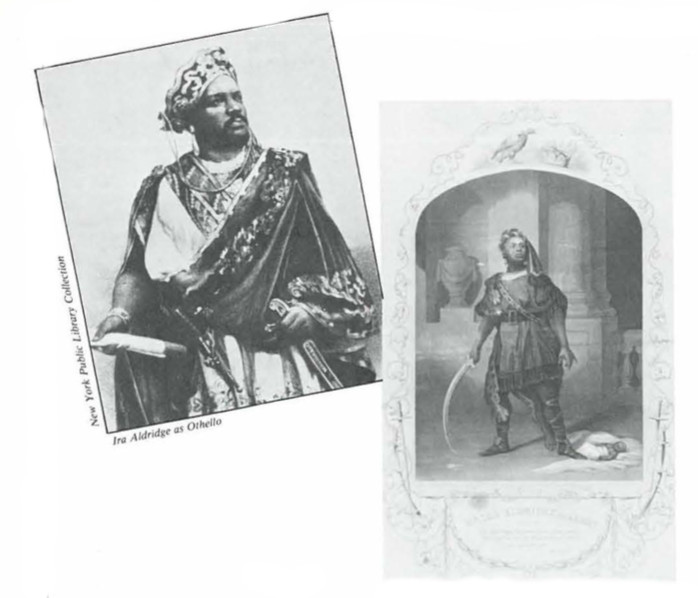 As was the case with many black artists, Europe befriended Ira Aldridge long before his native America did. The records fail to give an exact explanation of how he made it to England. It has been said that he traveled as a servant to Edmund Kean, who was considered one of the great Shakespearean actors of his day.
Once in England, Ira Aldridge made his presence known through majestic performances that touched the lives of thousands. He developed an acting style all his own — more realistic and natural than what people were accustomed to. He never used stage tricks, gross exaggerations or vulgarity to please the crowds. He had a pure, natural talent.
His first role in England was that of Zanga in The Slave's Revenge, the story of an African prince who had been kidnapped and treated cruelly by his captors. When the opportunity for revenge came, Zanga took it wildly and violently. Aldridge's Zanga thoroughly aroused his audiences.
Aldridge played Shakespeare's Othello in England when he was only 18 years old — and too inexperienced to capture the role. The critics of London, his newly adopted home, panned his performance. It would take almost an entire lifetime for him to get accolades as a serious Shakespearean actor.
In the meantime, he broadened his repertoire and toured the countryside, playing to sold-out theaters along the way. He became well-known for his interpretation of Rolla in Pizarro, the story of a Peruvian who helped defend his country against Spanish invaders. He also played Mongo in The Padlock, a role which complemented his deep, musical voice. Critics praised him as a master of comedy and tragedy.
He wanted to play roles regardless of color. He was the first black man to play Othello, the role he was later identified with most. He believed that if white actors could darken their faces to play Shakespeare's Moorish nobleman, then he could lighten his face to portray King Lear, Macbeth, or Hamlet with equal artistry. But he always left his hands dark so that people would know he was black. His was a self-appointed mission to teach equal rights as well as an understanding of Shakespeare.
As his reputation grew, people came to see the man who called himself the African Roscius (after the Roman slave Quintus Roscius Gallus, who was a great actor in ancient times). While the attraction at first was out of curiosity and novelty, theatre-goers soon flocked to see him out of sheer admiration.
He revived Titus Andronicus, which hadn't been produced in 200 years, changing the role of Aaron, a black man, from that of a villain to a hero. The result made theatrical history. It was often presented many years later, with his changes, by Sir Laurence Olivier and Vivian Leigh at the Shakespeare Memorial Theatre at Stratford-on Avon.
But it was in Russia that Ira Aldridge would receive his greatest acclaim. The Russians saw him as a different kind of actor—one more faithful to reality than any they'd seen before. So convincing and fiercely realistic were his portrayals, that he often had to dispel rumors he had crippled a few Iago's and strangled a few Desdemona's. He portrayed Shylock from Merchant of Venice not as a Jew but as a ruthless human being consumed by hatred and greed. The Chief Rabbi of the Ukraine thanked him for, such a deep understanding of realities and ridding the character of his anti-Semitic overtones.
His success on the continent soon swept him back to London and the prestigious Covent Garden Theatre, where he was invited to play Othello. He opened only 16 days after the final performance of Edmund Kean, his Mentor. He was advised not to do it, warned that it would be suicidal. But he played Othello anyway. The critics were vicious. They called it a circus act. They said it was outrageous for Desdemona to be pawed by a black servant. They said Shakespeare would have risen from his grave in horror. The public, however, loved it and acclaimed Aldridge completely Shakespearean. That wasn't good enough. The performance caused so much confusion and dissension that it closed after the second night.
Despite the critics' abuse, Aldridge went on to win their respect. He received honors from monarchs, princes and heads of state. The Prussians awarded him their Gold Medal for Arts and Science, while the Austrians decorated him with the Medal of Ferdinand. In Saxony (Germany), he received the title Knight of Saxony. In fact, one of the 33 chairs in memory of the greatest names in world drama was dedicated to him at the Shakespeare Memorial Theatre.
Ira Aldridge's health began to fade around 1855, when he developed a cough that no one could diagnose. Over work and exhaustion would not allow him to recover. He had plans to finally return to the United States, now clamoring for his performances, but died on April 7, 1867, just before another tour of Russia. En route to Moscow, he took ill in Poland and died. He was buried there and to this day, his grave is cared for by the Society of Polish Artists of Films and Theatre. Ira Aldridge, a man of dignity, and regal bearing, was mourned around the globe. His good friend, poet and artist of the Ukraine, Taras Shevchenk wrote: His friends stood by, he slept, He was dying, they wept. Like children softly he sighed. He sighed and sighed, he was gone. And the world has lost a prophet. And fame has lost a son.
Back to table of contents of this issue