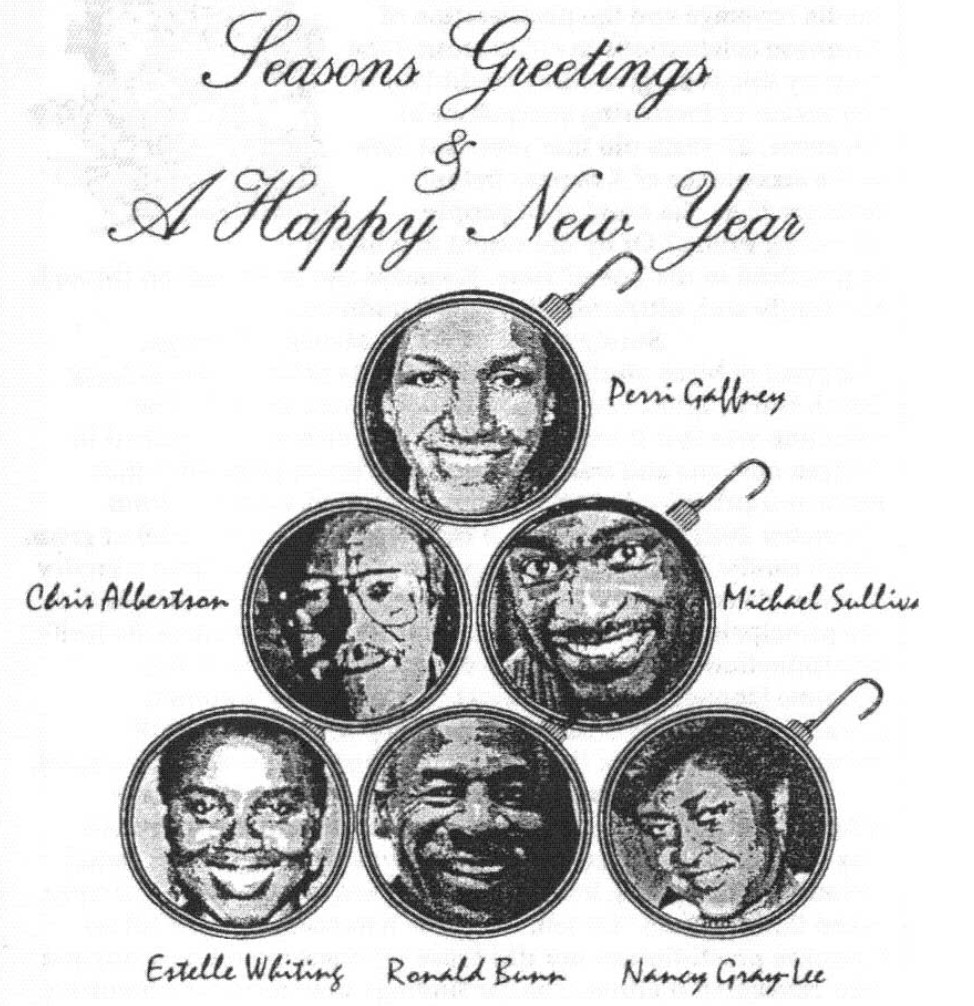 We at ROUTES have been discussing this question in light of our differing points of view. True, extensive media coverage and the proliferation of Kwanzaa celebrations in cities around the country this year, give some credibility to the notion of increasing acceptance of is the acceptance of Kwanzaa being measured?
By the number of people attending events?
Or by the extent to which it is practiced in the home?
Here, Kwanzaa can be passed on through the family and, ultimately, become a tradition.
Surely this is what Dr. Maulana Karenga, chairman of black studies at the University of California at Long Beach had in mind when he created Kwanzaa in 1966. The intention was that it would be a cultural celebration couched in African customs and traditions based on seven principles that serve as a guide for living. As he has outlined, each day from December 26th to January 1st, a red (Blood), black (people) or green (land) candle is lit, by the youngest member present, then a family member discusses one of the principles. Bearing Kiswahili names, the principals are the following: Umoja (unity), Kujichagulia (self determination), Ujima (collective work and responsibility), Ujamma (cooperative economics), Nia (purpose), Kuumba (creativity), and Imani (faith). In keeping with its Kiswahili meaning first fruits of the harvest, Kwanzaa ends with a banquet.
An empirical study that could give us some information about the popularity of Kwanzaa and its celebrants was informally conducted by some ROUTES staffers at large social gatherings and among friends, relatives and associates. We simply asked the question Do you celebrate Kwanzaa? We found no Kwanzaa practitioners nor did those we questioned know anyone who celebrated it either. Similar findings were made last Saturday in Harlem at the Studio Museum where I observed a Kwanzaa art workshop attended by mothers and their small children. They had come to studio to learn special printing and painting techniques which could be applied to making Kwanzaa symbols. However, most of the children were making Christmas symbols. And in discussions with some of the mothers it was revealed that Kwanzaa was not a major part of their families' holiday practice.
An assistant commissioner of education, for example, said that she celebrated Kwanzaa occasionally we talk about it, but we usually go out to Kwanzaa celebrations, and we have been doing this ever since my daughter [now 16 years of age] was small. When asked whether or not Kwanzaa is an integral part of our culture, she replied: Absolutely!
An investment banker said that she too discusses Kwanzaa at home, has a lot of books on it, but doesn't celebrate it, giving as a reason the traditional celebration of Christmas. When she was asked whether or not Kwanzaa is an integral part of our culture, she replied: "It probably should be, but it's not, and it won't be until children are educated more about it in schools and at home. Besides," she continued, "Christmas, because of its commercialization, is still the overwhelming experience around this time of year. Unless this changes, I don't think Kwanzaa can become an integral part of our culture."
Does this mean that the life of Kwanzaa depends on the demise of Christmas? Does the celebration of Christmas preclude the celebration of Kwanzaa? If one closely examines the intent of Christmas and that of Kwanzaa one will see that their goals are not in conflict with each other. One is historically religious, the other is a more recent construct of African cultural features, and, therefore, more of a social phenomenon. But let's move on to another mother, an attorney, whose discussion raises another question. No, I don't celebrate Kwanzaa—yet, she says adding But, it seems as though it is an important part of our culture. Actually, you can celebrate Kwanzaa and Christmas, or choose the one that more accurately reflects who you think you are or would like to be.
Does celebrating one or the other of these holidays determine who you are?
The last mother I talked with was a full-time-mom who plans to celebrate Kwanzaa for the first time this year. Though most of her friends do not celebrate Kwanzaa, a considerable number are beginning to. Having children has caused many parents to seriously consider what to celebrate, and basically, this has been our inspiration to include Kwanzaa in our holiday celebrations, she says. Are children the reason for celebrating Kwanzaa? What about people who have no children? Should they celebrate it? What about you? Do you celebrate Kwanzaa in your home? If not, why not? Do you think that Kwanzaa is becoming an integral part of our culture? Write and let us know what you think.
Seasons Greetings
The Routes' team would like to exp ress its gratitude for your support over the past seven months. We're having fun and learning a lot and we're hoping you are too. We look forward to discovering new routes with you in 1992.
Best Wishes for a Happy New Year
See the complete issue of Routes, A Guide to Black Entertainment December 23, 1991, as PDF.