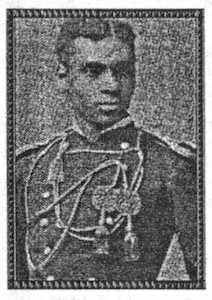 Prologue
The year is 1882. The place is Fort Davis, Texas. Twenty-six-year-old Lieutenant Henry O. Flipper stands tearful but proud before a United States general court martial and hears himself condemned and dismissed by the United States Army for "conduct unbecoming an officer and gentleman."
1865: African-Americans have just been freed from slavery. Nine-year-old Henry Flipper moves with his family from Thomasville, Georgia, the place of his birth, to Atlanta. Young Henry, who had been tutored by other slaves and by the wife of a former Confederate officer, continues his education at a school conducted by The American Missionary Association. Henry later goes on to study at Atlanta University.
1873: Scalawag Congressman John C. Freeman of the Fifth District, appoints Henry O. Flipper to West Point. Word of the black boy's appointment leaks out. Several of the leading white Atlanta families get together and raise five thousand dollars. The Flipper family is offered the five thousand dollars in exchange for Henry's refusal of the appointment to West Point. Their offer is refused. Henry interrupts his studies at Atlanta University and enters West Point.
The succeeding four years at the Academy were difficult for Henry. He was a virtual outcast; the target of sick hatred and abuse that was to be directed toward "coloreds" for decades to come. Henry, however, persevered. In 1877, the graduation (with honors) of Cadet Henry O. Flipper from West Point Academy attracted the attention of the nation's leading newspapers.
Although Henry Flipper was not the first African-American man to be appointed to West Point, he was the first to withstand the stress and go on to graduate from the Academy. His very persecutors stood and cheered Cadet Flipper on graduation day. Flipper was assigned to the Tenth Calvary at Fort Sill, one of two black, regular army cavalry regiments. During the ensuing years Lieutenant Flipper proved his worthiness as a soldier and leader.
1802: The place is Fort Worth, Texas. Flipper becomes friends with Molly Dwyer, a young white woman. Henry and Molly spend long hours together—horseback riding, walking. Perhaps they even fall in love. Molly's brother-in-law, Colonel W. R.  Shatner, was most displeased with the relationship between the young lieutenant and Molly. Lieutenant Flipper is suddenly charged with the embezzlement of 3791 dollars in government funds. His accuser: Colonel W. R. Shatner. Lieutenant Flipper was arrested and tried on the charges of embezzlement and conduct unbecoming an officer and gentleman (based on the embezzlement charge). Ironically, Lieutenant Flipper is cleared of the embezzlement charge but dismissed by the army for "conduct unbecoming an officer and gentleman".
After leaving the Army Henry became an engineer. From 1893, until 1901, while employed in Mexico, as surveyor of pubic lands, he also served as an agent of the United States Department of Justice. Flipper remained in Mexico until 1912. By 1910, he was recognized as an authority on Mexican affairs and frequently called upon by the Senate Committee on Foreign Relations. In 1923, Flipper was appointed as assistant advisor to the Secretary of the Interior. He was subsequently was employed by a Venezuelan oil company and retired in 1930, with recognition as an outstanding petroleum engineer.
1940: Henry O. Flipper is buried in an unmarked grave in Atlanta, Georgia having tried to the day of his death-to remove the stain of "Conduct unbecoming an officer and gentleman" from his record.
Epilogue
The year is 1970. The place is Valdosta State College, Georgia. Ray MacColl, a twenty-two year old white graduate student takes a course in black history. He reads about the Flipper case.
By 1975, MacColl found himself involved in what he calls "A personal commitment to clear this man". MacColl could not shake the feeling that he had to do something for Flipper. Flipper became real to Ray. "I seemed to get to know him," says MacColl. Research on Flipper's case became all consuming to young MacColl. He admits becoming obsessed by it. "I had a recurring dream while working on the appeal where Henry would say to me 'What have you done today?' "
MacColl eventually prepared a brief for the Army Board of Review in which he outlined five major reasons behind his contention that Flipper's trial hadn't been carried out in proper military fashion.
"T tried not to stress the racial overtones of the trial," says MacColl. "I concentrated on the objective realities of the trial's legal irregularities. The arguments I used in the brief were Henry Flipper's own words. It was his own defense and my only contribution was bringing it to the attention of the Army."
In 1975, the United States Army exonerated Lieutenant Henry O. Flipper of all charges and posthumously awarded him an honorable military discharge. On May 3,1976, the United States Military Academy at West Point paused to honor the late Lieutenant Henry O. Flipper, their first African-American graduate.
MacColl was subsequently commissioned to author a resolution for the Georgia House of Representatives giving an official commendation to Lieutenant Henry O. Flipper to be read into the Congressional record.
Did Lieutenant Henry O. Flipper persevere thirty-five years after his death? Did Ray MacColl pick up the anguished cries of a soul that could not rest? Is it possible that Lieutenant Flipper finally succeeded, through Ray MacColl, doing in death what he could not do in life?
See this issue as pdf in it's original layout.