Actress Cicely Louise Tyson's Higher Ground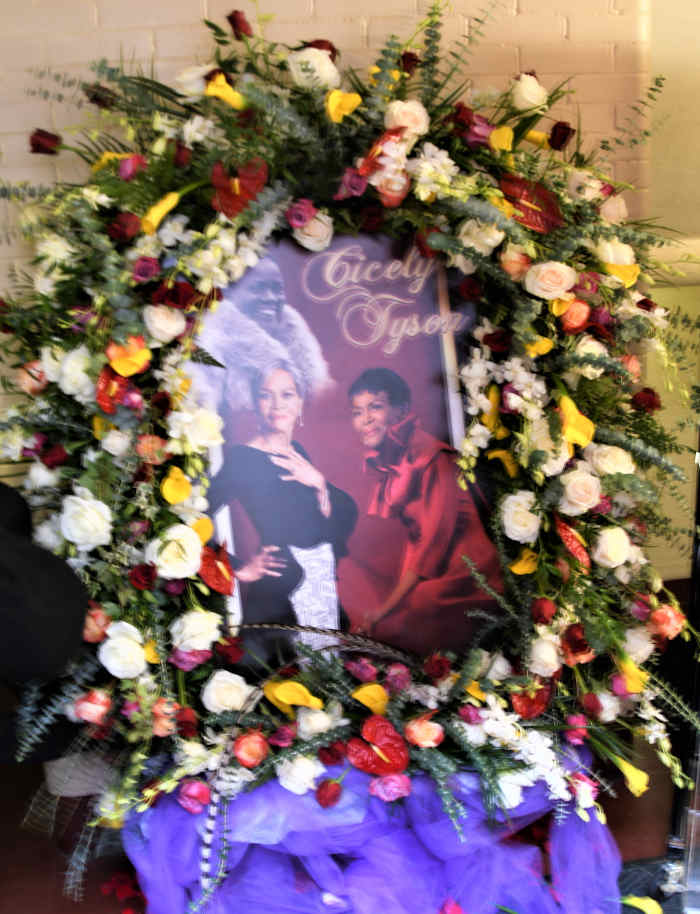 Ms. Cicely Louise Tyson (December 19, 1924 – January 28, 2021)
We waited in long lines — along streets and avenues in the village of Harlem — respecting COVID-19 social distance guide lines. The snow was pushed back to make pathways across street corner intersections. Small snow mounds were stacked against apartment buildings, and, at every fire hydrant on 138th Street, a small pile of dirty-white snow made itself at home. The wide New York City side walks were shoveled clean, on this Monday, February 15, 2021, in anticipation of heavy foot traffic making their way to see the most admired American Diva ever.
At 10:00 am, on this winter morning, we began collectively to pay our final praise to Harlem's own, Ms. Cicely Louise Tyson. For her loyal audience, Cicely Louise, with style and grace, reigned over her final curtain call at the renown Abyssinian Baptist Church on West 138th Street between Boulevards Malcom X and Adam Clayton Powell Jr. Lenox and Seventh Avenues surrendered their respective names in honor of two African-American heroes Adam Clayton-Powell and MalcomX — Lenox in 1987 and Seventh in 1974. It was befitting for Cicely to be lying in state on the street located between two Boulevards named after the two Black male icons.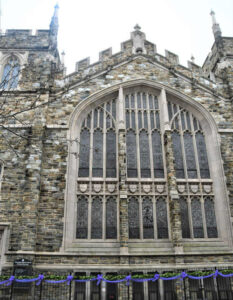 Lengths of dainty Purple tulle with fresh green leaves interwoven into a garland which majestically draped the black wrought iron fence leading to the main entrance of the Church. From this point of entry, we were personally ushered into the main hall where the cold air was laden with anticipation and silence. Once we reached the top of the stairs, we could see her laying in state — it was then the heaviness abruptly vanished. It was a breathtaking Hollywood set. Magic was in the sweet floral scented air. Cicely, appeared to be a detailed ebony carving chiseled from a master sculptor's hand. Clad in a uniquely custom made designer dress, her shapely petite body seemed to lay gently in a cloud of flower petals. Ms. Tyson never let us down with a compromising performance, and this morning was no exception. Her final call was clearly representative of her uncompromising self — a satisfied accomplished Black woman.

In silence, we exited the chapel onto 138th Street. Each of us quiet and lost in our individual thoughts concerned with what to hold on to when remembering Cicely Tyson. As we walked toward the Avenue, in search of quick take out lunch, I noticed across the street white balloons tied to a fence. I was drawn to the simplicity of the little sign. Attached to the balloons was a poster obviously made by young children. Little pieces of art paper had drawings in colored crayons and lettering with Cicely Tyson's name scribbled on them under pictures made by them. The snow and wind had taken its toll on the display, but the value of the children's effort was felt on this day — it held fast on the fence of the vacant lot/playground across the street from the award-winning celebrity event.
This was Cicely Tyson's report card. The scribbles of the little children who went to the Harlem nursery school, across from the huge iconic church and the home-site of the late Congressman, Rev. Adam Clayton Powell Jr., were the heirs to the jewels. These children were blessed to be in a Black neighborhood school, with teachers culturally competent, who understood the importance of educating them about the value of Ms. Tyson's contributions to the culture of Black people. Their humble display spoke volumes to how deeply she had touched ordinary people with whom she knew of, but had yet meet.
A legacy is only as good as it can be replicated for the benefit and improvement of the people. The entertainment industry, film/television/stage has a long history of relegating derogatory roles to Blacks in order to de-value them as human beings. Blacks capable of quality performances in the media business. Although the slavery system, and, the denigrating Jim Crow Reconstruction Era ended more than one hundred years ago, the concept of white superiority rules when it comes to making American entertainment — it has remained unchanged since Birth of a Nation by Griffin at the White House in 1939.
Cicely Tyson was aware of the lasting perils of accepting any of the plentiful roles as whore, slut, or drug addict offered by Hollywood directors. She protected her reputation carefully and turned down many offers she considered unworthy of her high standards or roles having the possibility of tarnishing her reputation. Cicely recognized her rare talent early on in her career. Throughout her career, she often reflected on the sound advice her mother gave her about accepting roles — not just for money, but for enriching values for herself and those that are beneficial to her people.
Being secure within herself allowed her to take chances during the 1960s and 1970s — that's before it was popular for Black people to be diversified and complicated human beings on many levels. Cicely pushed her love affair with unusual Afro-centric designer fashions and European styles along with natural hair styles and an assortment of wigs. Cicely gave confidence to those of us struggling with feeling Black and Beautiful, at the same time, within our own skins. During the years of the Civil Rights movement, maintaining a positive feeling of beauty was lacking for Black women. Many of our Black leaders were marrying white women while Black women, by their side in the movement, did the grunt-work. Cicely kept her head high. She made it look easy to be a successful gorgeous Black lady with class when we needed a tangible role model. Most of all, Cicely Tyson proved to the world, by appearing in various types of characters in leading roles, that Black skin women could be positively rewarded on the stage and screen.
Leaving a body of work that spans the 1960s, the TV show The Naked City; the 1972 Hollywood film, Sounder for which she received an Oscar Best Actress nomination; The Autobiography of Miss Jane Pittman in 1974; and then her return to Broadway in 2013 after a 30 year hiatus with James Earl Jones in A Trip To Bountiful is an amazing track record, but not her Finale. Like a blazing meteor, Cicely's talent seared itself onto the electronic media data bank of the Hip Hop generation via roles strategically handpicked, by genius film and stage visionary, Mr. Tyler Perry. Cicely's array of roles allowed her the freedom to use her refined craft to raise the professionalism bar for young actors in the flood of wonderful films and specials to come via Perry Studio's.
But possibly nothing impressed her more than seeing a studio boldly bearing her name. More importantly, she was honored on a motion picture Lot that was owned and operated by a Black man. Mr. Perry bestowed well deserved legacy status to Cicely Tyson for generations to come. Cicely never received an Academy Award, recognizing her outstanding performances in a film, from the white Hollywood establishment. But her place of honor on a Tyler Perry Studio lot more than makes up for the typical Hollywood oversight.
Luckily now, the Hip Hop generation, which is full of quick techno entertainment knowledge, but very thin on substantive talent and content, has been given a life-lesson through Tyler Perry's reservoir of stellar Black talent. Perry's vision to offer credible work to iconic Black performers offers to the young performers a chance to learn the craft, select their content and create a legacy for other young Black potential artists waiting in the wings.
Hopefully, in the next 25 years, the Black-children-poster-makers honoring Cicely Tyson from 138th Street in the village of Harlem will have opportunities to pursue careers as entertainers without having to settle for roles lacking in dignity and self-respect. The huge footprints left by this petite little giant will serve as a template for young Black women aspiring to be disciplined trained actors, remaining respectable ladies in a fiercely competitive industry, and earning and saving millions of dollars along the way up the mountain.
Learn your craft. When all else fails, you will land on that and that alone. I cannot go against my grain. — Cicely Louise Tyson
and others
Latest posts by Theda Palmer-Saxton PhD
(see all)