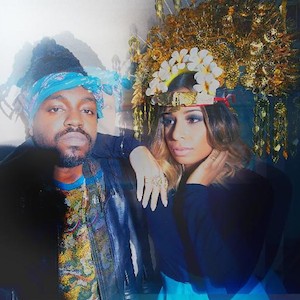 March 7, 2015
The Brooklyn Museum
200 Eastern Parkway
Brooklyn
(718) 638-5000
Target First Saturday celebrates Women's History Month with an evening of music, film, and more. Highlights include music by D.J. duo JSMN (Jasmine Solano) and MeLo-X, Alissia & the Funketeers and Princess Nokia; screenings of LaDonna Harris: Indian 101 and Didn't I Ask for Tea?; a discussion with Tavi Gevinson, founder of Rookie Magazine; and a performance workshop with Colored Girls Hustle.
Brooklyn Museum's Target First Saturday events attract thousands of visitors to free art and entertainment programs each month. Some Target First Saturday programs have limited space and are ticketed on a first-come, first-served basis. * Denotes a ticketed even
5 P.M. – Music: Bassist and composer Alissia Benveniste and her band, Alissia & the Funketeers, play contagious funk music. Presented in partnership with Berklee Conservatory of Music.
*6 P.M. –  Curator Talk: Catherine Morris, Sackler Family Curator for the Elizabeth A. Sackler Center for Feminist Art, explores the exhibition Judith Scott-Bound and Unbound.
*6 P.M. – Film: Women Make Movies presents LaDonna Harris: Indian 101 (Julianna Brannum, 2014, 63 min.), which chronicles the life of Comanche activist LaDonna Harris.
*6:30-8 P.M. –  Hands-On Art: Create a sketch of a powerful woman from a live model.
6:30-8:30 P.M. –  Pop-Up Talks: Join a Museum Guide for a lively, ten-minute conversation about works by women artists in our collection.
7-9 P.M. – Healing Space: Participate in a song circle, movement activity, and meditation led my Harriet's Apothecary, an intergenerational group of healers continuing the legacy of abolitionist, community nurse, and herbalist Harriet Tubman.
7:15 P.M. – Music: Princess Nokia, singer and voice behind the Smart Girl Club radio show, creates dance anthems for millennial feminists through a unique blend of trip-hop, cyberpunk, and electronic sound.
*7:30 P.M. – Film: Didn't I Ask for Tea? (Rahwa Asmerom, 2014, 23 min.) follows protagonist Brandy as she navigates romance, friendship, and the Brooklyn rent market.
8 P.M. – In Conversation: Editor, actress, and writer Tavi Gevinson discusses her inspiration for founding Rookie Magazine, a site by and for young women, and compiling its companion print publication, Rookie Yearbook Three. Rookie Yearbook Three explores cures for love, girl-on-girl crime, and standing for something, and features advice from such female role models as Janet Mock, Kelis and Ilana Glazer and Abbi Jacobson of Broad City.
8:30 P.M. – Performance Workshop: Join the performance collective Colored Girls Hustle for a group collaboration to create a "mix tape" of sounds, songs, and remixes that explores hip-hop feminist politics.
8:30 P.M. – Book Club: Dao X Tran discusses 101 Changemakers: Rebels and Radicals Who Changed U.S. History, a people's history of individuals who shaped the United States, including Susan B. Antxhony, Angela Davis, Billie Holiday, and Audre Lorde, among others.
9 P.M. – Music: JSMN (Jasmine Solano) and MeLo-X, the DJ duo behind popular underground parties, spin reggae, dancehall, hip-hop, house, and electronic music inspired by downtown youth, indie, and street cultures from around the world.
* Denotes a ticketed event due to limited space.
Latest posts by Ronald Bunn
(see all)