Glenda Jones Photographs — Ethiopian Omo Valley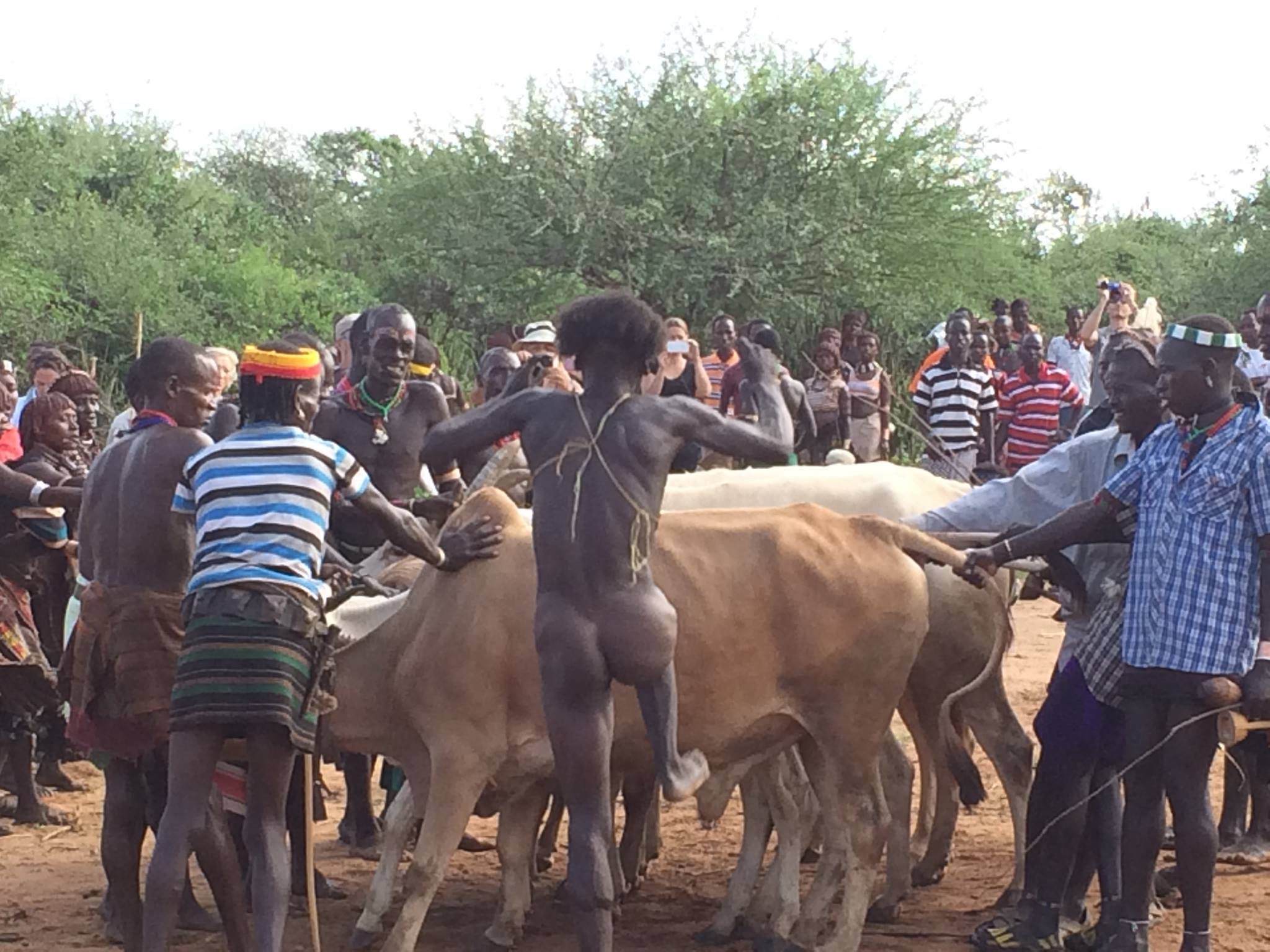 Glenda Jones has taken photographs and documented the culture of women and children around the world, with a particular focus on Africa, due to its tremendous diversity. Glenda, a graduate of Central State University, is a nationally recognized photographer who became interested in the field as a child. She grew more serious about photography in 1999 with the introduction of digital photography and computer technology.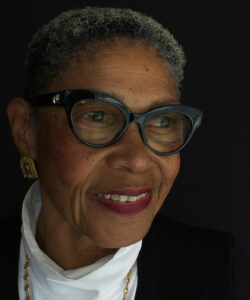 She is a member of the Bronx Photographic Society, attended the Nikon School of Photography, as well as the New School. She has had many exhibitions, including those at the Cornell Weill Library and Alcatel-Lucent HQ, the Montclair Women's Club, AC-BAW Cultural Center, and Art in the Atrium twice in Morristown, New Jersey. Her work is part of the permanent collection Mahogany Exhibition in the Mural Pavilion of Harlem Hospital.
In 2012, 2015 and 2016 she had the opportunity to travel to the Omo Valley of Ethiopia. The work she did during these trips showcases some of the oldest, most deeply indigenous African groups on the continent. Glenda believes that the way of life in the Omo Valley represents how our ancestors lived prior to slavery, and that is why she wants to document them before modern life takes over. Her subjects engage in the tasks associated with rituals related to family, community and self preservation. What we learn from these beautiful images is the joy of life and living each day to its fullest. The Omo Valley pictures are part of her ongoing collection,
The Africa I See.
In addition to her work covering Africa, Glenda is photographing our military heroes. She works with the New York chapter of the Montford Point Marines and the New York original Tuskegee Airmen, to capture them in their sunshine years.
Glenda Jones About Her Photography
Hamer Morning
"I have been to 32 African countries, multiple times. I must admit I have become fascinated with the indigenous tribes of the Omo Valley of southern Ethiopia. I have been there five times and cannot wait to get back there again. The reason I find them so fascinating is because I envision this is how our ancestors lived prior to becoming enslaved and transported around the world. We have no photographs of our ancestors pre-slavery. When I first visited the Omo Valley there was no electricity; therefore no internet, video, TV, nothing to spoil the traditional way of life. However, electricity is now in the local towns and will soon be spread out to the villages. Once that takes hold, I assume that the children will all be in T-shirts and jeans. I support progress and growth, but I want to capture the traditional way of life so we have a record of it and can add it to our history.
There are roughly 10 to 15 indigenous groups of people living in the Omo Valley. The Hamer people occupy a large section of the southern Omo near the towns of Dimeka and Turmi. They speak a language which belongs to the Omotic group of languages, and display an elaborate and unique style of body decorations and clothing. Women wear leather coverings decorated with cowrie shells. Their braided hair is painted with ochre, and their arms are garbed with copper bracelets. A significant event in the Hamer society is the Bull Jumping Ceremony, a rite which marks the passage of males from youth to manhood.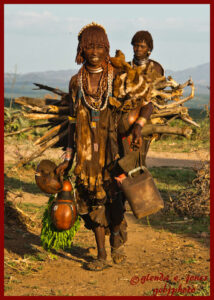 Early one morning we entered the Hamer village and I saw these women returning, ladened down with supplies. Wood on their backs, carrying jugs of water, and green vegetables, goat skins across their shoulders. I was amazed.
As I learned more about the Hamer culture I was told that these ladies were first wives. That is denoted by their wearing metal collars around their necks. They were also wearing 15 copper bracelets, another Hamer tradition.
They had been out early, gathering wood and supplies, and returned to start their day's work.
As we explored the village, a young girl came up and grabbed my arm, and started walking me away from our group and to the other side of the village. There I found her mother. The girl quickly sat down next to her and I immediately understood that I was to take their picture. I was delighted to do so, and just wished I could have photographed their joy upon seeing themselves on my camera screen.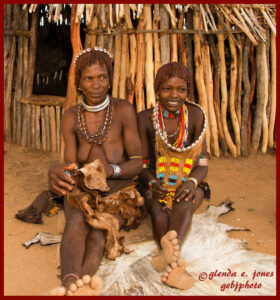 Based upon her mother's necklaces, she was a second wife (with two rings). She was in the midst of preparing a new goat skin covering. These are works of art with beautiful beadwork that surrounds the neck of the goat skin. Since I don't speak Hamer, I could only admire the beauty of their handiwork and relish in the joy that my photograph brought them."
Latest posts by Ronald Bunn
(see all)