MEDIA
Focus Your Attention
ROUTES takes a stroll into the land of Television Newscasting to profile those Black  personalities who are regulars in today's face to face newscasting.
One of the constructive ramifications of the last decade's remonstrative actions was the sudden sprinkling of black faces on the theretofore white arena of television newscasting. As neighborhoods went up in flames and dissonance became common place, local television stations scrambled to form ethnic news teams in response to the activities of the time, to protect whatever credibility they had left and to ward off the inevitability of inequality charges being lodged at them.
Some of those picked in that initial draft of talent were lucky. Melba Tolliver, for example, was literally discovered in the secretarial pool at WABC during an AFTRA strike in 1967. After sitting in, and doing a good job, she was officially made a reporter. She later took a course in journalism.
But Melba was the exception. Others were discovered only after the hard discipline of school and print journalism had primed them for the experience of working for the electronic fourth estate. Once at work, many found that the skills necessary to merge journalism with an audio-visual projection took time to master — especially into the fastpaced three minute spots that most were assigned. Merely having a well modulated voice and the ability to read a teleprompter was not enough to be called a reporter. Being an informed, educated, professional news hunter who could find a story instead of waiting for one to break was the key to getting in.
It is this "nose for the news," coupled with the experience of having first-hand knowledge of the urban problems that has won them the respect of both the community they now serve and their veteran co-workers.
Today's Black news professionals have matured into unofficial ombudsmen who dissect and examine the complicated inner workings of this vast urban arena called New York. By reporting both sides of the multi-faceted and difficult to film stories such as welfare reform, unemployment, drugs and urban decay, they have wiped away some of
the glitter and polish from the "Big Apple" by telling what really happens. Programs such as Tell It Like It Is, Positively Black, and Straight Talk have emerged as a result.
ROUTES has chosen to profile some of the talented people now on the air. Their brief outlines are just glimpses of the work and skill that have gone into their being some of the best reporters who happen to be Black.
BOB TEAGUE
WNBC-TV's Newscenter 4 features the talents of Bob Teague. For twelve years he has established himself as one of the most versatile reporters in electronic journalism. Teague, currently filling general assignments for Newscenter 4, has been an anchorman for late-night newscasts, a moderator and panelist for interview programs, and a sportscaster, including commentary on live football telecasts. Before moving into broadcasting, he served a journalistic apprenticeship with the Milwaukee Journal (six years) and was on the sports staff of the New York Times (six years). He is the author of two books: The Climate of Opinion, published in 1962; and Letters to a Black Boy, published in 1968.
.
CARL B. STOKES
Having the experience of being the mayor of a major predominantly white city, born in a Cleveland ghetto, the first Black to sit on the Ohio House of Representative, Carl Stokes joined WNBC-TV News in 1972. He took the assignment of reporting on urban affairs in keeping with his background as chief executive of a densely populated city. As a reporter on WNBC-TV's Newscenter 4, Stokes offers ways to help viewers solve their problems with government, stores and service agencies. As a result, his Urban Journal is similar to a newsmagazine program. In addition, he is the anchorman for Lead Story on WNBC-TV's Sunday (10-11:30 a.m.). Stokes has a Bachelor of Science degree from University of Minnesota and a law degree (LLB) from Cleveland-Marshall Law School.
CAROL MARTIN
Carol Martin joined Channel 2 News in October of 1975. As general assignment correspondent, she reports on activities around the tri-state area, and appears on both the Six O'Clock and the Eleven O'Clock reports. Before joining WCBS-TV news, Ms. Martin was an On-The Scene news reporter at WMALTV, Washington, D.C. and prior to that she was a writer-editor for the Detroit Free Press. Her efficiency stands out and no wonder, with a double major in Mass Communications and Journalism under her belt. She is a graduate of Wayne State University in Detroit.
.
SPENCER CHRISTIAN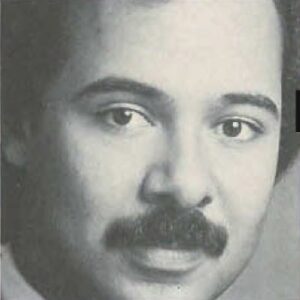 Saturday, June 4, 1977 was the first day New Yorkers saw Spencer Christian on the air. He began his career as Weekend Weatherman for WABC-TV's Eyewitness News. Christian came to WABC-TV from WBAL-TV in Baltimore where he has been a full-time weather forecaster since July 1975. There he also hosted Spencer's World, a weekly, half-hour talk show. A native of Charles City, Virginia, and a former teacher, Christian holds a B.A. degree in English and a minor in journalism from Hampton Institute, Virginia. He taught at Stony Brook, Long Island, before getting into television.
.
CAROL JENKINS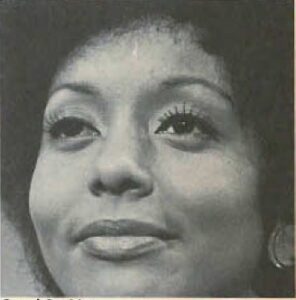 To be co-host of a daily public affairs program, you got to be good. Carol Jenkins was co-host on Straight Talk, with Elinor Guggenheimer very early in her career. She joined WNBC-TV in 1973 as a general assignment reporter for Newscenter 4. Prior to that, she was a network correspondent for ABC News and reporter and anchorperson for WOR-TV. Ms. Jenkins also serves as anchorperson on Channel 4's Positively Black, along with Gustav Heningburg and Vy Higginsen. In addition to her successful career as a reporter, she has been studying law at the New York Law School and holds a B.A. from Boston University and an M.A. from New York University.
ROUTES wishes to thank the TV networks for allowing us to profile their personalities and for their cooperation in supplying us needed information. Photos of personalities reprinted by permission of WNBC-TV, WABC-TV and WCBS-TV.
Keep reading this issue – next article
See a list of all archived Routes editions