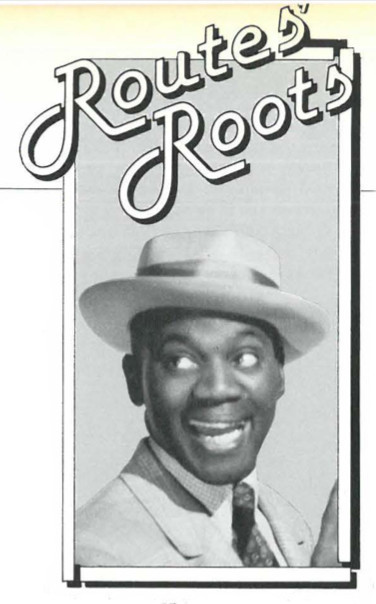 Born in Richmond, Virginia in 1878, as Luther Robinson, just thirteen years after the United States Congress passed the amendment to abolish slavery in America, William "Bill" Robinson began his journey to fame, and the road was not paved with gold, but sheer talent.
As a child, his parents gave him what formal education there was available, but Bill just wanted to dance. Though his schooling did not include dance lessons, he danced anyway — he loved to dance and he always danced. At the age of eight when other boys were still on the farm, he went to Washington, DC and worked in racing stables as an attendant and later as a jockey. All the while he would dance after work in local beer gardens. During this time he met Eddie Leonard also from Richmond, and got a job in Eddie's Revue for the Lawrence Hotel. It was here that his professional dance career began.
He was booked, in years to follow, at the Marigold Gardens in Chicago for two weeks and closed as the headliner two years later. By 1913 he had traveled cross country and his reputation as a first rate "clog hoofer" (tap dancer) was unquestioned. He introduced his Stair Step Dance, where he tapped out intricate routines up and down a staircase. This eventually became one of his trademarks. His ability to flash a bright smile, answer encore after encore and his perfect rhythm endeared him to all audiences. The career and name of Bill "Bojangles" Robinson was on its way to stardom and immortality.
His career reached one of its highest peaks in Lew Leslie's Blackbirds in 1928 with music by Eubie Blake. Reviews of that time said "he danced his split toe wooden clogs like solo instruments." And then it was on to New York's Palace Theatre where everything was copasetic, a term he coined and carried as his motto — meaning, everything was fine.
Headlines that followed just one year later contradicted this term, at least for the rest of the world. The Great Depression of the 1930s hurled America into a plethora of defunct bank accounts, closed shops, and broken dreams. The cornucopia in "the promised land" had reneged, and instead spewed forth misery and disillusionment. Almost every major industry was in serious financial trouble. Paradoxically, Black actors were experiencing an employment heyday in the booming movie industry.
Although many so-called modern critics refer to this era as 'the period of the coons, Toms, and mammies. There is too much evidence concerning the positive contributions of these artists to prolong that argument at any length. The silver screen is more accessible today as a medium for Black expression because of the likes of Stepin' Fetchit, Hattie McDaniels, Eddie (Rochester) Anderson, Butterfly McQueen, Ethel Waters and Bojangles. The Black actors of the 1930s not only survived in hard times, but excelled, and Bill "Bojangles" Robinson was one of the best.
From his film debut in 1930 in Dihiana to Stormy Weather in 1943, he carried a cool reserved gentleman-like demeanor that set him apart from his stereotyped eye rolling rollicking peers. His screen relationship with Shirley Temple will probably be his final claim to immortality by Hollywood, but he too was a star before he met Miss Temple. Though he was linked in the hearts of the movie-going public with a child, in real life he had no children of his own.
He was a man of much heart, not just for children. He did all that he could for fellow performers including working their acts if they were sick, and turning the money over to them. He was always known for his benevolence. It has been recorded that Bojangles earned $6,600 weekly from appearances in films during the 1930s and earned in excess of two  million dollars from films in a span of thirteen years. Like many Black stars, his money went as quickly as he earned it because of poor management, little financial know-how, a love for betting on horses, and a sympathetic ear for a sad story — and during the Depression, there were many sad stories.
He died penniless on November 25, 1950, of a heart attack, but friendless he was not. His friends gave him one of the largest funerals Harlem had ever seen. History can only deal gently with Bojangles — the man, the dancer, the actor, and the star. Through retrospect, we can all share in a copasetic moment because of Mr. Bojangles.
Back to table of contents of this issue