On Being A Woman Who Is Black — Seasoned Woman, Part 3
Making Something Out of Nothing
My grandmother Carrie Thomas frequently said to me whenever she was unsure of the outcome of a project, "Theda baby, you have to learn how to make something out of nothing." Carrie's church in the 1950s had a total of possibly ten faithful members who sang in the choir, sponsored fundraiser tea parties, and worked Sunday afternoon musical programs. Rev. Sister Bradely preached the Word, Miss Rose played the piano, and Uncle James passed the straw basket collection plate for the hard-earned coins of the domestic day-workers each Sunday.
Miss Seals, Uncle James's mother, lived on the first floor flat beneath Grandma Carrie and Poppa John, in one of the red brick row houses on Bell Avenue. The doorway was distinguished with two steps made of single slabs of white stone. Bell Avenue was just off Garrison Avenue and a block from Franklin Avenue, where the streetcar provided many black women with transportation to their day jobs as domestics in white households in the county.
Missed The Seasoned Woman Speaks part one or part two?
Unlike Grandma Carrie, who came back home every day, most domestics stayed on "the place" all week and were off on Sundays and Mondays. My sister Paulette and I spent many early summer days playing jacks on the steps, waiting to see our grandmother come around the corner. She'd drag her "carry all bag", and it always had something good inside, from Miss Mamie Canton's house, or a meaty hambone for our mother's pot of white beans. We'd race up the narrow sidewalk to greet her and the other women who walked briskly to the comforts of humble homes along the narrow street and neglected alleyways, and to duck out of the hot sun. It felt like a victory to hold Grandma Carrie's hand.
Off days in the downtown tenement section of St. Louis had a choreographed script that dictated how the black women would choose to spend their cherished free time, in their homes with their husbands and children. This off time seldom included selfish pleasures. Early Sunday mornings were spent gossiping with Miss L, who sat on her opened first floor window sill. Miss L's unofficial job was to watch the activities up and down the street. Often she held a can, poised to catch snuff spit. Whispers, laughs and head shaking were indicators that the gossip was well received and believed. Miss L knew everybody's business and she relayed it to eager ears awaiting the latest dirt (before folks got their kids sent off to Sunday School). She also had a hand in the block's collection of policy slips, on which were written lucky daily numbers.
I watched my mother Pauline and her mother create quilts out of cuttings from ragged garments, but failed to learn the craft myself. The many pieces of cloth sewn on top of cotton padding was a time consuming routine, but the resultant artistic designs were beautiful to look at, and more importantly they kept the family warm on cold nights.
I watched them cut fresh fruit and vegetables. The pieces were then scooped up and stored in wax sealed, air-tight mason jars– our future winter or holiday season meals.
I watched them stash away loose change in a slit-cut top oatmeal box, later to be emptied; the collected coins counted and slid into paper coin wrappers. The neatly rolled pennies, nickels, dimes and quarters were exchanged for dollars on the corner at Andy's Confectionary Store.Then I'd watch them fold the dollar bills, binding them tightly with a rubber band. In the bureau drawer, the savings were placed into a special cigar box and stashed away under layers of stiffly ironed church handkerchiefs and embroidered pillow cases.
Grandma Carrie's ironing contained meta-messages. Her plain, cheap white cotton pillow cases had lush crocheted lace or embroidered colorful thread designs, meticulously sewn by hand into the edges along the openings. Her gorgeous, ornate pillow cases were always washed separately in a #10 metal tub which Poppa John had, in advance, placed over the stove's burners and boiled like a stew in soapy, lightly starched water. After a while they were rinsed, rolled up into little balls and while still damp, stacked on the end of a firmly padded ironing board. As Grandma Carrie slid the hot iron along the starched wet cotton fabric, the hissing steam gave off sweat smells of freshly cut okra.
At night, the joy of sinking my freshly washed face into a satin-smooth pillow case was only outdone by my dreams of going to Andy's to get a double decker black walnut ice cream cone, bought with the shiny quarter placed under my pillow by the Tooth Fairy, Grandma Carrie, for my missing front tooth.
I was fortunate to have had the privilege of watching Carrie craftily, inch by inch, carve the bigger picture out of life's skin and episodes. I may have missed some of her skillfulness but I never overlooked the substance of her lessons. As I was leaving home to attend college on a full scholarship, Grandma Carrie handed me a small, wrapped newspaper bundle. It contained a folded quilt for my dormitory bed, and two hand-worked, ironed pillow cases.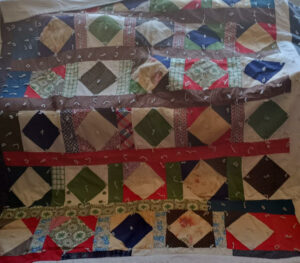 My first quilt was made from some cuttings from her cotton domestic work dresses, and some fabric from old clothing I'd forgotten about or outgrown. In the palm of my hand she placed a beautifully ironed and folded handkerchief, with fifty one dollar bills in a tight knot. I never slept on the perfectly ironed and embellished pillow cases; I never felt good enough.
Earning my Bachelors Degree from Lincoln University in Jefferson City, Missouri, was a manifestation of historical significance. I had achieved an all-American academic standard of excellence on the same level as any white student. It made the hundreds of years of misery, enslavement on a Mississippi plantation, almost worthy of the reward I received, due to the unbroken chain of love lessons passed onto me from my mother and her mother, and so many others preceding them.
These black women had bragging rights and I'm sure that they made sure that the gossip about my finishing college was accurate (and embellished where possible). There is something magical about how black women pass on crucial information to each other, that is complex but leads to the same destination of black womanhood. We can never be as a white American girl who grows up to inherit all the rights and protection her country's laws entitle her to because of her racial circumstances. Black women get nothing automatically at birth from American laws. Our shape is from the well tested molds that have endured the test of changing times. We create for survival. Black girls eventually become our women. We have the responsibility to each other, to commit ourselves, to teach and pass on the highest levels of learning the ability to make something out of nothing.
Feeling empowered by the hopes of my mother, grandmother and great-grandmother, I flew out of the nest, to their dismay. I went to New York City to join my brother Joseph. My destination for continued upward mobility in Arts Education pulled me away from their watchful eyes to the ultimate American big city.
The blatant racially biased constraints at the New York Board of Education was a shock to me, and could be likened to a stinging slap in the face with a wet cold towel. Everybody except the janitors, cleaning matrons and clerks were white. There was only one black principal, a woman, in all the five boroughs of New York City in 1962 when I began my career. There were no black, qualified educators in any positions of decision making power in the entire system.
Even though I passed the written and oral exams immediately, I knew I'd have to map out a personal strategy for success, if I wanted to realize my professional potential. Necessity is the mother of invention. As a young black woman on a mission, and with a generous grant, I formed my own theater and dance group, The Street Players. For seven summers I had absolute power and responsibility for the staff and content. At the night center in an east side housing project, Wagner Houses, I used my St. Louis-born people skills to engage positively an inner-city youth group, which accomplished amazing things. Naturally I kept my stable full-time day job. I worked three jobs for many years and lived very small, but saved bigger. When weary, I'd remember Carrie turning the corner, coming home from her domestic day job, dragging home goodies for the family.
I purchased a co-op apartment in Manhattan and a brownstone private house for my parents in St. Louis, before I was thirty years old. Grandma Carrie lived to witness her roots thrive from the life lessons taught vicariously from example. She lived out her final days in that brownstone with my parents, purchased by her "baby girl" granddaughter who paid attention and learned to make loose pocket change into dollars. She died wanting for nothing.
As women in America, we have accumulated as economic and intellectual wealth has come to us in the hardest possible manner imaginable. We are unprotected by white women's American laws. We stepped up from the status of being the white man's property to the status of quasi-free black women.
Regardless of the circumstances, women have kept our black core firmly in place because the plantation and segregation forced us to be onto ourselves and to depend upon ourselves for all things. We knew then as we need to remember now that the American white community is rightfully so justified to be afraid of us. It must be incomprehensible for white people to understand how black people, especially women, continue to excel in any areas they endeavor, while raising their children.
To celebrate Women's History Month within the accolades bestowed on "all women" is a miscommunication, another Big White Lie that needs to be kept in context for black women. Integrated inclusionary holidays permit white guilt to have a day off. Therefore, use holidays to fortify the truth of your rare accession from being a piece of property to justify the wealth and status of white women's households, to being owners of real estate, as well as creative and intellectual properties.
Collectively, black women did ask to be celebrated along with white women who only wanted equal status when the going gets tough and large numbers count. Prominent black women activists Ida B. Wells and Mary Church Terrell actually bought into the Suffrage Movement, only to discover a White Women Voters Only sign in the window. Their years of protesting, marching and abuse were rewarded with betrayal. The White Woman Suffrage leadership made a clandestine deal for the 19th Amendment to be ratified in June 1919 and passed Congress on August 18, 1920 granting only white women the right to vote.
Under President Woodrow Wilson, the 19th Amendment was passed by a Congress with whom the deal was struck to eliminate the inclusion of the black women members of the Suffrage Movement. The white women agreed to the exclusion. With just one vote, it passed because a white woman wrote a letter to her Congressman's son, begging him to honor her in his vote. A white woman's wish was granted and the amendment passed.
Forty-five years later, on March 7, 1965 on the Edmund Pettus Bridge in Birmingham, Alabama, black women continued to protest and march, Along with their men and a few white people, they crossed the bridge and were brutally attacked, terrorized, water hosed, bitten by police dogs and incarcerated — to discourage blacks from voting. President Lyndon B. Johnson pushed Congress to pass the Voting Rights Act; on August 6, 1965 it was barely passed. It's an Act, not an amendment, which permitted black women to vote along with their black men in some states without interference.
Moreover, the white sufferance women, who were the sole beneficiaries of the 19th Amendment did not show up in any organized manner in 1965 or at any time, to support the black women who had stood side by side as their sisters in the Suffrage era.
Women's Week as proclaimed in 1980 by President Jimmy Carter has evolved into a national Women's History Month celebration since 1986 by most states. The general concept serves a purpose for placing a united focus on a discrete population base, but the black woman should be mindful how uniquely womanhood developed as an African living in America for 500-plus years.
White women are heirs without a need for a portfolio. White privilege is somewhat like a microwave meal; its instant value is due to the label "white privilege" not because of merit of the content.
The current white women of the "Me Too" movement exemplify the high value of preserving the slightest discomfort of the white woman's emotional state, if she feels unhappy about a glance or gesture from a white man in power. A remark from her black husband or lover automatically gets an immediately severe reaction equal to OJ Simpson. Miss Anita Hill, a highly educated black woman, was discredited and ridiculed for being offended by outrageous sexist actions from a black man who white men rewarded with a lifetime term on the Supreme Court. Imagine the outcome had Hill been a white woman! Black women expect nothing from America but manage to hold onto their self pride and move forward.
Black women have always been responsible for 100% of who and what we have miraculously become. The 2021 celebration of womanhood in America is hundreds of years too late for the 188 black women, from 1838 to 1969, who were raped before being lynched and burned, even if pregnant, or murdered by multiple gunshots while asleep at home, like Breonna Taylor on March 13, 2020 in Louisville, Kentucky by three white plain-clothes policemen.
The intent of national celebrations that include black women in America is disingenuous at best, it placates feminine white guilt for 31 days each year. The fact is that black women and girls are an afterthought in America's history. From birth, white women enjoy a protected status and have laws and police officers to protect them from all people if they feel uncomfortable with perceived negative behaviors towards them. The actual lives of black women are now finally at the forefront of peaceful demonstrations, but concern for their "feelings of discomfort" are possible on the back burner for discussion by the 2071 National Women's Month in America. When do we celebrate National Men's Month?
Latest posts by Theda Palmer-Saxton PhD
(see all)